Last updated: December 18, 2017
Distracted driving news: The city of Powell has approved a ban on handheld cell phone use while driving. The local ordinance needs two more votes, scheduled for November 2017. The bill was crafted after the law in force in Cheyenne. Powell Council members discussed placing signs at city entrance points to warn motorists about the distracted driving law, which would be unusual in Wyoming.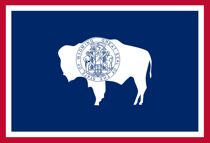 State Sen. Floyd Esquibel saw his texting & driving ban become law in 2010, but his 2013 plan to expand the distracted driving law to include handheld cell phones received a quick rejection. He did not return with that bill in 2014. Esquibel told a Senate panel he introduced a Google Glass bill in 2014 because state law was not keeping up with technology.
Wyoming was the 20th state to ban text messaging while driving, but there has been little momentum toward a handheld cell phone law.
Current prohibitions:
Text messaging prohibited for all drivers.
Read the Wyoming text messaging law.
Distracted driving legislation (2014):
Senate File 35: Would bar use of wearable computer devices with head-mounted displays (such as Google Glass) while driving in Wyoming. Approved by the Senate Judiciary Committee in a 20-10 vote of Feb. 14. Approved by the Senate Travel Committee in a 3-2 vote of Feb. 18. Approved by the full Senate but did not advance. (Esquibel)
2014 distracted driving notes
State Sen. Floyd Esquibel's 2014 plan to ban wearable computers with head-mounted displays — as in high-tech glasses — has advanced to the full Senate. The distracted driving legislation targets the Google Glass technology, which has yet to go public but has drawn concerns from traffic safety activists.
2013 distracted driving legislation:
SF 93: Would ban driving in Wyoming while using a handheld wireless communications device. Hands free OK. Primary purpose is to add handheld cell phones to existing state texting & driving ban. Latest legislative action: Rejected by the Senate Transportation Committee in a 2-3 vote taken Jan. 21. (Esquibel, Scott. House: Zwonitzer)
SF 116: Would prohibit use of handheld cell phones by school bus drivers. Hands free OK. Fine: $750 plus possible 30 days in jail. Latest legislative action: Tabled by Senate Transportation Committee until sponsor researches school district policies. (Johnson. House: Goggles)
Distracted driving notes (2013)
State Sen. Floyd Esquibel, D-Cheyenne, saw his SF 93 go down in defeat in the Senate Transportation Committee on Jan. 21, 2013. He vowed to return with the legislation next session, as he has in past years (but apparently did not). It would have allowed use of cell phones with hands-free attachments.
The Senate panel delayed a vote on a proposed ban on handheld cell phone use by school bus drivers. It includes fines of $750 — 10 times the existing text messaging penalty — as well as a possible month in jail. Sponsor state Sen. Wayne Johnson, R-Cheyenne, was asked to speak with school districts about the issue, and return with his findings about their distracted driving problems and existing policies.
2011 distracted driving legislation:
None. (2012 session addressed budget issues.)
2010 cell phone/texting legislation:
SF 20: Bans text messaging devices by all drivers on Wyoming's roads and highways. Primary enforcement with a fine of $75. Backed by the House transportation committee on Feb. 8. Preliminary approval by full Senate on a voice vote, Feb. 10. Approved by the House on March 3 (third reading). Sent to governor Gov. Dave Freudenthal, who signed it a week later. The ban on driving and texting went into effect on July 1, 2010. (Esquibel)
2010 legislative notes:
An effort to water down the (now approved) text messaging bill SF 20 was defeated in the House on March 2, in a 24-30 vote. Rep. Roy Cohee, R-Casper, said the amendment that would have limited enforcement to secondary status — meaning police would need another reason to stop violators — was an attempt to gut the bill.
SF 20 sponsor state Sen. Floyd Esquibel, D-Cheyenne, said that while his newly minted law banning text messaging does apply to all drivers, it is aimed at the generation hooked on texting. The new law is "primarily for an age group that is already at high risk simply because of age," he said after the measure was approved.
Rep. Debbie Hammons, D-Worland, sponsored the successful text messaging legislation in the House. She told the Casper Star-Tribune that passage of SF 20 won't translate into a handheld cell phone ban: "I think they've never been able to get anywhere with a cell phone ban."
The City of Green River's ban on text messaging and using handheld cell phones is expected to take effect in March 2010. Fines will be $65 for the first violation, then $210. The measure passed a second reading on Feb. 2.
2009 cell/texting legislation:
SF 63 would ban the use of text messaging devices for drivers.
SF 64 would prohibit drivers' use of cell phones unless a hands-free accessory is employed. Also would ban use of the cell phone for text messaging. Exemption for CB radios. (Legislation removed from active status.)
SF 65 would restrict holders of learners/restricted driver's licenses from using cell phones without a hands-free device. Includes use of the cell phone for texting. (Legislation removed from active status, "indefinitely postponed.")
HB 256 would outlaw use of cell phones while driving unless a hands-free accessory or dial-free "push to talk" feature is employed. Also would prohibit use of the cell phone for text messaging. (Legislation removed from active status.)
2009 legislative notes:
SF 63 and SF 65 were approved in the Transportation and Highways committee on Jan. 23.
The transportation committee chairman, Sen. Michael Von Flatern, R-Gillette, said SF 64 was not ready for consideration.
All three Senate bills were authored by Sen. Floyd Esquibel, D-Laramie. (Note: SF stands for Senate file.)
HB 256 was sponsored by Rep. Del McOmie, R-Fremont, a previous member of the transportation committee.