Last updated: December 31, 2017
Distracted driving update: Roadway deaths in Vermont are at the highest level since 2013, officials said at the end of 2017. At least 69 people died on the state's streets and highways. That compares with 64 in 2016. A law enforcement official said distracted driving continued to be "a leading cause" of the fatalities.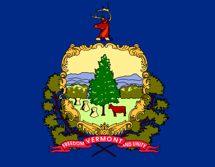 A ban on drivers' use of handheld cell phones went into effect in Vermont in October 2014. First offenders see fines of up to $200 but currently no points unless the violation occurs in a work zone (2 points vs. driver's license). Subsequent distracted driving violations can bring penalties of $250 to $500.
Current prohibitions:
Handheld cell phone use banned (all drivers). Fines up to $200, then $250 to $500.
Text messaging outlawed for all Vermont drivers. Fines $100 to $200, then $250 to $500.
Drivers under the age of 18 barred from using all cell phones.
Drivers cannot view videos showing "entertainment."
View the laws on text messaging | teen electronic devices | vehicle video screens
Cell phone, texting legislation (2017-2018)
House Bill 8: Would require 2 points vs. license for use of handheld cell phones in school zones, then 5 for serial offenses. Also 2 points for second and subsequent handheld cell phone offenses. Requires suspension of novice drivers' licenses for serial electronic distracted driving offenses. (LaLonde)
H. 91: Seeks to route to municipalities most revenues from distracted driving tickets written by municipal law officers. (Myers)
H. 295: Seeks to define violations of electronic distracted driving laws as gross negligence if serious bodily harm or death occurs. (LaLonde)
(text continues)


2015-2016 cell phone, texting legislation (2015-2016)
House Bill 527: General rewrite of state's distracted driving law. Expands texting ban to include voice-activated texting. Removes exception to handheld law that permitted activation or deactivation of device. Requires 90-day license suspension for minors who have serial violations. Adds 2-point demerits for violations outside work and school zones; 5 points for serial offenses within those zones. Creates a DUI and Distracted Driving Enforcement Special Fund (previously DIU Enforcement Fund). Provision removed in Judiciary Committee that would have allowed law officers to search cell phones for evidence of distracted driving violations via "implied consent" of motorist. (LaLonde)
H. 541: Seeks to route to municipalities revenues from distracted driving tickets written by municipal law officers. (Myers)
H. 571: Includes 2-point penalty for distracted driving violations with 5-point penalty for work zone or school zone offenses. Texting 2 points/7 points. Added on to bill that largely addresses inability to pay traffic tickets. Approved by Judiciary on March 15. Approved by the Senate on May 2. Approved by the House on May 6 (conference committee). Signed into law by the governor May 31. (Grad)
H. 638: Would add two demerit points vs. the driver's license for serial violations of the electronic distracted driving law. (Masland)
2016 distracted driving notes:
State Rep. Martin LaLonde has proposed for 2016 a major rewrite of the state's electronic distracted driving laws. His initial proposal included an "implied consent" of motorists for law officers to search their cell phones for evidence of violations. That provision apparently has been removed in committee.
LaLonde, who cites "difficulty with detection and enforcement" of Vermont's existing distracted driving laws, seeks 2 demerit points against the licenses of repeat violators. He also calls for minor drivers to face 90-day license suspensions for serial offenses of the distracted driving laws.
The ACLU wasn't a fan of LaLonde's plan to allow for police searches of cell phones of suspected distracted drivers. "(The bill) might be the definition of what 'vague and over-broad' means," executive director Allen Gilbert told Vermont Public Radio.
2014 distracted driving notes:
Vermont became the 13th state to bar all drivers from handheld cell phone use.
Transportation Secretary Brian Searles said distracted driving has reached "epidemic proportions" in New England. He noted "additional challenges" resulting from winter driving. "Anything we can do to reduce the number of distractions in vehicles is a step in the right direction." Searles was unveiling the state's "Heads Up, Phones Down" publicity campaign for the 2014 hands-free law.
Gov. Peter Shumlin signed the handheld cell phone measure into law at the an Agency of Transportation facility June 12: "While I had a view that I think some shared — that it can be difficult to legislate common sense — it has become clear to me in listening … that Vermonters really want us to sign this bill."
Shumlin had been actively blocking progress of the distracted driving legislation, but decided to support the plan after points against violators' licenses were removed by a conference committee. The House OK'd the revised plan May 7 and the Senate followed May 8.
"This is an example where a governor listens and changes his mind," the governor said at the bill signing.
"Gov. Shumlin wanted to ensure the bill made sense for Vermont, wouldn't increase Vermonters' insurance rates, or harm their driving records," a spokeswoman said of the governor's change of heart.
Earlier, the House approved and sent to the Senate a ban on cell phone use by all drivers. The legislation, House Bill 62, called for fines of up to $500 and 5 points against the driver's license of those who use handheld portable electronic devices. The governor actively opposed its further progress, saying: "You can't legislate common sense."
In early April, the House added a similar handheld cell phone bill as an amendment to another motor vehicle measure, and sent that to the Senate as well. But senators on May 5 called for a conference committee to address the bill, a move that produced the plan approved by the legislature.
The 2014 handheld cell phone bill "sets the stage for some last-minute drama at the Statehouse between powerful senators and the chief executive," WCAX reported in late April. The report said House Bill 62 had "come to a screeching halt" due to the governor's involvement. Sen. Dick Sears, head of the Judiciary Committee, agrees with the governor that the bill is too limited. (Sears sponsored a hands-free bill in 2010.)
House Judiciary Committee Chairman William Lippert said even if the governor vetoes the legislation, "We're going to keep making the statement that it needs to happen. … This needs to be law." The Senate Transportation Committee agreed, advancing the bill March 19. But Gov. Peter Shumlin and his allies intend to lock down the measure in the Senate Judiciary Committee.
Senate Transportation Chairman Dick Mazza says he's "really open" to discussion about banning all handheld wireless communications device use by drivers. In the past, he wasn't. "I'm really concerned about the amount of accidents we're having," he told WCAX. Mazza voted in favor of House Bill 62.
A spokeswoman for Gov. Shumlin said in late January that he "has heard from both sides in the (cell phone driving) debate and is willing to look at the data as this discussion moves forward." He has previously been on record saying government shouldn't legislate "common sense."
State transportation records show 379 crashes resulting from electronic distracted driving from 2009 through 2013. There was one fatality.
Almost 6 in 10 Vermont high school seniors text & drive, the Department of Health reported in January. For high school students as a whole, about a third said they had engaged in texting while driving in the previous month.
Senate Democratic Majority Leader Phil Baruth is back with his plan to ban use of cell phones (Senate Bill 212). "I will keep proposing it until something gets done," he told WCAX in January.
Cell, texting legislation (filed or active in 2014)
Senate Bill 314: General Department of Motor Vehicles bill that includes a ban on handheld cell phones for drivers. As amended, fine of up to $200 for first offense; $250 to $500 for second offense. No points. Conference committee report approved by House in a 130-5 vote of May 7 and by the Senate in a 25-4 vote of May 8. Signed by the governor June 12. Goes into effect Oct. 1.
House Bill 62: Would outlaw use of handheld communications devices by all drivers. Fines: $100-$200 (first offense) plus 2 points vs. license, then $250 to $500 plus 5 points. Approved in a unanimous vote of the House Judiciary Committee on Jan. 31, 2014. Approved by the House in a 130-11 vote of Feb. 13. Amended and approved by the Senate Transportation Committee on March 19. (O'Brien) See S. 314, above.
S. 212: Would outlaw use of handheld (portable) electronic devices while driving in Vermont. Fines: $100 to $200 (first violation); $250 to $500 (subsequent within two years). (Baruth)
Cell, texting legislation (2013-2014)
Senate Bill 150: General motor vehicle bill that includes increases in fines for texting and a ban on drivers' use of handheld communications devices in work zones (see below). Signed into law May 30 as Act 150. Took effect Jan. 1, 2014.
House Bill 17: Seeks to hike fines for text messaging while driving to at least $250 plus 3 points (first offense), then $500 plus (the existing) 5 points. Folded into in S. 150 and approved under Act 150. Took effect Jan. 1, 2014. (Malcolm)
HB 161: In work zones, would prohibit use of handheld wireless communications devices such as cell phones. Fines: No less than $100 plus 2 points against driver's license (first offense), then $250 plus 5 points. Folded into in S. 150 and approved under Act 150. Took effect Jan. 1, 2014. (Botzow)
HB 187: Would prohibit use of portable electronics devices while driving. Would remove GPS exception to current texting law. Also would make failure to use a seat belt an offense subject to primary enforcement. (Potter)
SB 33: Would bar drivers from using handheld electronic devices such as smart phones and other cell phones. (Baruth)
2013 distracted driving notes:
Gov. Peter Shumlin signed into law several distracted driving measures in late May, despite a libertarian stance toward use of wireless communications devices by drivers. The governor has said it is "difficult to legislate intelligence or stupidity."
Public Safety Commissioner Keith Flynn isn't a fan of the House plan to hike fines for texting while driving in Vermont. "We just don't think there's adequate proof to make a change at this point," he told a House committee April 2.
2011 distracted driving notes:
The number of distracted driving tickets issued since the Vermont texting law went into effect in July 2010 appears to be relatively low. By April 2011, the number was 64; police estimates in late summer indicated that the number is "in the dozens."
A texting-and-driving crash that left a Colchester woman in critical condition has the chairman of the state Senate transportation committee thinking about tougher distracted driving laws. An 18-year-old, Emma Viera, was texting as she hit Deborah Drewniak, 52, on Aug. 7, police said. Viera was charged with gross negligent operation of a vehicle with serious injury resulting. She later reached a plea agreement that included some jail time, home confinement, probation and community service. Drewniak, who spent months in a coma, said: "My life has been screwed up forever."
State Sen. Dick Mazza, D-Chittenden/Grand Isle, told WCAX: "Evidently a fine doesn't work. … To get their attention you're going to have to probably suspend their license. And I'm not afraid to take that up for consideration." He remains opposed to a handheld cell phone ban for adult drivers, however.
2010 cell, texting legislation
Vermont Senate Bill 280 (Senate version): Would ban text messaging for all drivers. Fines of $100/$250 plus 30-day suspension for junior drivers. Primary enforcement. Two points for first offenses; five thereafter. Calls for DMV education plan. Approved by the Senate in a 25-0 vote on Feb. 5 and by the House in a 134-5 vote on May 6. Signed by the governor on June 1. Effective immediately. (Committee on Transportation)
Vermont Senate Bill 280 (House version): Originally sought to ban text messaging and use of handheld cell phones by all drivers. Would outlaw use of cell phones and other handheld electronic devices by all drivers under age 18. (Aka Highway Traffic Safety Act of 2010.) Approved by the House on March 16. Converted to "An act relating to prohibiting texting, prohibiting use of portable electronic devices by junior operators, and primary seatbelt enforcement for persons under 18" and approved by both the House and Senate in early May. Signed by the governor on June 1 and effective immediately.
(Other 2010 distracted driving legislation, below, all dead)
SB 151: Would outlaw drivers' use of hand-held cell phones, but allows for operation with a hands-free device. Includes a ban on use of "other electronic communications devices" (text messaging). Outlaws the use of all cell phones and other electronic communications devices by a driver with a learner's or junior license. Fines of up to $100. Sent to transportation committee Jan. 5, 2010, with a hearing on Jan. 12. (Sears, Brock)
Vermont House Bill 496: Would prohibit all drivers from text messaging. Fines are as high as $750 for a first offense scaling up to $2,500 a third violation. Mandates community service or jail time for second- and third-time violators. (Mrowicki)
HB 493: Would prohibit text messaging while operating a motorized vehicle in Vermont. Includes snowmobiles, boats and all-terrain vehicles. Fines of $100/$250 plus 30-day suspension for junior drivers. Two points for first offenses; five thereafter. (Grad)
HB 277: Would restrict drivers on Vermont's roads and highways from using a cell phone. (No provision for hands-free devices.) Calls for secondary enforcement, meaning a driver cannot be stopped and cited for this reason alone. Fines of $25-$100 apply if driver also is fined for a primary offense. In Transportation Committee since February 2009. (Masland)
2010 legislation notes
Gov. James Douglas signed the distracted driving bill into law on June 1 at Montpelier High School. A test course was set up at the school to demonstrate the dangers of texting and talking behind the wheel.
The March 17 debate in the House over the amended Senate Bill 280 included these statements:
Rep. Anne Donahue, R-Northfield: "I vote yes because secondary enforcement is an illogical mechanism of law."
From Rep. Don Turner, R-Milton: "If this law generates a thousand officer discretionary stops and only saves one life, it is worth it to me."
From Rep. John Rodgers, D-Glover: "This country was founded by people who broke unjust laws. I will not give up any freedom easily no matter how small it may seem." (Rodgers voted no.)
Sen. Dick Sears, D-Bennington, says his SB 151 carries a maximum $100 fine because it would most often be assessed on younger drivers. "Whatever (fine) you pick is going to be onerous on teenagers," he said. Senate Transportation Committee Chairman Sen. Richard Mazza, D-Grand Isle, supported the bill.
The anti-texting-and-driving measure SB 151, approved by the Senate, has been sent to the House, where it's expected to gain a handheld cell phone component.
Republican Gov. James Douglas says he's in favor of distracted-driving legislation that focuses on text messaging while driving.
Senate Transportation Committee Chairman Richard Mazza, D-Chittenden/Grand Isle, says he believes the Senate will approve a text-messaging ban in 2010, but not prohibitions on cell phone use by drivers.
"It appears almost certain that Vermont this year will join the growing list of states that punish motorists who text," WCAX news says.
2009 legislation:
An overall highway-safety bill prepared for the 2009 session prohibits cell phone use by drivers unless a hands-free accessory is engaged, and a full ban on 16- and 17-year-olds' use of cell phones while driving. Given preliminary approval by the House on April 9, 2009.
Previous legislation notes:
The sponsor of the Vermont highway driving safety bill HB 147 is Rep. Maxine Grad, D-Moretown.
A similar bill sailed through the House in 2008 but failed to become law last year in a Senate squabble over graduated licensing rules. Senate President Peter Shumlin was blamed for holding up the safety legislation.
Bills presented in the 2008 session:
HB 117: Would prohibit drivers from using cell phones without hands-free devices.
SB 20 and HB 31: Would prohibit drivers from using cell phones.
HB 85: Would prohibit drivers with learner's permits or a junior license from using cell phones.
Republican state Rep. Thomas F. Koch, a cell phone safety bill sponsor, told the AP: "What finally pushed me over the edge was when I was at a stop sign and somebody opposite me was trying to navigate around the corner with a cell phone to the ear in one hand and a cigarette in the other, and she wasn't doing very well." He said his wife saw a driver jamming with a flute, prompting the instrument wording.