Last updated: January 9, 2015
Cell phone/texting news: Utah drivers would be able to use their cell phones in hands-free mode under a plan submitted for 2015 by state Rep. Jacob Andregg. The amendments would remove some of the restrictions that went into effect in 2014, such as dialing a phone number. Andregg's plan basically bars texting & driving and use of handheld cell phones. Smartphone GPS would be allowed, but not use of Web applications. See House Bill 63, below.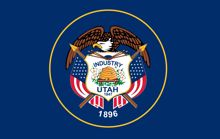 Utah Highway Patrol troopers pulled over almost 700 people for distracted driving violations in the six months since the state toughened its laws. UHP said it made 692 stops in the period from May to October 2014 — a significant increase over the 166 of last year. Troopers credit the revised law, which outlaws almost all typing on keyboards while behind the wheel, including entry of phone numbers. The new law — which went into effect in mid-May — still allows drivers to talk on cell phones, which is not regulated in Utah. As amended, it also allows for use of GPS apps and hands-free technologies. Prohibited are email, video and Internet surfing. Fines up to $100 for first offenders.
Utah's original text-messaging law went into effect in 2009.
Current prohibitions
Text messaging outlawed for all drivers. Typing on keyboards prohibited, including entry of phone numbers. Accessing Internet by use of hands barred.
Drivers under 18 barred from using wireless communications devices (cell phones).
Utah has a law on the books against "careless driving" — which can be defined as committing a moving violation while distracted by use of a hand-held cellphone or similar activities. Using a cell phone can bring additional penalties as a secondary violation.
Read the Utah distracted driving law | auto homicide provisions
Distracted driving legislation (2015):
House Bill 63: Would allow drivers to use cell phones and with hands-free accessories. Rewrites existing law to remove some recent restrictions on use of smartphones, accessing Internet and dialing a phone. Allows for GPS and video but not applications. See changes of 2014 under SB 253, below. (Anderegg)
2014 distracted driving legislation:
Senate Bill 253: Broadens and amends current texting & driving law to update technology covered. Outlaws most forms of typing while driving. Sets first-offense fine at $100. Approved by the Transportation Committee in a 2-1 vote of Feb. 28. Approved by the full Senate in a 17-8 vote of March 10. Approved by the House in a 41-28 vote of March 13. Final sign-off in the Senate on March 14. Signed into law by the governor April 1. Takes effect May 13. (Urquhart)
Distracted driving notes (2014):
State Sen. Steve Urquhart thought Utah's texting & driving law was behind the times. The House and Senate agreed, voting in favor of the Urquhart bill, with Gov. Gary Herbert giving final approval April 1. The changes are now in effect.
Urquhart's Senate Bill 253 edited and rewrote parts of the state's lone distracted driving law, to outlaw almost all typing on keyboards while behind the wheel, including entry of phone numbers. "It deals with any and all manipulation of a device," says Urquhart, who believed that texting drivers were beating their tickets by saying they were dialing a number.
Utah Highway Patrol troopers handed out 150 warnings the first day under the revised law.
The bill was inspired, in part, by the death of David Henson and severe injuries to his wife Leslee. The St. George couple were walking a year ago when hit by a 50-year-old woman who allegedly was texting and speeding. The driver has been charged with automotive homicide.
2013 distracted driving legislation:
House Bill 103: Would bar drivers under the age of 18 from using cell phones while behind the wheel. Fine: $25, no points (as amended). Exceptions include "communicating with a parent or legal guardian." Approved by the Justice Committee in a 7-4 vote of Feb. 13. Approved by the House in a 48-22 vote of Feb. 25 and sent to the Senate, where it was "held" by the Transportation Committee. Rejected by the Senate in an 11-13 vote of March 12. Reconsidered and approved in a 17-12 vote on March 13. Signed by the governor April 1. (Perry)
2013 distracted driving notes:
The 2013 law that outlaws use of wireless communications devices by drivers under the age of 18 comes with $25 fines for violators but no points. The teen cell phone bill does come with what could be seen as a major loophole: "Communicating with a parent or legal guardian" is an exempted use.
Logan police say their crackdown on texting while driving resulted in a 30 percent reduction in accidents on Main Street. The two-year "Stop the Main Distraction" campaign was funded by the Utah Highway Safety Office.
A Jensen man has been sentenced to up to five years in prison on charges of vehicular homicide in the death of a 15-year-old pedestrian. The charges are among the first filed under the 2012 update of the Utah texting law that broadened the definition of negligence in auto homicide cases linked to handheld device use.
Jeffery Bascom, 29, was sentenced July 1. Prosecutors said Bascom was texting & driving at the time he drifted off the road and killed 15-year-old Tommy Clark. The teen's mother said she was pleased that Bascom would do time, but "when you lose a child you never have a sense of resolution." The texting law rewrite went into effect in May 2012.
Of the teen cell phone measure HB 103, the St. George Spectrum editorialized Feb. 27: "This bill really is a "don't talk to your friends" bill. … more thought should go into this legislation. The Senate should defeat this bill or not introduce it at all." The newspaper said the $25 fine wasn't "much of a deterrent" and it wondered why Utah's adult drivers wouldn't be banned from cell phone use as well.
2012 distracted driving legislation:
Senate Bill 98: Would broaden the definition of text messaging in the current Utah text messaging law. Includes composing a text, entering data and accessing apps. Allows use of handheld device for GPS. In cases of automobile homicide, broadens definitions to negligence in use of handheld electronic devices, not just texting. Approved by the Senate Transportation Committee in a 3-0 vote taken Feb. 22. Approved by the Senate in a 24-4 vote Feb. 28 and then by the House in a 39-32 vote March 6. Latest action: Signed by the governor March 19, 2012, and took effect May 8. (Hillyard)
Senate Bill 128: Would prohibit use of cell phones by drivers under the age of 18. Exception made for communicating with parents. Fine: $50, no points. Approved by the Senate Transportation Committee in a 3-2 vote on Jan. 27. Approved by the Senate on a second reading Feb. 6 (19-9-1 vote). Final approval by the Senate on Feb. 7 (19-9 vote). Rejected by the House on March 8 and dead. (Romero)
2012 distracted driving notes:
In 2012, the House rejected a Senate plan that sought to prohibit use of cell phones by drivers under the age of 18. It was a rerun of 2010 and 2011, when bills that would have outlawed use of all cell phones by drivers under age 18 also were approved by the state Senate, but died in the House.
Sen. Ross Romero, D-Salt Lake City, saw his teen cell phone measure SB 128 clear its second and final vote in the Senate with continued support from Republicans. Both Senate votes registered 19 senators in favor and 9 opposed. The bill failed to gain traction in the House, however, and is dead for the year.
Romero said SB 128 was inspired by a group of teens who lobbied for a previous attempt to ban handheld cell phone use by Utah drivers. His bill, which applies only to drivers under the age of 18, would have no effect on the violator's DMV record. "I've heard from several parents who really like the idea — that it would be against the law and yet the penalties would be relatively small," Romero told the Deseret News in late January.
Sen. Stuart Adams, R-Layton, was one of two members of the Transportation Committee to vote against Sen. Romero's SB 128. He cited the familiar list of other distracted behaviors, such as "eating lunch" and grooming. "I'm not sure we can regulate inappropriate behavior," Adams said. "I just don't know how microscopic we should be." The bill advanced to the full Senate, regardless.
Sen. Lyle Hillyard, R-Logan, says his SB 98 closes a loophole in the current law that allows drivers to compose email. His plan would make it clear that "texting is a violation of the law even if you don't send the message."
84 percent of Utah adults support the prohibition of cell phone use for drivers under 18, preliminary numbers from a Utah Department of Health survey indicate. A cell phone ban for all drivers registered the support of 70 percent, the Deseret News reported in late January.
2011 legislation (dead):
HB 95 second substitute: Amends careless driving law to include new violation of operation of a vehicle while impaired by fatigue or illness. First HB 95 substitute created by House Rules Committee cleaned up language in the original HB 95. Sent to the House Law Enforcement and Criminal Justice Committee on Feb. 17, which rejected the bill as it was and days later created the second substitute (that removed a section related to seat belts). Bill (second sub) approved by the House on March 1 and transmitted to the Senate, where it was defeated in a 9-19 vote on March 10. (Perry)
SB 45: Would prohibit use of cell phones by drivers under the age of 18. Fine: $50, no points. Primary enforcement. Approved by the Senate Transportation Committee on Feb. 7. Approved by the full Senate in a 21-4 vote on Feb. 17 and introduced in the House. Reported as "not considered" by the House transportation committee on Feb. 28. Second House reading March 4. Latest action: Defeated in a 32-38 vote in the full House on March 8. (Romero)
2011 distracted driving notes:
Utah's traffic fatality rate is on track to hit a 37-year low in 2011, based on numbers from January-June. The Utah Department of Transportation said July 21 that there were 91 deaths in the first half, compared with 96 in 2010. Five of the deaths were linked to distracted driving. UDOT Traffic and Safety Director Robert Hull urged motorists "to remember to buckle up and avoid the behaviors that most commonly cause crashes—distracted driving, impaired driving, aggressive driving and speeding."
Rep. Carl Wimmer, R-Herriman, reportedly said during debate on SB 45 that, as a law officer, he had to tell parents of their teens' deaths in traffic. "There's something in my opinion that is more horrific, and that is the constant attack on liberty and freedom that we see in this Legislature." The bill was defeated.
The state Department of Transportation says distracted driving is causing an increasing amount of accidents in Utah, especially the use of cell phones and handheld music players. In 2010, 18 deaths were blamed on distracted drivers. Overall, 235 motor vehicle fatalities were logged, the fewest since 1974.
Sen. Ross Romero, D-Salt Lake, put some teeth into his failed distracted driving legislation of 2010, which sought to ban use of cell phones by teen drivers, but called for only secondary enforcement. This year, his SB 45 is tagged for primary enforcement, meaning police can stop and cite offenders for that reason alone.
A high school senior testified Feb. 7 in favor of SB 45: "When I see teenagers in a car driving around (using cell phones), it makes me really scared for my life," she said. (TV news video below)
Distracted driving legislation champion Rep. Phil Riesen did not run for re-election after his term ended in 2010. The Democrat saw his cell phone legislation fail in both 2009 (all drivers) and 2010.
2010 legislation
HB 237: Would have prohibited teens under 18 years old from using a cell phone while driving on Utah roads and highways. Penalties included points against the driver's license. Defeated. (Riesen)
SB 113 (and substitute): Would make the ban against teen drivers using cell phones a secondary offense with no points against license. (Romero) Also a substitute version from the House agreeing to these provisions (Riesen). This was the compromise version of the teen cell phone bill. Both defeated.
2009 legislation
Utah House Bill 290: Prohibits text messaging while driving. Approved in the House and Senate and sent to Gov. Jon Huntsman Jr., who signed it into law on March 25. Enforcement began July 1, 2009.
Utah Senate Bill 149 (sub): Would outlaw text messaging while operating a motor vehicle. Approved by the full Senate as a substitute bill and sent to the House Transportation Committee on Feb. 26, 2009. Filed as a defeated bill March 13.
HB 95, from Rep. Phil Riesen, would prohibit use of wireless devices while operating a motor vehicle. The bill includes text messaging and cell phones, and does not allow for use of hands-free devices. Bill dead for year.
HB 248: Would ban use of "wireless communication devices" while driving on Utah's roads. Provides for use with hands-free devices. Includes text messaging and cites PDAs. "Bill substituted" on Feb. 20, creating exceptions for law enforcement, etc. Bill "held" (tabled) by House Law Enforcement and Criminal Justice Committee on Feb. 24 and filed as a defeated bill.
HB 281: Targets text messaging while driving. Would ban use of wireless communications devices while driving through reduced speed zones and parking lots, unless a hands-free device is utilized. Would prohibit drivers under 18 from using wireless devices while behind the wheel. Filed as a defeated bill March 13.
Utah cell phone legislation notes (through 2009)
Rep. Stephen Clark, R-Provo, sponsored the 2009 House plan to ban text messaging while driving. The vote in the Senate was 26-1. In the House it was 45-29.
Rep. Phil Riesen blamed the 2009 failure of his driving cell phone ban on retaliation for an unrelated ethics allegation he made against another lawmaker.
Sen. Lyle Hillyard, R-Logan, saw his version of the texting ban SB 149 advance to the full Senate on Feb. 6, 2009, and then to the House after the Senate's approval on Feb. 25. Penalties increase to possible jail time after two prior offenses. Texting and causing an accident would be considered a third-degree felony. Sen. Margaret Dayton, R-Orem, was the only senator to vote against Hillyard's bill.
Hillyard told the Herald Journal that he didn't include cell phones in his Utah texting bill because it would decrease the chances of passage: "(If) my bill is the only bill left because of the controversy about cell phones, I think my bill has a very good chance of passing."
Rep. Carl Wimmer, R-Herriman, helped kill the hands-free bill HB 248, citing the careless driving offense on the books (above) and saying, "The bill would make no change in our law."
Rep. Carol Spackman Moss, D-Holladay, defended her defeated HB 248: "You can make a big improvement in safety if people have both hands on the wheel."
Earlier, Moss said, "It would at least be a first important step to get people to put both hands on the wheel again and not have a hand up to their ear." She has been an advocate of such a law for several years.
Jeff Nigbur, spokesman for the state Department of Public Safety, said his group is watching all five Utah cell phone/texting bills, and "will focus on the one that gets close to passing."
Rep. Phil Riesen's cell phone driving bill HB 95 was endorsed by the Salt Lake Tribune on Jan. 28, 2009.
Rep. Paul Ray, R-Clinton, is preparing legislation for the 2009 session that would ban text messaging by drivers and outlaw cell phone use in certain school zones. "If we can restrict drinking and driving, we should certainly restrict anything else that causes potential harm and (texting while driving) is very high risk," Ray told ABC4.com.
From the Salt Lake Tribune (Jan. 23):
Lawmakers in the past have resisted phone restrictions for cars, often citing a distaste for limiting personal liberties. It will be no different for some of them this year, and members of the Utah Transportation Commission who heard about the latest proposal at their meeting last month chuckled at its prospects. "Good luck with that," Commissioner Glen Brown said after hearing the report.
The Utah lawmakers might want to check with their constituents. A Tribune poll of Utahns conducted in early January 2009 shows that 80% support limits on cell phone use by motorists. 15% were opposed to cell phone driving laws and 5% were undecided. (500 voters, margin of error 4.5%)
Utah assesses points against a drivers license for a cell-related conviction.