Britain's new government is following up tough talk on electronic distracted driving with a doubling of penalties for handheld mobile phone use.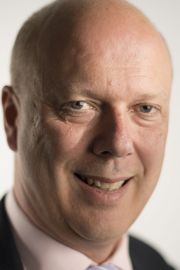 The new punishments, still being finalized, will be be at least £200 and 6 points vs. the driver's license, officials says. They will take effect in the first half of next year, the Department for Transport said.
The moves are spearheaded by new Transport Secretary Chris Grayling, left, who was appointed by Prime Minister Theresa May.
Distracted drivers "could kill and cause untold misery to others," Grayling said in a statement Sept. 17. "I will be announcing a tougher new penalty regime shortly."
The changes will apply to England, Scotland and Wales.
For younger drivers, 6 points means a license suspension. Serial offenses will cost adult drivers their license — with 12 points and a potential £1,000 fine.
A report released this week, the RAC cited an "alarming" rise in the number of people making calls, texting and even recording videos. It said almost a third of British motorists had used a handheld mobile phone in the past year. Public attitudes toward distracted driving had relaxed significantly in the past two years despite numerous safety campaigns on the problem, the RAC said.
As many as 200 people died in crashes linked to mobile phone use by British drivers in the past decade. In recent days, a bicyclist was killed in a texting crash and two truck drivers were sentenced to a combined 11 years in prison for killing people while using their mobiles.
AA president Edmund King said: "If we are to change the attitudes of young drivers maybe it has to be that harsh."
The RAC said it would welcome these changes, adding that they need to be backed up with a hike in traffic officers to help enforce them.
New Prime Minister May said earlier this month that she was "aware of the concern there is about the law in relation to dangerous driving," noting that a daughter of a constituent had died. She said at the time that officials were looking into tougher penalties. The former attorney general had opposed increasing punishments for distracted driving.
> Read more about distracted driving in Britain.