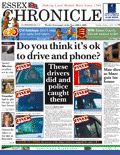 Steady, cell phone chatterers. The Essex Chronicle in England has decided to "name and shame" drivers who are violating traffic laws by using mobile phones behind the wheel.
A reporter accompanied local police as they cited drivers for chatting and texting while motoring. The newspaper then printed the perps' names and photos.
The unusual tactic sometimes is used by the media to humiliate prostitutes' johns, but the cell phone suspects didn't seem all that repentant.
"I don't like people telling me how to live my life," said second-time offender Gemma Dean. When asked if she felt like she was endangering others by cell phoning while behind the wheel, she replied: "I don't really care."
At least one fellow caught one-handed admitted: "I feel a bit stupid now."
An online commenter pointed out that these are alleged offenses. "The Essex Chronicle are NOT the police or a magistrates court!"
In any event the cell phone chronicles could be good for circulation. "Buy this week's Chronicle for more on the issue and to see if you were pictured on the phone behind the wheel by our photographers," the paper's web site urged.