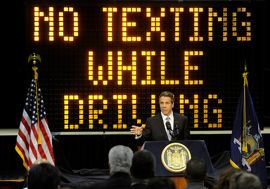 New York state has seen text messaging ticketing take a sharp rise since since tougher enforcement of electronic distracted driving laws went into effect in July 2011.
Overall, law enforcement officers wrote almost 120,000 electronic distracted driving tickets in the seven months from July 12, 2011, to Feb. 7, 2012.
Text messaging violations saw the most significant increase, to 7,495 tickets. A new state law made text messaging subject to primary enforcement, while a DMV policy added a third point against the driver's license of electronic distracted driving violators.
The bulk of the citations since July — 111,262 — were for handheld cell phone use (and to a minor extent other non-texting uses of wireless devices). That infraction already was subject to primary enforcement.
"These tickets should send a resounding message to all drivers: Keep your eyes on the road and your hands on the wheel," said Gov. Andrew Cuomo, who pushed through the state's tougher distracted driving rules last summer.
New York's distracted driving law rewrite (resulting from bills S5643 and A8106) did not increase penalties for violators — just increased the chances of their being pulled over and cited. The fine for violations remains at $150.
The state promoted the hike in texting tickets, which made sense but wasn't an apples-to-apples comparison. (The numbers were worked up in connection with a distracted driving hearing in Albany earlier this week.)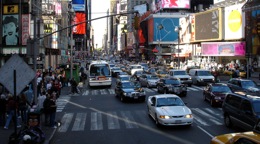 In the 6 1/2 months before the new New York rules took effect, 2,691 tickets were issued for texting vs. the 7,495 tickets in the seven months after the get-tough actions. For the full year 2010, 3,248 tickets were issued.
Handheld cell phone ticketing appeared to be down, although the state did not compare those figures. The 111,262-ticket mark since July 2011 is not on track to top the 332,000 citations of 2010.
In New York City, 69,211 cell phone tickets were handed out since July 12. Text messaging tickets totaled 3,509. The most tickets were written in Manhattan and Brooklyn.
Of the counties, Suffolk had the biggest share of cell phone tickets since July (5,355) while Erie had the most texting tickets (662).