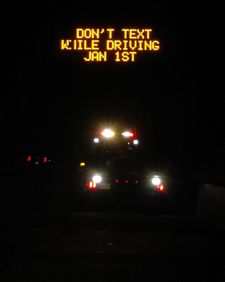 California's text-messaging law went into effect on Jan. 1, making it illegal for drivers to use wireless devices to send, receive or read electronic files while on the road.
The new law joins two other laws affecting drivers that took effect in midsummer: a ban on the use of cell phones unless a hands-free device is enabled, and a total ban on cell phone use by motorists under 18.
(Update): In the first month, the Highway Patrol wrote 88 citations for text messaging statewide. That does not include tickets from deputies and police.
Sen. Joe Simitian, D-Palo Alto, pushed through the cell phone and text messaging legislation. The other two laws went into effect July 1, but Simitian decided to wait on the text messaging legislation for strategic reasons.
"We have had far too many tragic incidents around the country that are painful proof that this is a terrible problem," the state senator said. California Gov. Arnold Schwarzenegger signed the Simitian anti-text messaging bill SB 28 on Sept. 25.
Texting while driving fines start at $20 and go to $50 for repeat offenses. With fees, the cost of violating California's new text messaging law could hit $200. No points are charged against the driver's license. (These are the same fines for cell phone violations.)
The law applies regardless of whether a vehicle is stopped at a light or in heavy traffic. Drivers may text- message while parked or legally pulled off the road, regardless of whether the engine is running, the California Highway Patrol says. Stopping on a freeway for reasons other than emergencies is prohibited by state law.
California's new texting law applies to communications between two people. It does not prohibit use of a wireless device's keyboard for for dialing phone numbers (assuming a hands-free device is employed during the call) or for enabling a voice-dialing application. Keyboarding in order to access cell phone GPS functions is allowed as well.
The state is particularly sensitive to the text messaging problem, following reports that a commuter train operator in the San Fernando Valley was sending and receiving written communications before a deadly crash.
California becomes the sixth state to outlaw text messaging while behind the wheel. The other states are Washington, Minnesota, New Jersey, Alaska and Louisiana. Numerous other states are considering bans on texting while driving. Local and regional prohibitions on texting have been taking effect nationwide as evidence continues to point to the practice as a factor in many accidents.