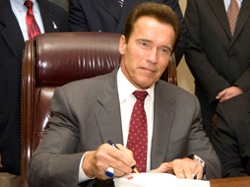 California has a new text-messaging law to go with its recent ban on handheld cell phone use by drivers.
Gov. Arnold Schwarzenegger signed SB 28 on Sept. 24, 2008, with an effective date of Jan. 1, 2009. The legislation had been in limbo during the state's budget standoff of September.
"Banning electronic text messaging while driving will keep drivers' hands on the wheel and their eyes on the road, making our roadways a safer place for all Californians," Schwarzenegger said.
State Sen. Joe Simitian, D-Palo Alto, added the texting law to his distracted-drivers portfolio. He also authored the law prohibiting drivers' use of cell phones without hands-free devices, as well as the law that prohibits drivers under 18 from using cell phones or texting devices.
The bill as passed by the Senate:
"Prohibits driving a motor vehicle while using an electronic wireless communications device to write, send, or read a text-based communication which is defined as manually communicating with any person using text-based communication such as text-messaging, instant messaging and email."
The law has the same fines as the cell phone sanctions: $20 fine for a first offense and a $50 fine for subsequent violations.
The California Highway Patrol says it has written almost 20,000 citations for motorists caught using handheld cell phones without hands-free devices.
Related reading:
Text messaging a hot topic after crash
California's hands-free law now in effect