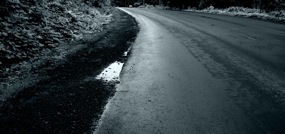 U.S. teenagers' most dangerous move behind the wheel? Not speeding, not drinking, not racing. It's simply driving after dark, according to a new study of highway fatalities.
From 1999 to 2008, the proportion of fatal crashes at night involving teen drivers increased 10 percent, according to a study released May 6 by the Texas Transportation Institute. Fatalities involving all drivers fell during those 10 years.
Most of the blame for the teen spike should go to use of cell phones and texting devices, researchers speculate.
"We know driving at night is dangerous," said Bernie Fette of the Texas Transportation Institute. "We know using a cell phone behind the wheel compromises your ability to drive. Put those together and you've created a perfect storm (for highway fatalities)."
Teens die in distracted driving accidents more often than any other group of drivers.
In 1999, nighttime crashes accounted for 45 percent of fatalities linked to the 16 to 19 age group. In 2008, that rose to 50 percent.
After nighttime driving, the fatality factors for drivers 16 to 19 years old were speed, distractions, failure to buckle up and drinking, according to the Texas Transportation Institute.
While almost all teens understand that drinking and driving costs lives, very few were aware that motoring at night was a separate risk factor, the study said, citing a survey of Texas teens.
The researchers also cited teen driver fatigue as a likely contributor to these fatality numbers. The nationwide data did not track cell phones or fatigue, however.
The researchers pointed to the dramatic increase in use of handheld electronic devices behind the wheel as the basis for their conclusion on distracted driving.
Several state legislatures in 2010 have considered plans to increase the restrictions on young drivers with restricted licenses. Some states ban cell phone use for teen drivers, period (handheld or hands free).
The percentage of night-driving fatalities also was up (8 percent) for adults, but the researchers felt alcohol use probably was the main contributor to that rise.
Overall, fatalities fell about 11 percent in the 10-year period, according to data from the Fatality Analysis Reporting System at the National Highway Traffic Safety Administration. The increased proportion of nighttime fatalities is what alarmed the researchers, who are based at Texas A&M.