Last updated: December 18, 2017
Montreal police reported more than 10,000 cell-phone-related citations so far in 2017. Almost 2,000 tickets were handed out for other distraction offenses. The ticketing data were released in mid-September as part of an auto insurance board campaign targeting texting and other forms of distracted driving. More than 40 percent of collisions in Quebec are linked to distracted drivers.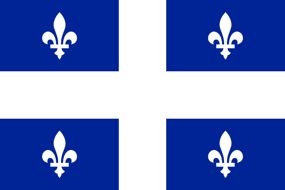 Quebec's new transportation minister wants the federal government to consider criminalizing electronic distracted driving. Laurent Lessard said he would ask Canadian minister Marc Garneau to study the issue to see "what elements of criminalization would be involved." Lessard's comments to reporters came Aug. 23, shortly after a Quebec coroner, Michel Ferland, called for making cell phone use by drivers a crime in cases of death or serious injury. Lessard has just succeeded Jacques Daoust as transport chief.
Transportation minister Lessard also said he was looking into toughening the province's laws against handheld cell phone use and texting. The Quebec Highway Safety Code provides for fines of up to $100 and four demerit points (as of April 2015). The province's handheld cell phone ban for drivers dates back to 2008.
Another Quebec coroner is calling for the criminalization of distracted driving in cases of death or serious injury. Coroner Michel Ferland devoted much of his report on the death of a truck driver to the "plague." The trucker had been ticketed repeatedly for cell phone use before he plowed into another truck in March. He had been using his smartphone just before the crash and failed to brake before hitting the slowed vehicle in front of him. Ferland backs cell phone seizures by law officers as well as blocking technologies. Another Quebec coroner recently called for a complete ban on cell phone use by provincial drivers. Ferland's report was forwarded to the federal Department of Justice.
In Quebec, the Transport Ministry is setting up designated highway rest zones for Internet use and texting. As of early November 2015, there were texting areas on Highways 40, 15, 10, 55 and 20.
A Quebec wearer of an Apple Watch has been ticketed for distracted driving. He plans to appeal the distracted driving ticket. Jeffrey Macesin faces a $120 fine and 4 demerit points. He said he was using the new device to change songs on his music system. Macesin maintains the Apple device is not "handheld," making it legal under Quebec's distracted driving law. "I think this needs to be talked about," he said of the May 2015 ticket.
Quebec's penalties for electronic distracted driving increased to a maximum fine of $100 and 4 demerit points as of April 2015. Drivers will pay between $115-$145 after court fees.
Quebec drivers who used their handheld wireless communications devices in 2014 suffered a record 66,114 citations, the auto insurance board says.
> View more Canadian distracted driving laws and news.