Last updated: December 18, 2017
Cell phone, texting news: A rewrite of Oregon's distracted driving law took effect Oct. 1. The new law ushered in by House Bill 2597 updates the law's wording to include any use of "mobile electronic devices" such as smartphones. The law outlaws holding these devices while driving. The plan also upgrades first-time infractions from Class C to Class B ($260 first offense). The final House vote came June 30 and the governor signed the act into law in early August.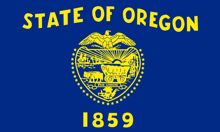 House Bill 2597 author Rep. Andy Olson says the new law is all about "holding the (mobile electronic) device." "The law doesn't say you can't use (cell phones and smartphones), you just can't have them in your hand. You can still swipe something on or off."
Oregon distracted driving laws:
Oregon prohibits holding of mobile communications devices by all drivers. Single swipe to activate device OK. Cell phones with hands-free attachments are allowable only for those over 18 years of age.
Drivers under the age of 18 with learner's permits or intermediate licenses are prohibited from using cell phones or text messaging while driving. The ban applies to all cell phone use, regardless of whether a hands-free device is employed.
Read the Oregon cell phone & texting law
Fines: First offense, $260. Second offense, $435. Third or subsequent conviction, $2,000 plus possible jail time.
2017 distracted driving legislation:
House Bill 2597: Updates distracted driving law to include any use of "mobile electronic devices" such as smartphones. Outlaws holding these devices while driving. Establishes "distracted driving avoidance courses" for first offenders. Upgrades infractions from Class C to Class B (first offense). Increases penalty to a Class A infraction if accident results or subsequent offense occurs within 10 years. Approved by Judiciary on April 21. Approved by House in a 46-13 vote of May 1. Approved by Senate Rules Committee on June 26. Amended and approved by the full Senate in a 21-8 vote of June 29. Approved by the House in a 47-6 vote of June 30. Signed into law by the governor Aug. 2. Took effect Oct. 1, 2017. (Olson)
Senate Bill 2: Would set minimum $1,000 fine for a first distracted driving offense and a $1,500 fine for a second offense. For third offense, minimum $2,000 fine. Maximum fine for first offense, $6,250 and a year in prison. Maximum fine for serial offenses, $10,000 and five-year imprisonment. Establishes felony prosecutions for serial offenders. Additional 48 hours in jail or community service for distracted driving convictions. Also renames offense to use of "using mobile electronic device." Approved by Judiciary on April 19. Died in committee. (Courtney)
SB 556: Would create offense of driving with a dog in vehicle operator's lap. Died in committee. (Hansell)
Distracted driving notes (2017):
State Rep. Julie Parrish was busted for handheld cell phone use in October, the same month that tougher distracted driving legislation that she supported went into effect. Parrish, who said she was using a map to look for directions, said her $265 ticket should bear witness that police are enforcing the new law.
State Senate president Peter Courtney was spearheading distracted driving legislation for 2017 that could bring first-time offenders a year in jail, as well as fines as high as $6,250. The minimum fine would be $1,000. Courtney's bill also envisioned punishments for repeat offenders of five years in prison and/or a $125,000 fine. Courtney told the Joint Senate and House Judiciary committees that distracted driving had become "an epidemic" in Oregon: "Until we, as a state, take distracted driving as seriously as drunk driving, we aren't going to be able to change behavior."
Courtney is modeling his SB 2 after drunken-driving laws. He told a legislative gathering in mid-December: "Between 2005 and 2012, the number of drunk driving fatalities per person decreased by 28 percent. Yet, even as the drunk driving fatality rate continues its decades-long decline, the danger of distracted driving is worsening as smartphone usage increases."
2016 distracted driving notes:
Oregon State Police say they saw distracted driving ticketing increase by almost a third after adding 40 unmarked patrol cars this year.
Three-quarters of Oregon motorists drive distracted at some point, a study suggests. 75 percent of drivers surveyed in early 2016 said that they engaged in distracted driving behaviors while alone. The percentage dropped to 57 percent when passengers were present, according to the respondents. 83 percent said the distracted driving problem was getting worse in the state, mostly due to cell phone use, according to the Southern Oregon University study.
67 percent of state drivers surveyed support an increase in electronic distracted driving fines, a 2016 survey suggests. Researchers at Southern Oregon University found "an overall consensus that more and more people are driving distracted using cell phones and that this behavior is likely to continue."
2015 distracted driving legislation:
Senate Bill 167: Would allow taxi drivers to use mobile communications devices while on the job. (Boquist)
2013 distracted driving notes:
Portland is equipping some of its buses with equipment designed to grab the attention of pedestrians, who are often using cell phones when stepping in front of vehicles. The alerts being tested include flashing headlights, verbal warnings and strobe lights. The "distracted walking" test is funded by a $400,000 Federal Transit Administration grant. In 2010, a turning TriMet bus hit five pedestrians, killing two.
Sen. Peter Courtney, D-Salem, was the sponsor of the distracted driving measure that increases fines as of Jan. 1, 2014. Senate Bill 9 (below) cleared the Senate and House on July 7, in the final hours of the 2013 session. It originally called for maximum fines of $1,000 but that amount was halved via amendment.
"If it was my way, we would treat distracted driving the same way we treat drinking and driving in this state," Senate president Courtney said. "And I think one day we will," he told the AP.
Courtney, D-Salem, said as SB 9 advanced in early July: "Texting is a way of life. They really believe they can drive a car and text."
State Sen. Floyd Prozanski, D-Eugene, defended his committee's vote in favor of SB 9 and its maximum fine of $1,000. The chairman of the Judiciary Committee said the $1,000 fine would be used on the worst cases of distracted driving. Most first-time distracted driving violators would pay $260, up from the current $110.
Under House Bill 2790, the electronic distracted driving offenses would have been upgraded to class A status, with $2,000 maximum fines. The bill did not advance in 2013. The sponsor was Rep. Carolyn Tomei, D-Milwaukie.
Forget that big loophole in Oregon's law prohibiting handheld cell phone use by drivers. As of Jan. 1, 2012, Oregon no longer allows drivers to use handheld cell phones if the call is related to their jobs.
Police complained that judges were throwing out distracted driving tickets when drivers testified they were making work calls. The Register-Guard called this exemption "a driver's version of Monopoly's get-out-jail-free card."
State police issued 2,151 citations for texting and/or using handheld cell phones in 2012. For that year's first six months, the Oregon Department of Transportation reports 155 traffic crashes linked to distracted driving, including a fatality. In 2011, there were four fatalities.
2013 Distracted driving legislation:
Senate Bill 9: Seeks to increase fines to as much as $1,000 for drivers' violations of state's wireless communications device laws. Would change offense of texting from current class D violation to class B traffic violations. State DOT directed to place signs warning of signs on highways. Approved by the Judiciary Committee on March 6. Approved by the Joint Committee On Ways and Means in a 23-2 vote of July 6. Amended from $1,000 maximum/class B with sponsor's backing. Approved by the full Senate in a 22-7 vote of July 7. Approved by the House in a 33-26 vote of July 7. Signed into law by the governor Aug. 14. Took effect Jan. 1, 2014. (Courtney)
House Bill 2790: Would increase maximum fine for distracted driving violations to $2,000, from the current $250. Offenses would be class A traffic violations. Died in committee. (Tomei)
2012 distracted driving notes:
State Rep. Andy Olsen, R-Albany, reportedly is working on a plan to reward Oregon drivers who don't get cell phone citations. For each year without a distracted driving ticket, motorists would be able to remove an existing moving violation from their records. Deschutes County Sheriff Larry Blanton is helping Olsen craft the legislation, KBND Radio reported.
2011 legislation:
House Bill 3186: Removes a series of exceptions to the state's current cell phone and texting law. Removes language that allowed drivers conducting business to use a cell phone. Clarifies that all text messaging while driving is prohibited. Amended and then approved by the Judiciary Committee on April 28. Approved by the full House in a 39-17 vote on May 4. Approved by the Senate in a 17-12 vote June 13 and returned to the House for approval of an amendment that specifies remaining exemptions for essential public works providers. Approved by the House in a 39-20 vote on June 16. Latest action: Signed by the governor on June 28. Takes effect Jan. 1, 2012. (Berger)
HB 2602: Would prohibit bicycle riders from using "listening devices" such as cell phones and MP3 players. Unsafe operation of a bicycle would be a class D violation. Fine up to $90. In the Judiciary Committee with no activity since January. (Schaufler)
2011 distracted driving notes:
Portland plans rolling crackdowns for vehicle safety violations this summer, with cell phone and text messaging violations a priority. "It's not about catching people by surprise," a spokesman for the Portland Bureau of Transportation said of the summer sweep. "It's not about writing tickets. This is about educating the public that driving distracted is unsafe and against the law." Mayor Sam Adams announced the crackdown, saying, "Using a cell phone behind the wheel turns your car into a loaded weapon."
Rep. Vicki Berger, R-Salem, succeeded in plugging some of the loopholes in Oregon's 2009 law prohibiting drivers from texting and talking on handheld cell phones. Both the House and Senate signed off on the plan (HB 3186) to clamp down on people who dodged fines by saying they were making important business calls. The governor signed the measure in late June. "This is going to clarify what we all intended, which is not to have individuals saying they're doing this for their business," said Sen. Floyd Prozanski, D-Eugene, the Senate sponsor.
Berger was moved to action by a Feb. 2 accident in Salem in which a texting driver killed a pedestrian.
Rep. Kim Thatcher, R-Keizer, opposed Berger's HB 3186. "I think we'd be chasing our tails to oblivion trying to outlaw stupid," she said.
Rep. Michael Schaufler says he's already tired of reading the bicycling community's complaints about his House Bill 2602, which seeks to prohibit riders' use of "listening devices": "People on bicycles ask for a whole lot and then they say, 'don't regulate us!' "
2009 legislation:
HB 2377: Would ban use of handheld cell phones in Oregon for all drivers. Hands-free devices OK only for those over 18 years of age. Text messaging banned for all drivers. Approved by the House on April 28, 2009, and by the Senate on June 23. Final came approval July 7-8. Oregon Gov. Ted Kulongoski signed the legislation in law on July 28. The restrictions took effect Jan. 1, 2010. The law calls for primary enforcement, meaning law officers may pull over motorists solely for texting and cell phone violations. Tickets will be $142.
HB 2038: Would prohibit use of cell phones unless a hands-free accessory is utilized. Violations could lead to suspension of driver's license. (Same as HB 2377, but with a driver's license suspension provision.) The House advanced HB 3037 instead.
Legislation notes (2009):
Oregon state police are concerned that the new cell phone/texting law contains a loophole. Language inserted in the original bill allows for drivers' cell phone use "in the scope of the person's employment if operation of the motor vehicle is necessary for the person's job." The intent was to allow for business use by taxi, bus and delivery drivers.
Rep. Carolyn Tomei, D-Milwaukie, is the sponsor of the successful cell phone/texting measure HB 2377 (and 2038). The new cell phone and texting law calls for primary enforcement and fines of $90. CB radios are exempted, pleasing truckers.
Just before the 2009 session began, Sen. Alan Bates, D-Ashland, told a town hall meeting that he's not going to "cram (a ban on cell phone use while driving) down people's throats." Rep. Sal Esquivel, R-Medford, said that driving while using a cell phone or text messaging "is the equivalent of drunk driving."
Oregon has a "vague" law against careless driving.
Oregon State Police report that no tickets have been written for violations of the teen cell phone law that went into effect in January 2008. The Associated Press reported: "The chances that a teenager will be cited for talking on a cell phone while driving are pretty much zero in Oregon." Police in Portland say they've issued two tickets.
The law concerning cell-phone and text-messaging limits on young drivers was approved during the 2007 session. The Associated Press reported in early 2009 that "the chances that a teenager will be cited … are pretty much zero in Oregon." In Portland, apparently no citations had been written at all. The cell phone law lists violations as "secondary," meaning police have to pull over young drivers for another offense before citing them.