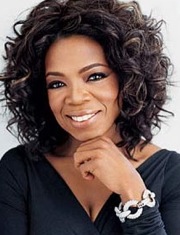 Oprah wants her viewers to know "how absolutely stupid it is that we continue to text and drive."
The TV talk titan devoted Monday's show to distracted driving, with appearances by people who have lost loved ones to someone using a handheld cell phone or text messaging.
Oprah Winfrey's Harpo Productions said the show's effort against distracted driving would be called the "No Phone Zone" campaign. Fans are asked to pledge not to use cell phones
while driving.
Update: "We need to make our own movement to stop (cell phoning and text messaging while driving)," Winfrey told her audience. "Don't tempt fate; that text can wait."
Those who lost love ones to accidents caused by distracted drivers made up much of the audience.
Several younger people who admitted they used wireless communications devices while driving took a road test administered by Car & Driver magazine. They reported back to Winfrey with the results.
"It's absolutely changed my life," said one texting and driving fan of her wobbly test performance. "I'm so lucky that nothing has happened to my children" while driving distracted, she said.
Winfrey said before the show:
"Most people think they can text and talk on the phone and they can handle it, and it's the 'other' people who can't really handle it. "So what needs to happen, I strongly believe, is that the laws need to change to put us all in check. Everybody thinks that they can handle it. But you can't. You can't."
"Oprah has an ability to change the world," said a Massachusetts man from the show. Two years ago, Jerry Cibley was talking to his son, who was driving and using a cell phone. The teen's car slammed into a tree, killing him.
Share