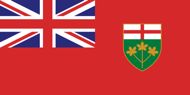 Ontario drivers who like to yak and text on handheld cell phones have about six months to cure themselves of the habits.
(Update: The Ontario ban on handheld electronics for drivers went into effect Monday, Oct. 26. This post is about the bill passing.)
The Legislature gave final approval Wednesday to a ban on texting and using handheld devices behind the wheel. Prohibited activities include emailing, watching DVDs, fooling with MP3 players and video gaming.
Drivers may continue to use cell phones if a hands-free device such as a Bluetooth headset

is employed.
"What we're trying to do is to avoid distractions while people are driving — those distractions being caused, in this case, by electronic devices that are hand-held," said Transportation Minister Jim Bradle.
Fine would be as much as $500 (CAN). There are no points charged to the license under this law, but drivers who endanger others while using electronic devices could face 6 points and fines up to $1,000.
Premier Dalton McGuinty had opposed the plan, but it gained momentum since introduction last fall. Local media reported that the intent of the handheld device ban is to get the law in place before the onset of winter driving.
The provinces of Quebec, Nova Scotia and Newfoundland and Labrador all have adopted bans on driving and using electronic devices.