Last updated: December 18, 2017
Cell phone, texting legislation news: State Sen. Jeff Tarte returned in 2017 with a measure that would prohibit drivers in North Carolina from using handheld communications devices such as smartphones. Tarte's similar bill failed to advance during the 2015-16 session. The new plan seeks a $200 fine but no points vs. the license. Tarte's legislation again is named after Brian Garlock, a Charlotte teen who died in a head-on collision in 2008 while trying to phone his girlfriend.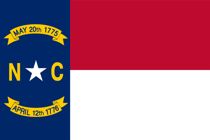 North Carolina saw 2,925 people charged with texting & driving in 2016, a total that's down from both of the previous two years. The conviction rate was less than half, state records show. The use of cell phones was linked to 1,264 crashes in North Carolina during 2015, with 13 fatalities resulting.
Current prohibitions:
Text messaging prohibited for all drivers. Also outlawed: Email. $100, no points.
Drivers under the age of 18 with provisional licenses are prohibited from using cell phones while driving, unless calling parents. Fine: $25.
School bus operators prohibited from using cell phones while driving. $100, no points.
Read the North Carolina texting & driving law | teen cell phone law | school bus driver cell phone law
Distracted driving legislation (2017-2018):
Senate Bill 364: Would prohibit drivers from use of handheld communications devices while driving. Hands-free OK. Fine: $200. No points. aka Brian Garlock Act. (Tarte)
2015-2016 distracted driving legislation:
Senate Bill 393: Would bar use of handheld mobile devices such as cell phones. Hands-free OK. Smartwatch use barred. Fine: $100. One points vs. license for repeat offenses. aka Brian Garlock Act. Dead. (Tarte, Bingham)
Distracted driving news (2016):
Legislation that would outlaw driving while holding a handheld wireless communications device such as a cell phone failed to advance during the 2015-16 session. The plan also would have barred use of communications functions of smartwatches. The distracted driving measure, from State Sen. Jeff Tarte, was named after Brian Garlock, a Charlotte teen who died behind the wheel in 2008 while trying to phone his girlfriend.
Fines under the Garlock plan would be $100, the same as currently for texting & driving. One demerit point vs. the driver's license in cases of repeat offenses. A legislative assistant for Tarte said the senator and governor discussed the measure, and the plan was coordinated with a task force that includes law officers and lawmakers from both sides of the aisle. State Sen. Stan Bingham, father of the state's texting & driving law, also is listed as a sponsor.
Distracted driving news (2015):
A record high 3,225 drivers were charged with texting & driving in 2015. That's up from the previous high of 3,025 in 2014. Just under half of those charged were convicted.
Distracted driving news (2014):
Troopers have been busting distracted drivers by using spotters in Department of Transportation trucks. Plain-clothes officers notify troopers in unmarked cars, who write the texting & driving tickets. "We're thinking outside the box and stepping up our game on the highways," Sgt. Brett Snotherly told the Courier-Tribune of Asheboro in December.
State Sen. Stan Bingham, who sponsored the state's texting & driving law, says the ban isn't effective in today's era of smartphones. "The best thing would be to ban it all," he told WGHP, referring to smartphone use. Drivers are barred from texting, but not using smartphone apps or accessing the Internet. Under the current law's wording, drivers can view their Facebook or Twitter pages, for example, provided they don't type in information.
Gov. Pat McCrory has charged an impaired driving task force with doing something about North Carolina's distracted driving problem. Texting & driving is "as deadly as drunk driving," he told the group of law enforcement officers and safety experts in late May. "I'm convinced of that more than ever." The panel's report is due in July.
Last session's distracted driving bill, which would have banned use of handheld cell phones by all drivers, was pulled from consideration by its sponsor following a negative reception in a subcommittee. Key opposition came from state Senate President Pro Tem Phil Berger. Only one distracted driving bill was before the 2013-14 legislature, a plan to double texting fines.
Drivers in Guilford, Wake and Mecklenburg counties commit the most distracted driving offenses, troopers reported.
Distracted driving legislation author state Sen. Jeff Tarte is allied with the family of Brian Garlock, a teen who died in a cell phone-related wreck. "It puts a real face on the legislation, which candidly makes it hopefully harder for anyone to be against the bill," Tarte told WSOC TV in early March. The bill will have "language that everybody's comfortable with," Tarte said. The plan is to introduce the bill in the long session of 2015 in late January, his office said in late May.
Distracted driving legislation (2013-2014):
House Bill 44: Would increase text messaging fines to $200. Dead. (Pierce)
Distracted driving news (2012-2013):
Chapel Hill council member Ed Harrison said of the town's attention-getting ban on all cell phone use while driving: "This isn't really banning talking on cell phones, it's banning talking on a cell phone if you've done something noticeably bad with your vehicle." The ordinance calls for secondary enforcement.
Chapel Hill banned the use of all cell phones while driving, including those with hands-free and voice-activated features. The total ban on cell phoning while driving appears to be the first in the nation, although Evanston, Ill., is headed in that direction. "It doesn't seem like the state is going to do it at this point," council member Donna Bel said. "I wish this was broader."
Chapel Hill's ban on cell phone use cleared the City Council via a 5-4 vote March 26, 2012. It went into effect June 1. Violators will be fined $25 with no points or court costs. There is a sizeable loophole, however, as the ordinance allows for conversations with parents, legal guardians, children and spouses. And enforcement is secondary, meaning police will need to witness another infraction before stopping and citing an offender.
The state Highway Patrol's distracted driving campaign targeted Interstate 95 on Feb. 1 and 2. Also set for extra enforcement were I-85 and I-40. Affected counties included Johnston and Durham.
2011 distracted driving notes:
Chapel Hill's Town Council voted to draw up an ordinance that would ban cell phone use by all drivers in city limits. No state law prohibits adult drivers from talking on cell phones. "I think it's an important way to spur the state legislature to do something about this," one councilman said. The Sept. 12 vote was 6-2 in favor of creating a proposed ordinance for the council's approval.
Looks like state Senate President Pro Tem Phil Berger put the dagger in the cell phone ban proposed by Rep. Garland Pierce, D-Scotland, "The handwriting (was) on the wall" after Berger made negative comments about such a law, Pierce said in early July. House Speaker Thom Tillis was an active supporter of HB 44. Pierce is the author of North Carolina's texting law.
The General Assembly considered a trio of distracted driving laws in 2011 that would extend the existing cell phone restrictions on teenage drivers to adults. Two would have banned use of handheld cell phones and one would have allowed use of hands-free devices. The state already prohibits all text messaging by drivers.
Paul Woolverton of the Fayetteville Observer clarified some dynamics of the Pierce legislation failure for HandsFreeInfo.com: "Rep. Pierce pulled the bill because he had informally polled legislators in the committee and discovered he didn't have enough support for it to pass. Lawmakers often do this in order to avoid the embarrassment of a defeat and also to keep a bill alive (albiet on life support) for possible consideration later. If your bill is defeated by a vote in committee, it is much harder to bring it back to life. Ultimately, the bill did not make it past the House and Senate "crossover deadline," so it will be hard for it to be considered again in the 2011-12 biennium (though there are ways to get around the rules and deadlines)." Thanks, Paul.
In an editorial titled: "Cellphone bill alive, barely," the News & Record expressed serious doubts that Rep. Pierce's cell phone legislation will become law: "Similar legislation has been floated unsuccessfully since 2005 and this bill faces the same bleak future," the Greensboro newspaper wrote April 1. "Driver inattention has no age limits," the paper said in support of extending the current ban on teenage use of handheld cell phones to adults.
Most of the drivers cited under North Carolina's texting ban are over the age of 25, the Associated Press reports. One offender was 67 years old.
More than 1,200 drivers have been ticketed for text messaging since North Carolina's ban went into effect in December 2009, according to a January 2011 AP report.
2011-12 distracted driving legislation (dead):
House Bill 44: Would ban use of handheld cell phones by all drivers. Hands-free OK. Includes related devices. Withdrawn by sponsor after a poor reception in the Commerce and Job Development Subcommittee on Science and Technology. (Pierce)
HB 31: Would ban use of cell phones by all drivers. No hands-free exemption. Cites "cameras, music, the Internet and games." Fine: $100. Infraction with no points but violations by school bus drivers would be Class 2 misdemeanors. Withdrawn by sponsor early in the session. (Pierce)
Senate Bill 36: Seeks to outlaw use of cell phones (hands-free included) and related devices by all drivers. Similar to HB 31, above. (Dannelly)
2010 legislative session notes:
Over the past four years, almost 5,000 crashes in North Carolina were blamed on distracted driving.
North Carolina residents are overwhelmingly in favor of adopting a ban on cell phone use while driving, according to a statewide poll sponsored by the Charlotte Observer. Almost half of the poll respondents (47%) supported a total ban on cell phone use, while 40 percent wanted a ban on handheld cell phones that exempts users of hands-free attachments. The numbers are similar to those found in a 2009 poll (below).
AAA says almost 40 percent of N.C. drivers admit to texting while behind the wheel.
2009 cell phone legislation:
HB 9: Prohibits all drivers from text messaging and emailing. Ratified and sent to Gov. Beverly Perdue, who signed the texting ban on June 19. The law calls for a $100 fine plus court costs, but no points for the infractions. Violations by school bus drivers will be treated as misdemeanors with fines "no less than" $100. The law went into effect Dec. 1. (Same as SB 96)
SB 22: Would prohibit use of cell phones while driving unless a hands-free device is employed. Approved by the Senate Judiciary II Committee on March 31 and sent to the appropriations committee.
SB 12: Would prohibit use of cell phones while driving unless a hands-free device is employed. Bill withheld by sponsor was expected to return before the May 14 cutoff date for new laws.
SB 19: Would ban text messaging for all drivers. Held.
HB 68: Seeks to outlaw use of electronic devices while driving. Allows for hands-free cell phone operation. Poor reception in the House Transportation Committee on March 31; sent to subcommittee for "further study." (Cole)
HB 1320: Would add mobile phone use as an "aggravating factor" in traffic violations. Additional fine of $100. (Starnes)
Legislation notes:
The 2010 "short session" of the 2009 General Assembly begins May 12, 2010. Not all 2009 bills eligible for consideration in this session.
The bill that banned text messaging while driving on North Carolina roads (H9) was OK'd by the House on April 16, in a 104-5 vote. Previously approved by the House Judiciary Committee (April 14) and the House Ways and Means and Broadband Connectivity Committee (April 1). Sent to the Senate (April 16) and approved there on a 30-18 vote (June 9). Signed by Gov. Bev Perdue (June 19).
Rep. Nelson Cole of Reidsville, sponsor of the cell phone legislation HB 68, said of dubious committee members: "At some point in time, when one of them gets hit by somebody, then they'll understand." Cole told the Fayetteville Observer that he asked for the cell phone legislation to be sent to subcommittee and wasn't worried about the move.
AT&T, AAA Carolinas and North Carolina's insurance commissioner Wayne Goodwin held a press conference in support of the anti-text-messaging legislation HB 9 on Feb. 10.
About two-thirds of North Carolina adults approve of bans on use of cell phones while driving, according to a study done by Elon University. More than half of those polled said they talked on mobile phones while operating motor vehicles. The poll of 758 people was conducted in late February 2009.
The Senate Commerce Committee gave a "lukewarm" reception to Sen. Charlie Dannelly's S 12 cell phone legislation on Feb. 17, the AP reported. The committee reduced the bill's penalty from $100 to $25 and deleted the obligation to pay court costs. The bill then was withdrawn, but Dannelly says he'll revive the cell phone legislation in early May.
Dannelly told the Fayetteville Observer: "I want to get notable organizations and people who know what they're talking about to persuade some of my fellow senators that it's not a good thing to multitask" while behind the wheel.
Rep. Garland Pierce, author of HB 9, did a Q&A interview on the North Carolina texting legislation. Of the persistent arguments that the laws are difficult to enforce, he said: "I feel that's true. But the point we were trying to make: If law-abiding citizens understand the importance of having safe highways, we would hope that they would respect the law and do the right thing."
HB 9 co-sponsor Rep. Carolyn Justice, R-Pender, expected the legislation would pass. She called the North Carolina texting ban a "no brainer." "How can you look down at something to write something and drive?" she said.
The News and Record editorialized that enforcing a North Carolina ban on text messaging while driving "would be next to impossible." The paper cites text messaging as a danger, but, in an unusual argument, notes that texting "in standstill traffic would be harmless."
Rep. Davis Lewis said North Carolina text messaging legislation "is ridiculous because it cannot be enforced."
Cell phone driving bills that died during the 2007-08 session: SB 1139 and HB 527: Would have prohibited drivers' use of mobile phones without hands-free devices.
The ban on cell phone use by school bus drivers was approved and signed by the governor in July 2007.
In 2007, the Highway Patrol wrote only 35 tickets for cell phone infractions, MSN Money reported.
Teen drivers can see their progress toward a full license delayed by six months … if a ticket were actually issued. A 2008 study by the nonprofit Insurance Institute for Highway Safety found that North Carolina students were largely ignoring the law.
North Carolina is another state distracted by false email claims that new cell phones laws are in effect for all drivers. Florida cell phones drivers, as well as those in Texas, were confused by similar hoaxes.
David Kaber, an associate professor of engineering at North Carolina State University, studied the use of cell phones with "adaptive" cruise control — which automatically keeps a safe distance from vehicles ahead.
"The important thing is cell phone use negatively impacts situational awareness, and situational awareness has been linked to effective decision-making and performance," Kaber said. "People may say 'I'm using my cell phone, and I can brake in time' or 'I can keep my car in the lane' or 'I can maintain my speed,' but the problem is that it is having an impact on their attentional resources. It compromises their overall awareness of the driving environment, and when a critical condition develops, they may not be prepared to deal with it."
Other NC State researchers looked at cell-phoning drivers' attitudes toward legislation. They found that most of the cell phone users felt they were better able to handle driving and phoning than other drivers.
"Cell phone users believe that they are better than other people in using their cell phone safely while driving," said Michael Wogalter, a psychology professor. "They believe that other drivers are more dangerous using a cell phone than themselves."