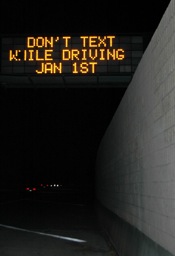 A handful of distracted driving laws went into effect on Jan. 1, 2010, seeking to rein in drivers who yap on cell phones and send text messages while behind the wheel.
The vast majority of distracted driving legislation went nowhere in 2009 — surprising for a year in which so much publicity was generated over the issue — but a handful of states got past the debates and took their safety concerns to the streets.
The focus now moves from the legislatures to the law enforcement agencies, where enforcement could be spotty.
In Canada, two provinces got in line with the nationwide distracted driving trend:
In British Columbia, drivers still have a month before getting tickets for using a handheld cell phone or text messaging while driving. After that, the tickets will cost $167.
In Saskatchewan, the use of cell phones without a hands-free device or texting will cost drivers $280 and points.
And a handful of regional bans also swung into action, including:

The Big Island of Hawaii has outlawed the use of handheld cell phones while behind the wheel. Violations will cost up to $150. Drivers causing accidents while using a mobile electronic device while driving on the Big Island are subject to $500 fines.
Austin has prohibited use of Internet-related activities while driving, such as texting, Tweeting, using iPhone applications and visiting web sites. The ban went into effect Jan. 1, but enforcement begins Feb. 1 in the form of $500 tickets.