Last updated: July 11, 2017
Cell, texting news: Almost 200 drivers were cited for electronic distracted driving in a February 2015 sweep in the Reno-Sparks district. Cell phone use and other distracted driving activity resulted in the majority of the 452 tickets written in the Feb. 12-23 crackdown. The Nevada Highway Patrol and Washoe County Sheriff's Office joined with local police in the safety sweep.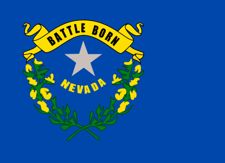 The Department of Public Safety said of the crackdown: "Nevada's ban on hand held devices took effect Jan 1, 2012, and three years into the law officers continue to observe and cite violators every day." It added: "Nevada laws clearly states that any use of a handheld electronic device — cell phone, mp3 player, GPS device, etc. — while driving is illegal and offenders will be pulled over and cited."
While the Highway Patrol notes that the distracted driving law is "being ignored" by many drivers, relatively few repeat violations are reported.
Enforcement of the Nevada bans is primary, meaning drivers can be stopped and cited for that reason alone. Cell phone use is allowed only if a hands-free accessory is employed throughout the call.
Nevada was the 34th state to ban texting while driving.
Current prohibitions:
All drivers are barred from using handheld cell phones.
Text messaging and related activities prohibited for all drivers.
Fines under the Nevada distracted driving laws are $50 (first offense), then $100 (second) and then $250 (subsequent violations). Court costs typically double the cost to the driver. Repeat offenders are subject to points against the driver's license.
Read Nevada's distracted driving law.
Key provisions:
First offenses are not considered moving violations.
Laws do not apply to GPS systems "affixed to the vehicle."
Previous infractions do not affect new fines after seven years. Example: A repeat violator would be considered a first offender if seven years have passed since the original conviction.
Licensed two-way radio use is permissible if the unit is not hand held, except for the microphone.
Distracted driving legislation (2015):
Senate Bill 144: Allows for doubling of fines for various offenses, including electronic distracted driving, in designated pedestrian safety zones. (Manendo)
SB 152: See Senate Bill 144, above. (Spearman)
2013 distracted driving notes:
The Nevada Highway Patrol issued about 12,000 electronic distracted driving tickets in 2012. Jan. 1 was the first anniversary of full enforcement of the bans on texting or talking on a cell phone while driving.
There were 30 second-time offenders and 25 third-timers in 2012, the Highway Patrol reported Jan. 2. May saw the most ticketing.
The Nevada Highway Patrol says many distracted driving violations occurred when a vehicle was stopped at a red light. "Maybe in a driver's own mind they feel they are not driving when they are stopped at a red light, but the law states it is illegal," NHP spokesman Chuck Allen said in early January.
The NHP now is using Facebook and Twitter to issue traffic alerts. "It was only natural to gravitate toward social media," said Public Safety director Chris Perry. One obvious complication: The alerts aren't to be read by people who are driving. "We in no way want to make this appear that public safety is contradicting the (distracted driving) law," Perry says.
2012 distracted driving notes:
The Henderson Police Department reports it handed out 351 citations for using handheld devices during the ban's first month.
The Nevada DOT says there are more than 3,500 distraction-related crashes in the state every year, with more than 60 deaths reported in the past five years. Its advice for avoiding cell phone tickets? "Before driving, secure your cellphone in a place such as the glove box where you will not be able or tempted to access it while driving."
2011 legislation:
SB 140: Would outlaw text messaging and using handheld cell phones while driving in Nevada. Would prevent cities and counties from creating similar laws. Original bill's fines: $250 (first offense), then $500, then $1,000 plus license suspension of six months. Fines doubled in highway work zones. Warnings until Jan. 1, 2012. Amended and approved by the Senate Transportation Committee on March 17. Amendments approved by voice vote in Senate on April 22. Amended bill's fines: $50/$100/$250. No license suspensions. Approved by the Senate in a 12-9 vote on April 26. OK'd by the Assembly in a 24-7 vote on May 30. The Senate's final approval (a voice vote) came June 4 and the measure was then approved by the governor. A warning period began Oct. 1 and the prohibitions went into full effect Jan. 1, 2012. (Breeden)
AB 151: Would ban text messaging and use of handheld cell phones while driving in Nevada. Fines: $50 (first offense), $100 (second) and $250 (third). If a death or "substantial body harm" results from violation, prison term of 1-6 years with fines of $2,000-$5,000. Would end local traffic regulation of texting and cell phones. Warnings until Dec. 31, 2011. Amended (to add handheld cell phones to original bill's texting ban) and approved by the Assembly Committee on Transportation in a 12-3 vote on March 29. Latest legislative action: Rereferred to Committee on Ways and Means on April 19. See SB 140, above. (Atkinson)
Senate Bill 76: Seeks to ban text messaging and use of handheld cell phones. Hands-free accessories OK for cell phones. GPS allowed. Also targets Internet use and any "non-verbal" communication. Dead as of April 16. (Public Safety Dept. via Senate Transporation Committee)
SB 145: Would prohibit drivers under the age of 18 from texting and using cell phones. Penalties to be determined by juvenile court, which would be directed to treat violations in school zones more seriously. Dead as of April 16. (Manendo)
AB 173: Would prohibit texting and the use of handheld cell phones by all Nevada drivers. If a death or "substantial body harm" results from violation, prison term of 1-6 years with fines of $2,000-$5,000. Dead as of April 16. (Munford)
2011 distracted driving notes:
The bill behind Nevada's handheld electronic device law, SB 140, was approved by Gov. Brian Sandoval, who had made it clear that he would support a statewide ban on text messaging while driving. The Assembly's final vote came May 30, 2011, and the Senate signed off June 4.
Sen. Shirley Breeden was the bill's author. Her texting bill of 2010 failed to get out of committee, but, undaunted, she added handheld cell phones to 2011 plan. "We're going to go for the whole enchilada in this thing," Breeden said of the addition of cell phones to the 2011 legislation.
The Senate watered down Breeden's texting & talking ban on April 26, lowering fines to match the Assembly's version in order to get a distracted driving bill through.
In 2010, Breeden, D-Henderson saw her no-texting bill die in committee. This year she succeeded in getting the measure through the Legislature — as the new chairman of the Senate Transportation Committee — and onto the law books.
The Assembly Transportation Committee heard arguments pro and con on Senate Bill 140. The Office of Traffic Safety, which supports the bill, told the May 12 hearing that the number of accidents blamed on distracted driving had decreased from 2008 to 2009. Assemblyman Scott Hammond, R-Clark, said he feared that accidents would occur because drivers would be further distracted by trying to hide their phones. The panel also heard from families who lost loved ones to distracted drivers. No action was taken during the hearing.
Senate Minority Leader Mike McGinness of Fallon was the only Republican to vote in favor of Senate Bill 140.
Sen. Mike Schneider, D-Las Vegas, said the lowered fines inserted into SB 140 were necessary to move the distracted driving bill out of committee. (The full Senate later approved the lowered fines.)
Assemblyman Harvey Munford, D-Las Vegas, asked that Assemblymen Kelvin Atkinson amend his AB 151 to add a ban on handheld cell phone use to its texting prohibitions. The change was made in late March 2011, as Atkinson's bill advanced from the Transportation Committee.
Munford says of his own AB 173, which would ban use of handheld cell phones and text messaging devices while behind the wheel: "This was constituent-driven. I was contacted by one family who lost a loved one and it was proven that the person was using a cell phone," he told the Reno Gazette-Journal.
The Nevada Department of Public Safety is behind SB 76 (BDR 43-461), which would prohibit texting. In November 2010, the state Transportation Department banned its employees from distracted driving.
Nevada's No Phone Zone campaign kicked off in November 2010.
Richard and Jenifer Watkins of Las Vegas were among the victims who spoke at the Second Distracted Driving Summit in September 2010. They suffered severe injuries when hit by a cell phoning driver in 2004.
Distracted driving has been cited as the No. 1 cause of fatal traffic accidents in Nevada. At least 63 deaths have been caused by distracted drivers in the past five years, officials say.
2009 legislation (dead):
SB 136: Would prohibit text messaging while driving on Nevada's roads. OK'd by the full Senate vote on April 8, 2009, but died in committee in the Assembly. The wording was resurrected in the Senate on the final day of the legislative session and folded into an unrelated motorcycle bill, SB 309.
2009 legislation notes:
New state Sen. Shirley Breeden, D-Henderson, authored the 2009 texting bill. "I'm not going to give up the fight," she said after SB 136 was smothered by an Assembly committee. (Update: Breeden is now the transportation committee chairman.)
The text messaging legislation received strong support from law officers in an Assembly hearing on April 23. The fine would be $75 but no points.
"This legislation is not just for children," she said. "It is for all of us." Numerous states are banning texting and cell phoning for teenage drivers, and opposition has emerged to the bills because they do not cover adults. Young drivers complain that they are being singled out. Teenagers, by far, are the largest consumers of text messaging services.
The Nevada Senate's Energy, Infrastructure and Transportation Committee amended and approved the anti-texting and driving bill SB 136 on March 27, 2009.
Breeden's bill was first considered in the Senate Energy, Infrastructure and Transportation Committee on Feb. 18. The usual enforcement questions were raised. Committee chairman Sen. Mike Schneider, D-Las Vegas, said: "If California can pass (a texting bill) with 36 or 37 million people over there, somehow their law enforcement is working with this new law, so you know, we need to make the same statement."
A spokesman for the state Office of Traffic Safety said it may not take a position on Breeden's plan to outlaw text messaging by drivers, or on similar legislation to prohibit the use of cell phones not connected to hands-free devices.
The 2007 legislative session saw only one bill regarding drivers and cell phones: a plan to ban drivers under 18 from using the wireless devices.
Nevada's regular legislative session began Feb. 2, 2009, and ended June 1.
Sen. Dennis Nolan, R-Las Vegas, the chairman of the Senate Transportation Committee, said of cell phone driving legislation: "Knowing our Legislature, it will have a tough time. Nevadans are independent and like their liberties."
In 2003 Nevada prohibited local governments from regulating cell phones in automobiles.