Last updated: August 4, 2017
Distracted driving update: State Sen. Rick Kolowski filed a bill for 2017 seeking to remove enforcement limits on Nebraska's electronic distracted driving rules. The bill failed to advance, however. The current texting law calls for only "secondary enforcement," meaning police need another reason to stop and cite offenders, such as weaving or driving too slowly. The enforcement limits also apply to bans on electronic device use by novice drivers.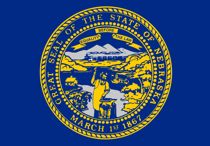 Nebraska is one of only a few states that bans texting & driving but handicaps enforcement. Similar bills have failed in recent years. "I don't want to go to any more funerals of high school kids that were killed because of distracted driving," Kolowski told the Senate's transportation committee in late February. The bill was opposed by the Nebraska Criminal Defense Attorneys Association, which said it could lead to police abuses.
Current prohibitions:
Text messaging outlawed for all drivers on Nebraska's roads and highways. Fines $200-$500 plus 3 points against driver's license.
Drivers under the age of 18 with learner's permits or other intermediate licenses are prohibited from using cell phones.
Read Nebraska's text messaging statute | seat belt & child-restraint laws.
Distracted driving legislation (2017):
Legislative Bill 471: Would remove secondary enforcement limitations on state's current electronic distracted driving laws, including the ban on texting & driving. Dead. (Kolowski)
Distracted driving notes (2017):
Secondary enforcement of distracted driving laws "sends the wrong message to our citizens," the Nebraska Safety Council's Laurie Klosterboer told the Senate Transportation and Telecommunications Committee in testimony Feb. 27 on LB 471. State Sen. Jim Smith raised familiar concerns over "individual rights." Kolowski later said he would study similar but successful legislation in other states in preparation for another try.
2016 distracted driving legislation:
Legislative Bill 668: Would remove secondary enforcement limitations on state's current electronic distracted driving laws. (Krist)
2016 distracted driving notes:
Sen. Bob Krist, sponsor of the bill seeking primary enforcement for distracted driving offenses, also has filed legislation seeking full enforcement for seat belt violations.
The National Safety Council of Nebraska spokeswoman told a mid-February hearing on Legislative Bill 668 that there was "90 percent support" for primary enforcement of the texting & driving law.
2015 distracted driving notes:
Nebraska drivers would have been barred from holding cell phones and similar devices under a plan filed in the 2015 session by state Sen. Merv Riepe. The legislation covered phone calls, texting, viewing of content and game playing. Fine plus three points vs. the driver's license. The bill has been carried over to the second session of 2016.
2015 distracted driving legislation:
Legislative Bill 517: Would prohibit holding of wireless communications devices while driving. Bars holding device to talk, listen, view, play games, etc. Fines $200-$500 plus 3 points vs. license. Carried over to second session of 2016.(Riepe)
2014 distracted driving legislation:
Legislative Bill 807: Would make texting & driving subject to primary enforcement. Would make use of wireless communication device by drivers with provisional licenses or school permits subject to primary enforcement. Would prohibit school bus drivers from using cellphones. Would make seat belt/child-restraint infractions subject to primary enforcement. "Indefinitely postponed" as of April 17. (Harms)
2014 distracted driving notes:
A plan to upgrade enforcement of Nebraska's ban on texting while driving failed to advance during the 2013 session, but the sponsor returned with "comprehensive safety legislation" for 2014. That too failed, stalling in a key committee. The plan was dubbed the Nebraska Roadway Safety Act.
That distracted driving legislation was from state Sen. John Harms, author of the current texting law, which took effect July 1, 2010. Harms has since left the Legislature due to term limits.
Safety advocates, survivors and other supporters backed the bill at a Transportation and Telecommunications Committee hearing Jan. 28 (and also rallied at the capitol Jan. 9).
Panel members gave state Sen. John Harms' legislation a mixed reception, with the usual concerns voiced over racial profiling and enforcement. "The time has come for Nebraska to make some decisions about safety," Harms told the panel. "Sometimes making the right choice takes courage."
"It will give our law enforcement officers the tools they need," Harms said in introducing LB 807. The plan also would make cell phone violations by novice drivers and safety belt violations by all drivers subject to primary enforcement.
Nebraska recorded 653 vehicle crashes related to distracted driving in 2013, officials said. One proved fatal.
Transportation Committee chairwoman Sen. Annette Dubas told the World-Herald that only two of the eight members of her panel backed the five-part LB 807.
The National Transportation Safety Board's chairwoman wrote a letter to the Omaha World-Herald in support of current texting legislation. "Legislative Bill 807 would make texting a primary offense in Nebraska, which is a step forward in addressing NTSB's recommendations on distractions," chairwoman Deborah Hersman wrote Feb. 6. "Passage of LB 807 is an important step that would make Nebraska's roads safer for all those who travel on them."
2013 distracted driving notes:
State Sen. John Harms says Nebraska "isn't ready" for a ban on handheld cell phone use by adult drivers. "I've given a lot of thought to cell phones, but I don't think Nebraska is ready for this," he told a transportation committee hearing in February 2013. "It's just a battle" to get distracted driving legislation considered and passed, said the author of the state's texting & driving law (LB 945 of 2010, below).
"If it's against the law, then why don't we empower our law enforcement officers with the right tools to enforce it?" Harms asked a committee hearing on his LB 118 of 2013, which languished in committee but has been reclassified as "carryover legislation" for 2014. "No driver has any business text messaging while they are driving," Harms said. "Simply put, lives are at stake every day."
"Nebraska is in the minority in its relationship to widespread and uniform (distracted driving) policies of the nation," Harms said of the texting law's secondary enforcement limitation. His LB 118 of 2013 would have upped enforcement to primary, but it failed to clear committee.
Another distracted driving measure that would have barred school bus drivers from using cell phones also languished in 2013.
In the first 2 1/2 years of the Nebraska texting law, 381 tickets were written.
Almost 1,400 crashes were linked to cell phone use by drivers in the years 2002-2012, state officials say.
2013 distracted driving legislation:
Nebraska Legislative Bill 118: Seeks to make text messaging while driving a primary offense by removing secondary enforcement restriction of original legislation. (Harms)
LB 258: Would bar school bus drivers from use of wireless communications devices without dispatch functions. (Sullivan)
2012 distracted driving legislation:
Nebraska Legislative Bill 875: Would prohibit use of handheld communications devices while driving through school crossing zones and work/construction zones. Would apply primary enforcement to violations by drivers with learner's permits or other intermediate licenses (teenagers). Fines (same as texting): $200 (first), then $300 and then $500 plus 3 points. "Postponed indefinitely" as of April 2012. (Howard)
2011 distracted driving notes:
The Nebraska Office of Highway Safety says 1,119 crashes related to cell phone use occurred between 2002 and 2010. Six people were killed and 484 were injured. About a third of those accidents involved teen drivers. More than 80 cell phone-related crashes were logged in the first half of 2011.
One piece of distracted driving legislation was filed for the opening of the 2012 session. It would have outlawed use of handheld communications devices in school crossing zones and in work zones.
There were 3,500 distracted driving crashes in Nebraska during 2011, the state Office of Highway Safety reports. Those crashes led to 1,200 injuries and six deaths.
2010 distracted driving legislation:
Nebraska Legislative Bill 945: Would outlaw text messaging by all drivers. Secondary offense. Fines $200 for first offense; $300 for second; and $500 plus three points on the motorist's license for subsequent violations. Approved by the Transportation and Telecommunications Committee on March 2 and then, finally, by the full Legislature on April 8 (38-2-9 vote). The measure was sent to Gov. Dave Heineman, who signed it into law on April 13. (Harms)
2010 Nebraska legislation notes:
State Sen. John Harms is the author of Legislative Bill 945. It is the senator's follow-up to his successful campaign to ban teens from texting and using cell phones while behind the wheel. Heineman vetoed the previous distracted driving measure for teens, but was overridden.
March 16's first-round vote on the 2010 texting bill was 27-19 — with only two "yes" votes to spare over what is needed for passage.
An earlier Associated Press survey of Nebraska state legislators found 22 of them in favor of a texting ban. Five were opposed. (Six were unsure and 16 did not respond.)
A man who lost his 16-year-old daughter in an accident linked to another teen's distracted driving testified Feb. 9 in support of LB 945. "I'm sure you wouldn't want to tell me (in case of a death), 'I'm sorry, I was just making a very important call. I was just dialing," Rob Reynolds said. The transportation committee approved the bill March 2.
Previous legislation notes:
The ban on young drivers' use of cell phones was enacted despite the governor's veto. The bill was LB 415.
Sen. Norm Wallman, Cortland, who opposed LB 415, said the law shouldn't apply to just teenagers. He told the World Herald that he would support a bill prohibiting all drivers from using cell phones.
"I figured if we are going to restrict teenagers we should restrict us all," he said. "I'm definitely against texting."
"Technology is getting ahead of us," said former state Sen. Jim Cudaback of Riverdale, who sponsored an unsuccessful 2006 bill to prohibit cell phone use while driving. "(Legislative bills) shouldn't be reactive but proactive.
"Nebraska is conservative, so some senators may need to see a need for this law before they approve it,'" he said. He introduced a similar bill in 2001.
National Transportation Safety Board representative Kathryn Higgins testified before a Nebraska Legislature panel in 2006, urging limits on cell phone use by young drivers.