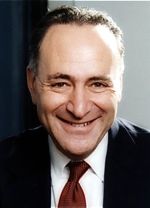 States would be required to prohibit text messaging for all drivers or face a loss of a quarter of their federal highway money, under a U.S. Senate bill introduced by four Democrats.
Fourteen states have outlawed text messaging by drivers so far. The so-called ALERT Act gives the other states two years to enact bans on texting for all drivers, with the clock ticking once the federal Transportation Department issues guidelines.
The state bans would have to cover all drivers of motor vehicles — including truckers and school bus drivers — as well as operators of mass transit systems.
"The legislation will send an important message to drivers across the country: Get your hands off the cell phone and back on the wheel," said Sen. Charles Schumer, D-New York. "When drivers have their eyes on their cell phones instead of the road, the results can be dangerous and even deadly."
Schumer (pictured) officially announced the plan Wednesday. He said states that fail to act by the deadline could regain their federal funding once they ban texting and driving.
The other senators are Robert Menendez, D-New Jersey; Mary Landrieu, D-Louisiana; and Kay Hagan, D-North Carolina.
They pointed to the Virginia Tech text messaging study released a day before that indicated professional truck drivers were 23 times more likely to get into crashes while texting. Introduction of the bill also follows revelations that the federal government concealed the dangers of cell phone use in vehicles.
The federal government cannot outright ban texting while driving because highway issues are in the states' jurisdiction. The act was patterned after the federal effort on drinking ages.
Schumer, ironically, is from New York, a state that led the way in handheld cell phone legislation for drivers, but whose legislators delayed and resisted a popular texting ban until earlier this summer.
ALERT stands for the Avoiding Life Endangering and Reckless Texting By Drivers Act.