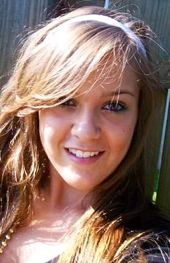 A ban on cell phone use by teen drivers has been signed into law by Michigan Gov. Rick Snyder. The toll from distracted driving "strikes at all our hearts," the governor said.
"This is an important chance to step up, particularly for young drivers," he said at the public signing ceremony for "Kelsey's Law" on Jan. 8.
The ban on cell phone use by teens in Michigan goes into effect in late March. It affects drivers with a restricted (level 1 or 2 graduated) license.
State Sen. Howard Walker's legislation was named for Kelsey Rafaelle (pictured), a Sault Ste. Marie teenager killed in early 2010 while driving and talking on her cell phone.
"We must do all we can to prevent similar tragedies from occurring," Walker said as his legislation was signed into law.
Kelsey's mother, Bonnie, actively campaigned for the law. Kelsey's parents and twin sister Courtney watched the governor sign the teen cell phone ban.
"I appreciate the efforts of Kelsey's mother, Bonnie, and family who have worked tirelessly to get the message out about the dangers of distracted driving," Gov. Snyder said at the signing.
In a twist of fate, Snyder has a teen named Kelsey who received her first driver's license in August.
"This law means a lot to me, both as governor and as a parent of a young person who is learning to drive," Snyder said.
"What a journey," Bonnie Raffaele said as the governor signed the bill. "I know that Kelsey is up in heaven just clapping and screaming for joy over this because of the lives that can be saved through the tragic death of her." (text continues)
The governor dismissed criticisms of some Michigan House members that the distracted driving restrictions were misguided efforts to "legislate personal responsibility."
The teen-driver measure, Senate Bill 756, made it through the House by a 74-33 vote taken Dec. 14, 2012, even though the Transportation Committee refused to vote on the distracted driving measure — and subsequently was "discharged." The bill had little trouble moving through the state Senate in March. Supporters of Kelsey's Law protested the lack of legislative activity on the state Capitol steps Sept. 25, citing the the opposition of House Speaker Jase Bolger.
Texting already is outlawed for all Michigan drivers. The governor said enactment of the teen driver law wasn't intended to clear the way for a general cell phone ban.
"It's just a matter of time" until Michigan has a ban on handheld cell phone use, said a lawmaker who proposed such a ban. (Read more about Michigan distracted driving legislation & laws.)
Fines for cell phone violations by teens will be up to $100 plus possible license suspension, at the discretion of local courts. While the measure originally was limited to secondary enforcement, it was upgraded to primary enforcement in a Senate committee.
Both the governor's office and police signaled that in most cases the novice driver law will be enforced only after police witness another moving violation, meaning enforcement effectively will be secondary.
"This law is an important part of the solution because it helps remove unnecessary distractions for inexperienced drivers," said Sen. Walker, R-Traverse City.
"I have not been this happy in three years," Raffaele said after the signing of Kelsey's Law. "It was worth all the frustration and sadness because just think of all the kids we're going to save."