Last updated: December 18, 2017
Distracted driving update:
State Rep. Martin Howrylak hopes to simplify Michigan's distracted driving law with an overall ban on holding cell phones and similar electronics devices. House Bill 4466 of 2017 envisions fines of $250 ranging up to $500 plus up to 2 demerit points vs. the driver's license. "The number of distracted drivers continues to rise and we must take action to make our roadways safer," Howrylak said in first announcing the legislation last fall. A committee heard testimony on the bill May 16 but did not vote.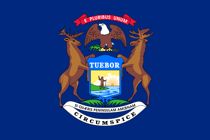 Howrylak's bill allows for single-swipe use of cell phones if they are mounted on a windshield or dashboard. "Don't drive and attempt to do something other than driving at the same time," Howrylak says. "You can't do it." The legislator developed the measure with the help of the Transportation Improvement Association.
Current distracted driving prohibitions:
Text messaging outlawed for all drivers. Fines $100 (first offense) and then $200.
Drivers under age 18 with Level 1 or 2 learner's permits prohibited from use of cell phones. Fine $100 with possible extension of license probationary period.
Drivers of commercial motor vehicles and school buses barred from using handheld cell phones. Fines $100 (first offense) and then $200.
In Detroit, drivers making cell phone calls must use hands-free devices.
Read the Michigan text messaging law | Michigan teen cell phone law
Distracted driving legislation (2017-18):
House Bill 4466: Would ban holding of wireless communications devices while driving. Permits single-swipe use of device if it is mounted on dashboard, windshield or center console. Fines: $250 then $500 with 1 demerit point with second offense and then 2. See HB 5867 of 2016, below. (Howrylak)
HB 5277: Would bar drivers from having dogs in their laps. Fine: $100 (first offense), then $200. (Garrett)
Distracted driving notes (2017):
State Rep. LaTanya Garrett based her proposed law barring drivers from having dogs in their laps on her experiences as a first responder. "We wouldn't drive with babies in our laps, so why is it OK for dogs?" the Detroit lawmaker asks. She noted the effect sirens have on excitable dogs as an example of possible hazards.
Laurel Zimmerman, mother of a teen killed in a crash blamed on a distracted driver who ran a red light, testified May 16 before the House Transportation and Infrastructure Committee, which is considering House Bill 4466. The committee did not vote and was left to ponder the bill's "finer points," its chairman said. "I don't want any parent to go through what I've gone through," Zimmerman said.
2016 distracted driving legislation:
House Bill 5867: Would outlaw holding of wireless communications device while driving. Allows for single-swipe use of device if it is mounted on dashboard, windshield or center console (as with GPS). Fines: $250 then $500 with 1 demerit point with second offense and then 2. (Howrylak)
House Resolution 273: Declared April 2016 as Distracted Driving Awareness Month in the state of Michigan. Adopted April 26. (Chatfield)
2016 distracted driving notes:
State Rep. Martin Howrylak says he was inspired to craft his distracted driving legislation of 2016 (HB 5867) after he was rear-ended by a motorist who was texting. "I was hit from the rear end by somebody going about 35 mph, who pushed my vehicle into the vehicle in front of me. The vehicle was considered a total loss."
2015 distracted driving notes:
Michigan State Police handed out 933 tickets for texting & driving so far in 2015, based on numbers as of early October. MSP looks on track to top the 1,121 tickets issued for texting in all of 2014.
2014 distracted driving notes:
Michigan saw about 5,000 crashes in 2014 blamed on cell phone use or other distractions. That led to 14 fatalities and 2,429 injuries, officials said.
2013 distracted driving notes:
The ban on cell phone use by most teenager drivers in Michigan is now in effect. It affects young drivers with a level 1 or 2 graduated license. 17-year-olds who advanced to level 3 (unrestricted) licensing are not affected. Fines for cell phone violations by teens are up to $100 plus possible license suspension, at the discretion of local courts. The teen driver's probationary license period also could be extended. No points.
"This is an important chance to step up, particularly for young drivers," Gov. Rick Snyder said at the public signing ceremony for "Kelsey's Law" on Jan. 8. It went into effect in late March.
Texting already is banned in Michigan for all drivers. The governor said the signing of the teen driver law wasn't intended to clear the way for a statewide cell phone ban.
The law has primary enforcement status. Both the governor's office and police signaled that in most cases the novice driver law will be enforced only after detection of another moving violation, however, meaning enforcement effectively will be secondary enforcement.
State Sen. Howard Walker's teen driver law was named in memory of Kelsey Rafaelle, a Sault Ste. Marie teen killed while driving and using a cell phone. Kelsey Rafaelle's mother, Bonnie, actively campaigned for the legislation in memory of her late daughter. Kelsey's parents and twin sister attended the teen cell phone ban signing on Jan. 8.
Ironically, the governor has a teen named Kelsey who received her driver's license in August. "This law means a lot to me, both as governor and as a parent of a young person who is learning to drive," Snyder said. "I appreciate the efforts of Kelsey's mother, Bonnie, and family who have worked tirelessly to get the message out about the dangers of distracted driving.
"What a journey," Bonnie Raffaele said during the ceremony. "I know that Kelsey is up in heaven just clapping and screaming for joy over this because of the lives that can be saved through the tragic death of her."
"I have not been this happy in three years," Raffaele said after the signing.
The teen driver law does not apply to use of a voice-operated system integrated into the vehicle.
More than 5,000 distracted-driving crashes were logged in Michigan during 2012. Of those, about 750 involved cell phones. An analysis by MLive Media Group indicated cell phone crashes were down 9 percent for the year and were at the lowest level since record-keeping began in 2003. Other types of distracted-driving crashes were up 11 percent, the report said.
Distracted driving legislation (2013) :
House Bill 4254: Amends distracted driving laws by adding school bus drivers to handheld cell phone ban for commercial drivers. Defines handheld cell phone use, including "reaching for a mobile phone." This content added to unrelated bill via amendment (S-1) in Senate. Approved by Senate in a 161-35 vote of May 9. Approved unanimously by the House on May 14. Signed into law by the governor May 21. Took effect immediately.
House Bill 4196: Exempts illuminated mobile billboards (mostly ads mounted on trailers) from various restrictions on distracting billboards along highways. Did not advance in 2013. (Nathan)
2012 distracted driving notes:
Gov. Rick Snyder signaled Dec. 22 that he probably would sign the teen driver legislation, which cleared the House in the final hours of the 2012 session. He signed off on Public Act 592 three weeks later.
A rally at the Capitol in support of SB 756 (Kelsey's Law) included several lawmakers, as well as reps from the Michigan Chiefs of Police and the Brain Injury Association of Michigan.
The Sept. 25 protest targeted the House and its speaker Jase Bolger, who resisted giving the bill a hearing. Bolger said law would be a failed attempt to "legislate personal responsibility." (Bolger later allowed the bill to go to the House floor without committee approval.)
"We stop legislating common sense when people stop dying," replied the mother of Kelsey Rafaelle, the teen killed while driving and talking on a cell phone. Kelsey was a Level 2 driver.
State Sen. Howard Walker's novice driver legislation (SB 756) specified secondary enforcement, but the bill was amended in a Senate committee to provide for primary enforcement. Still, Michigan Police told the AP in mid-December that they intend to use what is effectively secondary enforcement — meaning another offense such as speeding or weaving would be needed for a traffic stop. The governor's office endorsed this approach in January.
Not surprisingly, the teen driver law will exempt the use of voice-activated systems built into vehicles. The auto industry has been lobbying nationwide to have distracted driving laws allow use of interactive dashboard technologies.
96 percent of Michigan drivers acknowledge that texting and driving is dangerous behavior, but as many as 17 percent say they read texts while behind the wheel. The survey of 600 drivers by the Office of Highway Safety Planning found 56 percent of them used their cell phones while driving, even though 80 percent acknowledged the practice is dangerous, and a third of them said it was as bad as drunken driving. "The (need) to be constantly connected and available seems to trump traffic safety," OHSP director Michael Prince said.
Troy's City Council voted Aug. 13 to remove the general distracted driving provisions of its 2010 law. Troy's ordinance addressed "eating, writing, performing personal hygiene/grooming, physical interaction with pets, passengers or unsecured cargo."
An Ann Arbor mother of four died March 27 after she flipped her auto while driving and texting, police said.
Distracted driving was a factor in 3,986 crashes in 2011, transportation officials report. Cell phone use was linked to 821 crashes.
State police said in February 2012 that 1,149 drivers have been ticketed under the texting & driving law that went into effect July 1, 2010.
"It's safe to say probationary drivers should be totally focusing on the road and not on their cellphone conversations," said state Sen. Howard Walker, author of SB 756. The distracted driving bill was approved by the Senate on March 15.
At least one opponent of SB 756 wants to see a tougher cell phone law instead. Sen. Gretchen Whitmer, D-East Lansing, voted against the bill because it did not apply to all drivers.
Members of the Senate Energy and Technology Committee signaled Feb. 21 that they preferred primary enforcement for the teen cell phone ban envisioned by SB 756. They followed through Feb. 28 by amending the bill for primary status. Committee chairman Sen. Mike Nofs, R-Battle Creek, proposed the amendment. Sen. Coleman Young, D-Detroit, decided not to vote on the legislation as a result.
Bonnie Raffaele, who lost her teen daughter in a cell phone-related crash, testified in favor of Senate Bill 756 at a hearing Feb. 21. Sen. Howard Walker's plan would ban cell phone use by Michigan's youngest drivers. "I ask you today to please help me save the kids and keep someone else from suffering like we have," she said to the Energy and Technology Committee. Senators reportedly assured her the legislation would clear the Senate (and it did).
"Now we need to get to work on members of the House," Raffaele said after the March 15 Senate vote.
House Speaker Jase Bolger, R-Marshall, reportedly wants to see how the state's text messaging law plays out before deciding on cell phone prohibitions.
Michigan State Police's Commercial Vehicle Enforcement division treated the first 90 days under the federal handheld cell phone law as a warning/education period. The commercial vehicle regulations went into effect Jan. 3, 2012.
Over the past decade, more than 9,000 traffic accidents in Michigan involved cell phone use, according to the Booth Michigan newspaper chain.
2011-2012 distracted driving legislation:
Senate Bill 756: Would prohibit teens with a restricted (level 1 or 2 graduated) driver's license from using a cell phone while behind the wheel. As introduced, bill calls for secondary enforcement but it has been amended to primary. Approved unanimously by the Transportation Committee on Jan. 25, 2012. Amended and approved by the Senate Energy and Technology Committee in a unanimous vote of Feb. 28. Legislation now calls for primary enforcement and allows for voice-activated operation. Via substitute S-3. Approved by the Senate in a 28-10 vote taken March 15. Latest legislative action: Approved by the House in a 74-33 vote of Dec. 14. Signed into law by the governor Jan. 8, 2013. Took effect in March 2013. Aka "Kelsey's Law." (Walker)
House Bill 4208: Would establish graduated penalties for causing an accident while driving and viewing a TV screen or similar electronic device. Exempts screens related to vehicle use such as dashboard operation systems. HB 4209 (tied to 4208) makes killing a person while using an electronic device such as a TV a class C felony. In injury case, class E felony. No legislative activity on these bills in over a year. (Geiss)
2011 distracted driving notes:
The prosecutor in Lapeer County is calling on legislators to toughen the laws against causing a death while text messaging. Prosecutor Byron Konschuh cites the case of Jerry Joseph, who pleaded guilty to a moving violation causing death (and driving without insurance). Joseph ran a stop sign in Attica Township and killed a 78-year-old woman. He faced only two years in jail. The actual sentence was for 30 days in jail and a $5,000 fine. "We feel the punishment (for texting and killing) should be similar to operating under the influence causing death, which carries a 15-year maximum in prison," Konschuh said.
It was estimated there were 881 cell phone-related accidents in 2010, with five people killed and almost 300 people injured.
Distracted driving notes (2010):
Gov. Jennifer Granholm signed the no-texting-while driving bills into law on a "No Phone Zone" special on "The Oprah Winfrey Show."
State Rep. Richard LeBlanc was pushing for his teenage driver restrictions to be adopted before the end of 2010. LeBlanc, D-Westland, filed HB 4493 back in March 2009. Its primary concern is limiting to one the number of non-family members that teenagers with restricted licenses are allowed to transport, but it includes a provision that cell phones are banned for young drivers with Level 2 licenses.
2009-2010 legislation:
HB 4394: Would outlaw text messaging by all motorists. Fines $100 then $200. The texting bill was approved by the House on Dec. 8, 2009, and transmitted to the Senate (Transportation Committee, Dec. 9). The Senate approved the bill on March 25 (a 28-10 vote) but upgraded it to primary enforcement. The House agreed to the change on April 20 (a 74-33 vote), but a minor companion bill had to pass before it was sent to the governor, which happened on April 28. The bill was signed on April 30, along with two other texting-related measures, HB 4370 and SB 468. Latest action: The law took effect July 1, 2010. (Gonzales)
HB 4370: Companion bill to HB 4394 (above). Specifies that no points would be added to a driver license for a violation of the text messaging prohibition. Signed into law by the governor on April 30, along with two other texting-related measures, HB 4394 and SB 468. (Polidori)
SB 468: Specifies that violations of the text messaging ban are not to be recorded on the driver's master record. (This bill originally made handheld cell phone use illegal for all drivers and was approved in the Senate, but was converted to the master record exemption in the House.) Signed by the governor on April 30 as part of the text messaging package (see HB 4370 and HB 4394, above.) (Kahn)
(more 2009-2010 legislation)
SB 402: Would prohibit all drivers from text messaging. Use of cell phones legal if a hands-free device is employed. Secondary enforcement, meaning a law officer cannot stop or cite a driver for this reason alone. Approved by the Senate Transportation Committee on Dec. 8, 2009, and then by the full Senate on Jan. 26, 2010. (Read the Senate version.) Sent to the House (Thomas)
HB 4369: Would outlaw talking on a handheld cell phone while driving. Also would prohibit text messaging and instant messaging on cell phones. Fine of $100. (See SB 417). Inactive in committee.
SB 417: Seeks to ban use of a handheld cell phone while driving on Michigan's roads. Includes text messaging and instant messaging on cell phones. Maximum fine would be $100. Inactive.
SB 467: Would prohibit school bus drivers from using cell phones while the vehicle is in motion or students are loading. No activity on this bill.
2010 distracted driving notes:
Gov. Granholm said of the texting law: "By signing this law and making texting while driving a primary offense, we are giving Michigan's law enforcement officers the tools necessary to identify and stop this dangerous behavior before it results in a crash causing injury or death." She said she would support further efforts to ban drivers' use of handheld cell phones.
The city of Troy followed up on the tougher state texting law by outlawing drivers' use of handheld cell phones and declaring the entry of phone numbers a texting violation. Troy's ordinance also addresses other forms of driver distraction: "eating, writing, performing personal hygiene/grooming, physical interaction with pets, passengers or unsecured cargo." The law applies if the driver does not have at least one hand on the wheel with "a controlled grip." Fines $200 for text messaging and $75 for talking on a handheld cell phone. No points. Troy's police remain in "education mode" about the law as of early November, Lt. David Livingston told HandsFreeInfo. Enforcement won't begin until Jan. 1, 2011, due to "vendor issues."
Police Capt. Gerry Scherlink found himself defending Troy's distracted driving fines in early November, in the wake of charges that the city was ticketing to raise money: "The Troy Police Department utilizes problem solving in its approach to traffic safety. Traffic enforcement for the mere sake of issuing tickets for the so-called generation of revenue is not practiced by this department." About 100 warnings have been issued since early October 2010.
State Rep. Lee Gonzales, D-Flint, sponsor of the original HS 4394, pushed the House to approve the Senate version of his bill, which happened on April 20. The Senate version of the texting ban called for primary enforcement; the House wanted secondary enforcement. Sen. Jud Gilbert, R-Algonac, pushed through the upgraded enforcement. The bill became law April 30.
Senate Floor Leader Samuel "Buzz" Thomas saw his SB 402 clear the full Senate on Jan. 26, 2010. The vote was 31-6. This is his second legislative attempt to end text messaging while driving.
(text continued)
"It seems like every month we read about another fatality — or near fatality — because someone was texting while driving," said Thomas, D-Detroit. "This is ridiculous and it really needs to end."
An amendment seeking to upgrade SB 402 enforcement to primary failed.
HB 4369 originally called for fines of $100 for cell phoning behind the wheel to $500 for texting. SB 467 and 468 came with $100 fines.
Ann Arbor's proposed ban on handheld cell phone use and text messaging while driving passed its first reading on Feb. 17, 2010, but the matter was placed on hold a month later, pending another City Council vote. It also prohibits looking at electronic maps and GPS devices. The fine would be $125/$300 i fan accident results. Councilman Stephen Rapundalo, D-2nd Ward, is the sponsor. The mayor told the council not to wait on state legislation — "look at what happened with smoking."
Supporters of the House text messaging bills include the State Police, AAA Michigan, Ford Motor Company and Verizon Wireless.
A school bus drivers association opposes SB 467, saying that the transit cell phone law as written could rule out use of future technologies that help drivers do their jobs. "We're concerned about a blanket prohibition on data transfer," said Paul Wegmeyer, chairman of the legislative committee for the Michigan Association for Pupil Transportation.
The Saginaw News editorialized in favor of State Rep. Gino Polidori's cell phone and texting bill HB 4369:
Even if the Democrat-controlled House OKs it, the Republican-controlled Senate hasn't given a similar bill so much as a committee hearing. That will change when the accident numbers pile up, when the deaths accumulate, when it starts to get personal. It's just too bad we may have to waste so much time — and lives — until then.
Previous legislation:
HB 5117: The House voted to prohibit text messaging by drivers in a 68-32 vote on Dec. 4. The law would have prohibited drivers from reading, writing or sending text messages using wireless devices, including cellular phones. It did not advance in the Senate during the special session.
HB 5117 was introduced by Rep. Steve Bieda, D-Warren.
Also on Dec. 4, the House shot down HB 4982, which would require drivers making cell phone calls to use hands-free devices. Rep. Gino Polidori, D-Dearborn, said he would revive his legislation for the next legislative session. "The state has seat-belt laws to protect drivers, and we prohibit drunken driving to eliminate threats to other drivers and innocent bystanders. A cell phone restriction would serve both purposes," Polidori has said.