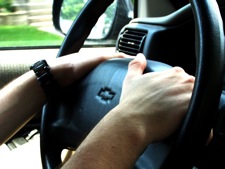 Welcome Kentucky and Nebraska to the club: They're the 22nd and 23rd states to ban text messaging while driving.
The House and Senate approved Kentucky's ban on texting while driving April 1. Two weeks later, the bill became law.
No drama there: Gov. Steve Beshear banned text messaging for state employees in 2009. He previously called the texting plan (HB 415) "a common-sense bill to protect all Kentucky drivers."
Kentucky's new distracted driving rules also outlaw the use of personal communications devices by motorists under the age of 18 with learner's permits.
Rep. Tom Riner, sponsor of HB 415, called the passage "nothing short of a miracle."
Fines are $25 (first offense) and then $50, plus court costs. Drivers will be issued warnings until Jan. 1.
Nebraska Gov. Dave Heineman signed that state's texting ban into law on April 13. It calls for secondary enforcement, which was a downgrade from the bill's original intent.
Fines begin July 1. They are $200 for first offense; $300 for second; and $500 plus three points on the driver's license for repeat violations.
Legislative Bill 945, authored by Sen. John Harms, Scottsbluff, cleared the full Legislature on April 8, in a 38-2-9 vote. Harms previously succeeded in prohibiting cell phone use and texting by drivers under 18.
Twenty-three states now have banned text messaging while driving. So far in 2010, Iowa and Wyoming also prohibited the practice.