Last updated: December 1, 2013
Cell phone, text messaging update: A three-point penalty for distracted driving is now being assessed against the license of those who text and drive in Kentucky. The points, which were added to existing fines in November, could lead to license suspension and higher auto insurance rates for those convicted of text messaging and driving.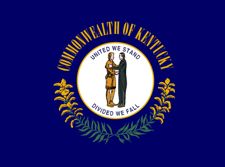 Gov. Steve Beshear backed 2013 legislation that would have added the points to the $25 fine for first offenders, but the bill did not make it to a final vote in the House. In announcing the distracted driving points Aug. 7, the governor said the danger of texting & driving was too great to wait.
Teen drivers need fewer points than adults for license suspension, so license loss would result after three convictions.
Distracted driving killed 171 people in Kentucky during 2012, State Police say. That's almost a quarter of state traffic fatalities blamed on electronic device use and various other forms of driver inattention. The number of fatalities was up from 2011, when 144 deaths were linked to distractions. About 35,600 accidents were blamed on distracted drivers in 2012.
Current prohibitions:
Text messaging prohibited for all drivers while the vehicle is in motion. Fines are $25 (first offense) and then $50, plus court costs. Three points vs. driver's license.
Use of personal handheld electronics banned for drivers under 18 years of age. (Fines same as above, plus drivers with restricted licenses must wait 180 days to apply for regular license.)
School bus operators prohibited from unofficial use of cell phones while transporting children.
Read the Kentucky texting & driving law
Legislation: Cell phone & text messaging:
House Bill 294: Would add 3-point penalty against driver's license of violators of distracted driving laws. Approved by the Transportation Committee on Feb. 28. (Mills, Riner)
HB 332: Would assess 3 points against driver's license of violators of distracted driving laws. (Riner)
Distracted driving notes (2013)
"Highway safety has been a major emphasis of our administration," Gov. Steve Beshear said in announcing the 3-point penalty for texting drivers in early August. He used his administrative powers to toughen the state distracted driving laws after the 2013 Legislature failed to approve his plan for the three-point penalty. House Bill 294 cleared the House Transportation Committee but never made it to a final vote in the House. (Another bill sought to add the same penalty.)
The governor unveiled the new three-point penalty at the 2013 Kentucky Life Savers Conference. "We want to make sure that Kentuckians refrain from this dangerous activity and today we're going to be letting drivers know that we're serious about this," he told the annual gathering of safety experts and emergency responders.
A Transportation Cabinet official said the three points were part of "an aggressive approach towards getting drivers to put down their cell phones and other text message-related devices."
"We have long recognized that cell phone use is a factor in a high number of highway crashes," said Kentucky Transportation Secretary Mike Hancock, the governor's representative for highway safety. No bill proposing a ban on handheld cell phone use was proposed in 2013, however. A Kentucky cell phone bill filed in 2010 was ignored by lawmakers.
Just under 1,000 tickets were handed out in the first year under the distracted driving prohibitions that took effect in 2011. From Jan. 1, 2011, to Feb. 6, 2013, police wrote 976 tickets, court records show. Jefferson County, by far the most populous in Kentucky, led the state with 126 citations, according to a May 2013 report in the Lexington Herald-Leader. About a fifth of Kentucky counties issued no distracted driving tickets.
Kentuckians for Better Transportation, a safety group, is lobbying lawmakers in hopes of having tougher distracted driving penalties approved by the 2013 General Assembly. The group wants increased fines and points charged against violators' licenses, the Courier-Journal reported Jan. 21. First-time distracted driving fines are $25, not including court costs.
Kentucky's ban on texting while driving is nearly impossible to enforce, police and prosecutors told the Courier-Journal in March. About a quarter of tickets have been dismissed, the Office of the Courts said. State Rep. Tom Riner, D-Louisville, told the newspaper that the law is effective "even though we're seeing some of these (tickets) thrown out." Riner sponsored 2013 legislation to add a 3-point penalty to distracted driving convictions.
2012 distracted driving notes:
About 53,600 crashes in Kentucky were blamed on distractions during 2012. Kentucky State Police issued 558 texting citations in 2012, up from 313 tickets the year before.
Police wrote 313 citations for violations of the Kentucky distracted driving laws during 2011. About 150 tickets were written in the first six months of active enforcement of Kentucky's distracted driving law, local reports say.
Police began writing tickets Jan. 1, 2011. The ban on texting by all drivers actually took effect in July 2010. Statewide law also bans use of all personal communications devices by drivers under 18.
As the 2012-13 year began, State Police cautioned motorists in school zones to put away the wireless electronic devices. Distracted drivers in school zones are among the worst threats to children, KSP says. "Texting while driving and using a cell phone often take a drivers attention from the road," Trooper Michael Webb says. "Many times inattentive drivers may not see stops signs, reduced speed limit signs or even the flashing lights of a school bus."
In 2011, just under 50,000 crashes in Kentucky. were linked to distracted driving. The 49,821 collisions included 144 fatalities. Cell phone use while driving was cited in 1,040 accidents, with eight deaths. There were 21,350 teen driving collisions resulting in 4,152 injuries and 63 deaths. Kentucky prohibits use of personal handheld electronics by drivers under age 18.
2010 legislation:
HB 415: Outlaws text messaging for all drivers and bans the use of personal communications devices by motorists under the age of 18 with learner's permits. Fines are $25 (first offense) and then $50, plus court costs. Approved by the House and Senate on April 1, and then signed into law by the governor on April 15. (Incorporates SB 23, below.) The law took effect July 15, with a warning period that lasts until the start of 2011. Latest action: Full enforcement began Jan. 1, 2011.
SB 23: Would prohibit texting while driving on Kentucky's roads and highways. Would ban the use of personal communications devices by motorists under the age of 18 with learner's permits. Bill was ported over to HB 415, above, and approved by the House and Senate. (Harper Angel)
HB 43: Would ban texting while behind the wheel. Also seeks to outlaw use of all personal communications devices by drivers under the age of 18 (amendment). Fines $20-$100. Approved by the House Transportation Committee on Jan. 26 and then by the full House on Feb. 4. Advanced to the Senate. (Richards, Riner)
HB 27: Would outlaw text messaging in Kentucky for all drivers and ban the use of cell phones by motorists under the age of 18. Fine of $50. (Nelson)
HB 232: Seeks to outlaw text messaging and use of handheld cell phones by all drivers. Cell phone use OK with a hands-free device. Fines $20-$100 after a first-violation warning. Did not clear committee. (Burch)
2010 distracted driving notes:
Gov. Steve Beshear's signing of the new distracted driving law was no surprise. He said April 1, 2010: "The texting bill is a common-sense bill to protect all Kentucky drivers. Regardless of whether you personally text while driving, another nearby driver may be distracted by typing out a message." He banned texting for state employees in 2009.
Rep. Tom Riner, sponsor of HB 415, said after it became law: "If citizens knew all the obstacles facing its passage, they would agree that the final passage of HB 415 was nothing short of a miracle." Riner, D-Louisville, said the law was "guaranteed to save lives."
In 2009, more than 200 fatalities on Kentucky's roads and highways were blamed on distracted driving. The total number of accidents pinned on inattentive drivers totaled 57,000.
Rep. Jody Richards, D-Bowling Green, saw his HB 43 clear the House Transportation Committee on Jan. 26, 2010, and then the full House on Feb. 4. The House vote was 80-16 with all opposition coming from Republicans. The text-messaging plan went on to the Senate.
Rep. Keith Hall, D-Phelps, was opposed to HB 43 until the night before the vote. That's when his wife was involved in a serious accident while distracted by her ringing cell phone. "That'll give you an epiphany," he told the House the next day. "That'll give you a wake-up call." Hall voted yes.
Sen. Denise Harper Angel, D-Louisville, author of the anti-texting plan SB 23, says: "Communicating through electronic devices has become important in our daily lives, but drivers need to understand the dangers of texting while driving. Statistics indicate that a person texting while driving is 23 times more likely to be involved in an automobile accident."
Gov. Beshear on Dec. 16, 2009, issued an executive order prohibiting Kentucky government employees from texting while driving state vehicles. It does not cover drivers' use of cell phones. "You can obviously continue to view the roadway while you are talking on the telephone. You have to take your eyes off of the roadway when you're trying to text message," Beshear said. "With nearly 34,000 civilian employees, state government can and should demonstrate leadership in reducing the dangers of text messaging while driving. I'm committed to leading by example." The texting ban is now in effect.
Rep. Rick Nelson, D-Middlesboro, who introduced HB 27, was the author of last session's HB 46 (below).
In the past two years, more than 400 people in Kentucky died in distracted driving-related accidents, a state report showed. In 2008, 24 teenagers died in Kentucky because of distracted driving.
2009 Kentucky cell phone / texting legislation:
HB 41 (BR 135): Would ban use of wireless communication devices by drivers not employing a hands-free device. Died in committee.
HB 46 (BR 267): Would ban use of all wireless communication devices by drivers under 18, regardless of whether a hands-free device is employed. Died in committee.
2009 legislation notes:
HB 41, from the 2009 session, called for the use of handheld personal communications devices as a secondary offense, with fines between $20 and $100. Including but not limited to cell phones and text messaging devices. The sponsor was Rep. David Floyd, R-Bardstown.
HB 46 was sponsored by Rep. Rick Nelson. The ban for drivers under 18 would have included cell phones and text messaging devices, regardless of whether a hands-free accessory is in use. Motorcycle and moped riders also would have been prohibited from use of wireless devices. Young offenders would have been subject to an additional 180 days of waiting to get a more advanced driver's license.
"(Teen drivers) are at a stage of their driving career where they're not as experienced," Nelson said. "So maybe we can save some teenage lives and stop some accidents."
Lexington Herald-Ledger columnist Tom Eblen wrote about texting and cell phone laws: "Remember when drunken driving was treated with a wink and a nod? It took high-profile campaigns by Mothers against Drunk Driving and other groups to make it socially and legally unacceptable.
"What will it take to make us acknowledge the danger of gadget-impaired driving?"