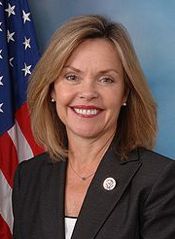 April is Distracted Driving Awareness Month, debuting this year with the support of safety advocates, law enforcement agencies and the U.S. DOT.
Former U.S. Rep. Betsy Markey, pictured, made the designation official last year, with the help of the victims and survivors group FocusDriven.
The California Highway Patrol is one of many law enforcement agencies nationwide that have adopted a "zero tolerance" enforcement policy for the month. More than 225 California police agencies and 103 California Highway Patrol agencies are participating in the crackdown.
Markey's resolution began by invoking the name of 9-year-old Erica Forney of Fort Collins, Colo., who was struck and killed by a distracted driver in 2008.
The House voted to support the designation of April as distracted driving awareness month and encouraged "all people in the United States to consider the lives of others on the road and avoid distracted driving."
The resolution (H.Res. 1186) was introduced March 16, 2010, and approved by a near-unanimous roll call vote a week later. The two lawmakers opposed to the distracted driving awareness month resolution were Republicans from Texas and Illinois.
Markey, D-Colorado, lost her seat to a Republican in the fall 2010 election.
Erica Forney's mother, Shelley, one of the co-founders of FocusDriven, said in response to the House of Representatives' vote:
My husband and I thank congresswoman Markey and the House for approving this resolution. We believe National Distracted Driving Awareness Month can help raise awareness nationwide on the dangers of talking or texting on a cell phone while driving. Erica's memory will forever live on through this resolution and help prevent other distracted driving deaths from occurring.