Last updated: February 24, 2015
Distracted driving news: The Department of Public Safety is pushing a 2015 plan that would make handheld cell phone calls illegal for all drivers. The proposal — Senate Study Bill 1041 — also would make distracted driving violations such as texting subject to primary enforcement. This is "lifesaving legislation," the head of the Governor's Traffic Safety Bureau told the Senate Transportation Committee in early February. He cited an "epidemic" of motorists crossing the center line in Iowa.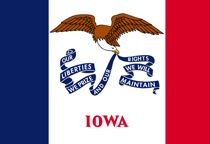 In 2014, the Senate approved state Sen. Tod Bowman's bill prohibiting most forms of wireless communications by drivers, but the House didn't respond as time elapsed on legislation for 2014.
Bowman — chairman of the Iowa Senate Transportation Committee — blamed House Speaker Kraig Paulsen for not pushing through the distracted driving measure as the "funnel" deadline for legislation came and went. Bowman's plan didn't include handheld cell phone calls. Bowman said he was uncertain about the 2015 bill's prospects because it "goes further than what we passed last year."
Current prohibitions:
Adults banned from text messaging while driving. Secondary enforcement. Fine: $30.
Teenage drivers prohibited from using handheld electronic devices. Primary enforcement. Fine: $50.
Read the Iowa distracted driving statutes breakdown (DMV).
Distracted driving legislation (2015):
Senate Study Bill 1041: Would bar use of handheld electronic communications devices while driving. Effectively extends current texting ban to include cell phone calls and Internet. Would make electronic distracted driving violations subject to primary enforcement. Fine: $30. Non-moving violation. Approved by Transportation subcommittee Feb. 19. (via Dept. of Public Safety)
House File 25: Would prohibit use of handheld cell phones by all drivers. Hands-free OK. Specifies that use of fixed GPS operation is allowed, but not data entry. Fine: $30. Non-moving violation. (Hunter)
Distracted driving notes (2015):
About 250 texting & driving citations were written in 2014, the Department of Public Safety says.
State Sen. Wally Horn of the Transportation Committee said of the 2015 plan for a handheld cell phone ban: "I just don't know if we're reacting too quickly. I'm just not convinced that it's time."
2014 distracted driving legislation:
Senate File 2289: Would outlaw engaging in "electronic communication" while driving in Iowa. Allows for use of cell phones, but targets general Internet use, social media, texting, etc. Hands-free OK. Primary enforcement. Moving violation. Approved by the Transportation Department on Feb. 24. Major amendment by sponsor March 4. Approved by the full Senate in a 41-7 vote of March 11. Died in the House on March 14. (Transportation Committee/Bowman)
Senate Study Bill 3191: Would make text messaging while driving a primary offense. Applies to all drivers. (Transportation Committee/Bowman). Now SF 2289, above.
2014 distracted driving notes:
Law enforcement's Joint Public Safety Board had a primary-enforcement texting law as one of its top five legislative priorities for 2014. It was not be. Patrick Hoye, head of the Governor's Transportation Safety Bureau, lobbied the Senate Transportation Committee for an escalation of enforcement Jan. 22. He encountered member concerns about "basic rights."
SF 2289, as amended by state Sen. Tod Bowman, targeted "electronic communication" — text messaging, viewing social media sites, emailing. But not cell phone calls. He cited "an epidemic of texting while driving" and sought primary enforcement, instead of the current secondary enforcement for texting by adult drivers. The full Senate signed off on SF 2289 on March 11.
The House Transportation Committee chief said he was open to the Senate's bill but expressed concern there would not be enough time to push it through the system.
Teen distracted drivers already are subject to primary enforcement in Iowa, but the Bowman plan targeted all drivers: "This isn't about teenagers texting anymore," Bowman said. "It's about us. It's about adults."
Teen drivers accounted for more than half of the distracted driving crashes in 2013, the Department of Transportation says. About 700 distracted driving crashes were recorded by drivers of all ages. Teens were linked to 430 of those.
State Sen. Tod Bowman's distracted driving plan was approved in late February by the Transportation Committee, no surprise since it originated with panel chairman Bowman.
Sen. Tim Kapucian is no longer a fan of secondary enforcement for texting & driving. "The citizens of Iowa have changed my mind, not by their phone calls but by their actions," he said. Kapucian later added: "It's not about how many people we can pull over or how many tickets we can write it's about getting the word out that this is not a practice that should be occurring."
Iowa Department of Public Safety officials are pushing lawmakers for an expansion of the state's law against failure to maintain control of a vehicle — with the goal of allowing police to stop and cite distracted drivers.
The state's secondary enforcement status for texting & driving by adults is widely seen as ineffectual. With primary enforcement, police would not need another reason to cite motorists whose electronic distractions cause them to not have their vehicles under control. The existing statute for not being in control brings a moving-violation fine of $100, compared with a $30 misdemeanor for texting.
State Sen. David Johnson says he won't make another push for his Senate File 33 of 2013 (below), which called for primary enforcement of distracted driving. The bill failed to find much support in committee.
Three traffic deaths in 2013 were linked to distracted driving, the Iowa Department of Transportation reports.
81 deaths on Iowa roads have been linked to distracted driving for the years 2003-2013, the state DOT reports. About a third of crashes involve electronic communications devices. Nearly 1,000 people are injured in an average 1,800 distracted driving crashes a year, the Department of Public Safety says.
2013 distracted driving notes:
Senate Transportation Committee chief Tod Bowman calls distracted driving "a big, big problem." He's researching what other states have done to permit police more discretion in pulling over vehicles that may be operating erratically, he told Source Media in late December.
Iowa's State Police report a mere 181 tickets written for electronic distracted driving since 2010. Officers say the secondary enforcement status for texting & driving by adults is to blame. That low number, reported in November 2013, is the same as reported nine months ago.
Why can't state police catch offenders? "We typically work out on the interstates and the state highways," a spokesman told KTIV. "We are a moving billboard."
That low number is consistent with a late summer report from the Department of Public Safety indicating police statewide have stopped and written up 467 motorists for texting & driving since Iowa's distracted driving law took effect July 1, 2010. They weren't all tickets with teeth, either. About 225 were warnings for texting violations, a DPS spokesman told Hands Free Info.
Iowa's DOT is building a cell phone app called "txtl8r" that would cut off the mobile devices once vehicles are in motion. The software also would allow parents to monitor some of their children's online activities. The highly publicized job was awarded in November to Aegis Mobility, developer of the TeenSafer software. Look for the app to hit the streets in January 2014.
The DOT plans to give the distracted driving app to teens between the ages of 14 and 17. Total cost to the state is estimated at $480,000 per year.
In Sioux City, police have written 10 distracted driving tickets in the 3 1/2 years since the state law went into effect. This year's total: 1.
State Sen. David Johnson's Senate File 33 of 2013 called for primary enforcement of distracted driving: "It's a matter of offering officers cause to stop the driver and make sure that they're driving safely," said sponsor Johnson, R-Ocheyedan. "People know there is a problem but … it is very difficult to define." The bill failed to advance. Several senators said the measure was too sweeping despite "somewhat of an epidemic" of distracted driving on Iowa streets and highways. In subcommittee debate Aug. 16, an ACLU representative expressed fears of racial profiling.
The chairman of the House Transportation Committee, Josh Byrnes, R-Osage, says legislators should "not just have a knee-jerk reaction and pass a law" to combat distracted driving. "I think technology is going to solve technology," he told the Quad-City Times in mid-March.
The Iowa State Patrol is buying three driving simulators in an effort to spread the word about the dangers of texting and using cell phones behind the wheel. The simulators, with wrap-around video screens and a mock steering wheel, were funded by State Farm in a $25,000 grant. "By demonstration and continued education, the Iowa State Patrol believes that we will see a decrease in fatalities among young Iowa motorists," ISP said in a release of Jan. 15. The simulators will be used in schools, civic organizations, churches, driver education classes and businesses.
Legislation: text messaging, cell phones (2013):
Senate File 33: Would establish the offense of driving while engaged in a distracted activity. Includes use of cell phone. Primary enforcement. Fine: $30. If serious injury occurs, fine of up to $500 and possible license suspension. In case of a death, fine $1,000 and possible suspension. Legislation would repeal current texting law (Code section321.238), which is limited to secondary enforcement. Before a Senate transportation subcommittee, which conducted a hearing in mid-February. (Johnson)
House File 412: Would prohibit driving while using a handheld mobile phone. Secondary enforcement. Use of fixed GPS or other navigation system allowed. As with current texting law, provides loophole for receiving weather and safety information on the device. Fine: $30. Non-moving violation. Further penalty of up to $1,000 and a 180-day license suspension for causing serious injury or death while talking on a cell phone. Prohibits confiscation of cell phones by police. (Thede, Hanson, Hunter)
2012 distracted driving notes:
Iowa's ban on texting while driving took effect in summer 2010, but the tickets and fines came into play July 1, 2011. Text messaging while driving brings penalties of $30 with fines up to $1,000 for causing a serious accident while texting.
While the $30 distracted driving fine is among the lowest in the nation, a 35 percent surcharge and court fees likely will send the total cost above $100. No points are charged against the offender's drivers license.
Distracted driving was linked to 679 Iowa traffic crashes in 2011, the Governor's Traffic Safety Bureau says.
No distracted driving legislation emerged from the 84th General Assembly in 2012.
Gov. Terry Branstad, who took office after the texting ban was enacted, does not appear to support a handheld cell phone ban.
Only 119 convictions for text messaging have been recorded since the state's distracted driving law went into effect last summer, the Department of Transportation said in June 2012. The State Patrol issued 96, plus another 48 warnings.
Rep. Dave Tjepkes, R-Gowrie, who sponsored the texting legislation in 2010, expects state lawmakers to re-visit the issue of primary vs. secondary enforcement, the Gazette (Cedar Rapids) reported.
Don't look for Iowa to expand its ban on texting while driving to include cell phones, legislators said (correctly) in advance of the 2012 session.
State Sen. Jeff Danielson, a Transportation Committee member, told SourceMedia that he'd doesn't see any changes being made in 2012. Senate Majority Leader Mike Gronstal agreed, saying the creation of any new ban "is a bit of a long shot." Danielson said, however, that he'd be open to discussing the addition of cell phones to the texting law.
Introduced in 2011, the handheld cell phone bill HF 530 from Rep. Sharon Steckman, D-Mason City, failed to advance.
2011-12 distracted driving legislation (dead):
HF 630: Would outlaw use of handheld electronic devices while driving, including cell phones. Hands free OK. Assigned to Transportation subcommittee Jan. 11, 2012. (Steckman)
2011 Iowa distracted driving notes:
The 2011 legislative session ended without legislation addressing distracted driving issues. Future legislation could address the use of handheld cell phones, the secondary enforcement of the texting law — often cited elsewhere as weak and ineffective — and the low text messaging fine of $30.
The state Department of Transportation wants to limit what it says are unintended penalties from the ban on teens using handheld electronic devices. The DOT believes first-time teen violators would be forced into meeting SR22 insurance requirements, typically imposed on drunken drivers. Instead, the DOT seeks a change in the reporting on the teen's driving record that would lead to sanctions such as a temporary ban on passengers or a 30-day license suspension.
2010 legislation:
HF 2456 (compromise): Will outlaw text messaging for all drivers in Iowa. Secondary enforcement. $30 fine with fines up to $1,000 for causing a serious accident while texting. Will prohibit teenage drivers with learners' permits from using handheld electronic devices. Secondary enforcement for adults, but not teens. Will nullify any local ordinances. Begins July 1, 2010, with a one-year warning (education) period. Approved by the House and Senate on March 23. Signed by the governor on April 1. (House-Senate compromise committee).
HF 2456: Would ban the sending of text messaging while driving. Reading messages allowed. Fines start at $30. If an injury results from the texting, fine would be $500 plus license suspension. With a death $1,000 plus license suspension. Would take effect July 1, with a one-year warning period. Approved by the House (Feb. 23, 65-31 vote) and then immediately by the Senate (Feb. 24, 44-6 vote). The House then changed the bill to call for only a ban on handheld electronic devices for teenage drivers (March 8, 55-41). Approved in a compromise version by the House and Senate on March 23 (above). Formerly HF 2021 (Tjepkes).
Iowa House File 2020: Would ban all drivers from text messaging or using cell phones unless a hands-free accessory was employed. Fine of $30. (Abdul-Samad)
Iowa Senate File 2032: Would prohibit people who are operating motor vehicles from text messaging. Fine of $100. (Bolkcom)
Senate Study Bill 3070: Would outlaw text messaging and related activities for all drivers in Iowa. Applies reckless-driving fines and jail time to text messaging violations. (Rielly)
SF 2321: Would outlaw text messaging while driving. Withdrawn Feb. 24 in favor of HF 2456, above.
Iowa cell phone legislation notes (2010):
In April 2010, Gov. Chet Culver signed into law the distracted driving legislation that bans text messaging for all drivers and prohibits teens with restricted licenses from using all handheld electronic devices while behind the wheel. The law hit the streets July 1, 2010, with the one-year warning (education) period ending a year later.
The measure (HF 2456, below) was a compromise between the House and Senate that made enforcement of the adult texting law secondary, meaning police need another reason to stop violators before writing the citation. Teen offenders (14-18) can be pulled over and cited for violations without other cause.
"The people of Iowa have had it," Rep. Mary Mascher, D-Iowa City, said before the vote. "They don't want people texting and driving."
"I believe there will be a texting law … before we adjourn," House Speaker Pat Murphy, D-Dubuque, said after the texting compromise bill was fashioned on March 18. The deal was sealed March 23 and signed by the governor a week later.
The House's abrupt shift in favor of a text messaging ban that targets only teen drivers was necessary because the votes were not there for a full texting ban, lawmakers said. The change was bipartisan, the AP reported.
The Senate's approval of HF 2456 came with an amendment that added "reading" to the prohibited text messaging activities while driving. Rep. David Tjepkes, R-Gowrie, says the version of his text messaging bill approved by the House on Feb. 23 didn't ban the reading of text messages while driving because of a "political tradeoff." Opponents say the plan as originally written probably would cost the state highway funding from the federal government.
The chairman of the Iowa House Transportation Committee expects the Legislature to outlaw texting and driving in 2010: "I think given the circumstances of what's happened lately — what the media has been reporting and actual tragedies (as a result of texting while driving) — it's a good probability that we'll take something up that will prohibit that activity," said Rep. Brian Quirk, D-New Hampton.
The 2010 legislative session has been shortened to 80 days. Budget matters could lock up most of the legislative channels, possibly leaving distracted driving legislation in limbo for another year. Iowa Gov. Chet Culver says he would sign a bill that seeks to ban text messaging for drivers, but agrees that the economy is the prime concern.
Dubuque's City Council voted Feb. 15 to prohibit handheld cell phone use and text messaging by drivers. The ban goes into effect days after the 7-0 vote. Fines are $50/$250 if an accident results. Dubuque is the first municipality in Iowa to enact a distracted driving ordinance, according to the Telegraph Herald. "It's way past time something gets done," Mayor Roy Buol said in January 2010, noting a lack of state laws. "If we have to be the leaders, then we have to be the leaders."
72 percent of adults surveyed by the Iowa Poll/Des Moines Register responded that text messaging and driving deserved the Legislature's attention during the shortened session. The telephone poll was conducted in early February 2010. (No other topic received more than a 42 percent approval.)
Rep. Dave Tjepkes, R-Gowrie, introduced HF 2021, a bill banning text messaging while driving on Iowa roads and highways. The former Iowa State Patrol trooper says of the shortened session: "I'm concerned with the time constraints."
Sen. Joe Bolkcom, D-Iowa City, says chances of passing a distracted driving bill by April are improving, with new interest from legislators.
Iowa parents overwhelmingly favor a statewide ban on text messaging while driving, according to a 2010 telephone poll. The University of Iowa/University of North Carolina survey found that 97 percent of parents favored a texting ban and 90 percent supported a ban on cell phone use while driving.
2009 legislation:
HF 9 — Would prohibit use of cell phones while driving unless a hands-free device or headset is utilized. In transportation committee. (Also HF 84) Appears dead.
HF 155: Seeks to ban all Iowa drivers from using handheld cell phones and from text messaging. Appears dead.
HF 17: Would ban use of cellular phones and any other wireless communication device by drivers under the age of 18. Appears dead.
HF 353: Prohibits use of cell phones by drivers with provisional licenses. Appears dead.
SF 190: Would prohibit use of cell phones while driving on Iowa's roads, unless a hands-free device or headset is utilized. Appears dead.
2009 cell phone, texting legislation notes:
Rep. Ako Abdul-Samad, D-Des Moines, introduced 2009's HF 9. "My problem is those who try to dial or text-message while driving," he said. The Iowa cell phone driving law would bring a $30 fine.
Previous cell phone legislation includes an attempt to mandate the assumption that a driver on a cell phone involved in an accident was at fault.
The 2008 session's HB 2059 was sponsored by Rep. McKinley Bailey, D-Webster City, who says he was motivated by a fatal crash caused by a teenage driver who was using a cell phone. Bailey has said he might support an expansion to adult drivers. Rep. Swati Dandekar chaired a subcommittee session on the Bailey proposal.
Attempts to regulate drivers' cell phone use in Iowa date back to the late 1990s.