Last updated: June 30, 2017
Cell phone, texting update: State Rep. Milo Smith targeted handheld cell phone use with his House Bill 1255 of 2017. The state currently bars adults from texting while driving, but not talking on cell phones. The state's texting & driving law applies only to text messaging, not many other smartphone functions such browsing the Internet.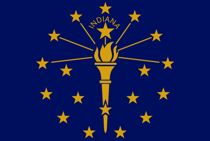 A federal appeals court said in a drug case that Indiana's texting & driving law is essentially useless because police have no way of telling what drivers are doing with their wireless devices. The court ruled in February 2016 that a traffic stop for texting was illegal because the law was so vague. Few tickets have been written under the state's texting law, police say, because it is hard to tell if a driver is illegally texting or legally entering a phone number or using GPS.
The Indiana texting & driving law became effective July 1, 2011, with fines up to $500. Indiana was the 32nd state to ban texting while behind the wheel.
Current prohibitions:
Text messaging prohibited for all drivers while vehicle is in motion. Fines up to $500.
Drivers under the age of 18 may not use cell phones, text messaging devices or other wireless telecommunications devices.
Distracted driving legislation (2017):
House Bill 1255: Would require use of hands-free accessory to use cell phone while driving in Indiana. (M. Smith)
Senate Bill 32: Would outlaw driving a vehicle while holding an animal in lap or arms. Includes animal between legs or blocking driver's view. (Kruse)
Distracted driving notes (2017):
State Rep. Sheila Klinker says it might be time "to go back to the drawing board" on Indiana's distracted driving law. The legislator says handheld cell phone use and video conferencing probably should be prohibited.
2016 distracted driving legislation:
Senate Bill 79: Would restrict drivers' use of telecommunications devices to phone calls, GPS and apps that locate gas stations. These functions permitted only for drivers at least 21 years of age. All other uses prohibited. (Miller)
2016 distracted driving notes:
State Sen. Pete Miller tried a new approach with his distracted driving bill for 2016. It would have allowed adult drivers to use their communications devices for phone calls, as GPS units, and for seeking information on gas stations. No other uses would be permitted, including texting. Miller also tried for a handheld cell phone ban in 2015, but found little support among lawmakers.
2015 distracted driving legislation:
Senate Bill 240: Would require use of hands-free or voice-operated modes when making or receiving phone calls while driving. Died in committee. (Miller)
House Bill 1033: Would outlaw handheld use of cell phones for making or receiving calls while driving. Same as SB 240, above. (M. Smith)
2015 distracted driving notes:
State Sen. Pete Miller's bill for 2015 would have required use of hands-free technologies when using cell phones while driving. Miller's bill was inspired by an accident in which he was making a call, hit an overpass and totaled his SUV. "I was trying to call my kids' orthodontist," said Miller, R-Avon. In the House, state Rep. Milo Smith has the companion bill.
2014 distracted driving notes:
Only 467 tickets were written in 2014, barely up from 447 in 2013, the Indiana Criminal Justice Institute says.
No distracted driving legislation was under consideration in 2014. State Sen. Jim Merritt cited "the independence of the Hoosier" as a reason further legislation was unlikely to succeed. Merritt told Fox59 in May 2014 that he planned to do some polling on the issue.
Merritt, R-Indianapolis, says he's open to consideration of a general ban on handheld cell phone use, but doubts Indiana lawmakers will be interested. "I don't think that realistically a handheld ban will ever happen, because of the independence of the Hoosier," Merritt told Fox 59 news in May.
2013 distracted driving notes:
State Sen. Travis Holdman, father of Indiana's texting law, says he's puzzled by the "reticence" of police to enforce it. He told the Courier-Journal that "my fear is that they're going to see legislation in a few years to ban handheld devices while driving. I would hate to see that happen."
Indiana State Police kept busy during the June 2013 distracted driving crackdown under the latest 6 State Trooper Project. About 2,000 citations were issued on major interstates in Indiana, Michigan, Ohio, West Virginia, Pennsylvania and Kentucky from June 16-22, 2013.
Cell phone use was linked to 966 crashes in 2012, a decline from the year before. The number of overall distracted driving-related crashes increased in Indiana, however, officials said.
No distracted driving legislation was under consideration by the Indiana General Assembly in 2013.
2012 distracted driving legislation (dead):
Senate Bill 342: Would create offense of "recklessly, knowingly, or intentionally" using a handheld electronic communications device in work zones. Hands free and voice activated OK. Class A misdemeanor. (Broden)
SB 196: Would bar police from downloading information from a cell phone in relation to a violation of the state law against text messaging and driving. State law already prohibits seizure or confiscation of cell phones in texting & driving cases. (Waltz)
2012 distracted driving notes:
"We are tired of seeing the devastation from texting and driving," a Fort Wayne emergency room worker told Granite Broadcasting. Traffic deaths in the northeast part of the state were on the rise in the first half of 2012.
Indiana State Police say they'll use planes to help identify distracted drivers. A crackdown is set for the northeast part of the state, according to reports June 21, 2012. The police are targeting text messaging, weaving and drowsy drivers.
The move comes weeks after news that State Police had issued only 125 tickets under the texting & driving law that went into effect in July 2011. In Indianapolis, only five tickets were written over that 11-month period, according to local reports.
2011 distracted driving legislation:
House Bill 1129: Seeks to ban phone calling and text messaging by drivers using handheld electronic devices. Hands-free texting OK. Bars police from confiscating texting devices (for this offense). Class C infraction, fines up to $500. Approved Jan. 20 by the House Public Policy Committee in a 10-2 vote. Approved by the House in an 85-11 vote on Jan. 25 and sent to the Senate. Approved by the Senate corrections committee in a 7-2 vote on March 1. Amended by the Senate (March 14 ) to include a ban on handheld cell phone use. Approved by the full Senate in a 29-20 vote on March 15; returned to the House. Rewritten April 26 by conference committee to remove Senate's addition of cell phone ban. Bill returned to both houses. Approved by the House in an 83-10 vote taken April 28. Approved by the Senate in a 26-24 vote taken April 29. Latest action: Signed into law by Gov. Mitch Daniels on May 10. Read House Enrolled Act 1129. Law took effect July 1, 2011. (Koch)
Indiana Senate Bill 18: Would outlaw text messaging while driving and restrict use of cell phones to hands-free operation. Offenses would be Class C infractions, similar to traffic tickets. Approved by the Senate Public Policy Committee on Feb. 11, in a 5-2 vote. Latest action: Approved by the full Senate in a 29-21 vote on Feb. 17 and sent to the House. Dead. (Holdman)
HB 1158: In cases of vehicular "reckless homicide," a Class C felony, courts allowed to consider whether accused was using a handheld cell phone at the time of a crash ("among other factors"). Heavily amended in Roads and Transportation Committee on Feb. 17. "Call withdrawn" during second reading in House on March 28. Dead. (Yarde)
2011 distracted driving notes:
There was no warning period for Indiana's texting and driving ban: "Drivers have had plenty of notice about the law," a spokesman for the State Police said.
On May 11, 2011, Gov. Mitch Daniels signed the texting legislation sent to him by the House and Senate. The Senate had expanded the original House bill to include a ban on use of handheld cell phones while driving, but that element was removed by a conference committee. The new law — which gets primary enforcement — is restricted to the reading, writing and sending of text messages while a vehicle is in motion. Hands-free (voice activated) texting OK.
State Senator Tom Wyss, R-Fort Wayne, said (correctly) of the Senate's addition of a handheld cell phone to HB 1129: "It's going to cause a lot of people to oppose it. The chances of it passing in this manner is pretty slim."
Diveeta Thompson, who lost her 18-year-old son when he crashed while texting, testified in favor of House Bill 1129 the day of its approval by a House panel. "I can't go fast enough and I can't speak loud enough," she tearfully said Jan. 20 of her efforts to combat distracted driving by teens. The bill was approved by the full House five days later. Thompson also told her story to the Senate panel that approved the bill on March 1.
Sen. Travis Holdman, R-Markle, has filed legislation (SB 18) for the 2011 session that would ban texting while driving and the use of handheld cell phones. His SB 18 of 2010 (same number) failed to advance last session (below). He also authored the graduated license law that prevents teen drivers under 18 from using cell phones and texting devices.
Indiana's attorney general and AT&T Indiana's president joined Sen. Holdman at a December 2010 rally for the new SB 18 legislation
Key committee member Sen. Brent Steele says he'll drop his opposition to a full Senate vote on legislation that seeks to ban texting while driving. Steele, R-District 44, protested 2010 efforts to halt the distracted driving practice, saying enforcement would not be possible. He says a 2011 plan that would ban both text messaging and the use of handheld cell phones while driving satisfies his enforcement concerns and should get a full hearing. Steele still doesn't support a ban, however.
Rep. David Yarde, R-Garrett, filed legislation for 2011 that would bring felony punishments for drivers who cause injuries and/or deaths while using a cell phone. HB 1158 does not seek a ban on cell phone use or texting, however. Cell-phoning drivers who injure someone would be subject to up to three years in prison. For a death, the penalty would be up to eight years in prison.
The Indiana Legislature has a "full session" planned for 2011, which increases chances that distracted driving bills will become law. The 2010 session was short.
Indiana Students Against Destructive Decisions (SADD) rallied at the Statehouse in November 2010 in hopes of inspiring legislators to take further action on distracted driving. AAA Hoosier Motor Club and State Farm Insurance joined the students in rolling out a public awareness campaign.
State Police linked cell phone use to more than 1,100 crashes last year, resulting in four fatalities.
2010 legislation (session over)
Indiana House Bill 1279: Would ban text messaging for all drivers on Indiana roads and highways. Texting via hands-free devices exempted. Fines up to $500. Cleared the Committee on Public Policy on Jan. 28, 2010, and was sent to the Senate, where several sponsors have signed on. (Pearson)
HB 1057: Would ban text messaging while driving in Indiana. (Moses)
HB 1060: Would prohibit text messaging and cell phone use by drivers over the age of 18, unless a hands-free accessory is employed. Fines $25 (first)/$50/$100. (Summers)
Indiana Senate Bill 18: Would ban all forms of text messaging while driving on state roads and highways. (Holdman)
SB 111: Would make most texting while driving offenses a misdemeanor in Indiana. First offenders will be cited for a Class C misdemeanor, while a Class A misdemeanor applies if the violator has an unrelated offense within five years. If however, bodily harm or death results, texting while driving would be a felony. Provides that text messaging may constitute as a qualifying event for a habitual traffic violator determination, also bringing felonies into play. In Committee on Corrections, Criminal, and Civil Matters. (Lanane)
2010 cell phone, texting legislation notes
Only three tickets have been written under the teenage distracted driving law of 2009, according to the Courier-Journal. The newspaper calls for a broad ban on handheld cell phone use while driving, which would end the complication of police having to determine a driver's age before pulling him or her over.
Rep. Joe Pearson, D-Hartford City, saw his HB 1279 approved unanimously (11-0) by the Committee on Public Policy on Jan. 28.
State Sen. Travis Holdman has filed SB 18, which would prohibit all Indiana drivers from text messaging while behind the wheel. Holdman, whose distracted driving limits on teens went into effect July 1, said constituents and traffic safety experts urged him to prohibit state motorists from texting while driving. "As texting-type tasks continue to grow in popularity we have to use what resources are available to help reduce the amount of crashes and fatalities on our roads," Holdman said in a statement announcing the Indiana text messaging legislation on Oct. 29.
Sen. Tim Lanane, D-Anderson, seeks strict penalties for texting while driving with his SB 111. "My bill likens it to drunk driving or something like it," Lanane said. "If there is a harsher penalty, then maybe drivers will take the law more seriously."
A New Albany plan to ban text messaging and handheld cell phone use is losing steam. City Councilman Steve Price is pushing for the distracted driving ordinance, but says he'll go along with just a ban on texting. The city's safety committee will meet on the issue at some point.
2009 legislation (dead):
SB 16 prohibits a driver under 18 from using a telecommunications device. Approved by the Senate and House, and returned to the Senate on April 15 for approval of House amendments. Signed into law May 7 and became effective July 1. (Holdman)
SB 80 would prohibit cell phone use for drivers under 18 unless a hands-free accessory is employed. (Kruse)
HB 1242 would prohibit motorists from using hand-held phones. Drivers with probationary licenses also prohibited from also using hands-free cell phone set-ups. (Summers)
HB 1699 would prohibit drivers under the age of 18 from using hand-held mobile phone. (Robertson)
Previous Indiana legislation notes:
The teenage driving limits legislation (SB 16) was approved by the House Roads and Transportation committee in a unanimous vote on April 1, 2009. Senate approval came Feb. 5. The House OK'd the cell phone-texting bill with amendments on April 15.
Rep. Vanessa Summers, D-Indianapolis, has filed cell phone-related bills such as 2009's HB 1242 repeatedly, without success. She voted against SB 16 on April 15, telling fellow legislators: "Shame on you all for not doing something for yourself that you're asking your children not to do" (banning cell phones for all drivers).
The debate over teen texting and driving understandably has been intensified after the March 21 death of Indiana college student Brittiany R. Phillips, 21, of Muncie. She had been sending and received text messages in the moments before she crashed into a tree.
Sen. Dennis Kruse, R-Auburn, hopes that once his teen driver legislation SB 80 has a hearing, it would be modified to include more rules and drivers. Kruse was inspired to author the bill after he lost control of his vehicle while on a cell phone, and ended up in a ditch. "Studies aren't overly convincing that cell phone use is more distracting than drivers who put on makeup in the car or have dogs in the front seat with them or lean over to get something off the floor," Kruse said. "But, there is definitely a distraction." Kruse's bill seeks primary enforcement status for the cell phone driving law.
Rep. Summers noted in the 2008 session: "In the seconds it takes you to dial a 10-digit number you can look up and be in the back of someone. Every year it amazes me you guys don't get it." "Several committee members expressed concern that there are no data to show this is a problem," the Journal Gazette reported of the cell phone legislation.
South Bend has banned the use of cell phones in school districts. First offenses bring $75 fines, second, $125, and subsequent violations $250.
The South Bend Tribune said the city didn't go far enough with the ban on cell phoning and driving in school zones: "In the end, will it really be safer with drivers strategizing how to get in the last word before they hit a school zone? Or making that follow-up call 30 seconds later?" It called for a citywide ban and, better, a statewide ban.
Monroe County has banned the sending of email and text messages while behind the wheel. The ordinance went into effect Jan. 1, 2009. A sheriff's deputy died in a texting related accident in October 2008. Enforcement does not extend to Bloomington.
Background: A legislative study committee on Oct. 14 approved draft legislation that seeks more limits on teenage drivers, including a ban on cell phone use without a hands-free device. Sen. Tom Wyss, R-Fort Wayne, the bill's sponsor and chairman of the Interim Study Committee on Learner's Permits and Graduated Driver's Licenses, will introduce the teen-driving legislation for the 2009 session. Sen. Travis Holdman, R-Markle, will push for that new legislation. Wyss proposed a similar bill in the 2008 session, but it was stripped of meaningful provisions before fizzling out. The study group also OK'd a separate plan to ban the use of cell phones and texting devices by bus drivers and others with public chauffeur licenses, the Indiana Star reported.