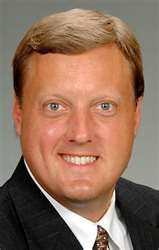 Indiana has become the 32nd state to ban text messaging while driving. The law becomes effective July 1, 2011, with fines up to $500.
Gov. Mitch Daniels signed the texting act into law on May 11.
Specifically, the Indiana distracted driving law prohibits drivers from typing a text message, transmitting the message or reading an electronic mail message. Texting via hands-free or voice-operated technology is allowed.
The law calls for primary enforcement, meaning police can stop and cite violators for that reason alone.
The Indiana texting law has an unusual exemption: communications systems installed in a commercial vehicle weighing more than 10,000 pounds. The law also prohibits police from confiscating telecommunications devices.
Rep. Eric Koch, R-Bedford, pictured, was the legislation's sponsor.
U.S. Transportation secretary Ray LaHood weighed in after the May 11 signing: "Distraction is still a factor in too many serious crashes. But, the bill signed today by Gov. Daniels will help make Indiana roads safer."
Drivers under 18 also are prohibited from using cell phones while behind the wheel. The new law essentially expands the ban on teen texting to all drivers.
The Indiana Senate pushed for the original bill (HB 1129) to include a ban on handheld cell phones, but that element was removed in subsequent conference committee negotiations.
That didn't come as a surprise to State Senator Tom Wyss, R-Fort Wayne, who had predicted the Senate's addition of a handheld cell phone to HB 1129 would "cause a lot of people to oppose it. The chances of it passing in this manner is pretty slim."
HB 1129 was approved by the House in an 85-11 vote on Jan. 25 and sent to the Senate. It was amended by the Senate and then approved May 15. The legislation was then rewritten April 26 by a conference committee to remove the Senate's addition of cell phone ban.
The bill then easily won approval in the House (83-10 vote) but barely got through the Senate (26-24).