Last updated: November 8, 2017
Cell phone legislation news: Georgia appears to be in for another rough year on the roads, with 996 deaths reported as of September 2017. A State Patrol spokesman said many of the fatalities "are directly related to texting and driving or driving distracted." Officials reported 1,500 deaths in 2016. That was about 70 more than in 2015. The state Department of Transportation also says smartphone use is a major factor: "We're seeing a lot of distraction," a DOT official has said of recent increases in traffic deaths. "We don't want to see people die on Georgia roads for something as silly as a text."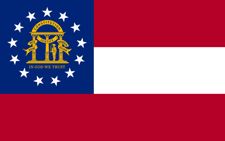 State Rep. Keisha Waites filed legislation for the 2017-18 session seeking to outlaw use of handheld communications devices to make phone calls while driving. There was no activity on the bill during 2017. The proposed fine is $150. Georgia currently prohibits text messaging by all drivers and the sending of "Internet data."
Smyrna appears to be ready to become the first city in Georgia to adopt a handheld cell phone law for drivers. The ordinance — sponsored by Councilman Derek Norton — is up for a vote in late November. Norton says he has the support of the City Council and mayor. It would go into effect Jan. 1, 2018.
Current prohibitions:
Text messaging banned for all drivers. Also sending of "Internet data." Fines of $150 plus 1 point vs. license.
Drivers under the age of 18 prohibited from using cell phones, regardless of whether a hands-free device is attached. Also bans computer use. Fines of $150.
School bus operators prohibited from using cell phones while driving, if passengers are present.
2017 distracted driving notes:
Ten state lawmakers have been appointed to a study group on the issue of electronic distracted driving. The panel of seven Republicans and three Democrats will focus on the role cell phones play in the state's rising number of highway fatalities and make recommendations for possible legislative remedies. At the study committee's first meeting Aug. 28, the panel was repeatedly urged to back a hands-free law. Harris Blackwood, director of the Governor's Office of Highway Safety, told the panel: "Hands free is not a cure-all. But it makes the law more enforceable." The study group's chairman, state Rep. John Carson, said he wasn't convinced a handheld cell phone ban was needed: "It's going to be up to what the citizens of Georgia really want to do." The panel was created by House Resolution 282 (below). Next meeting in late September.
Georgia Governor's Office of Highway Safety director Harris Blackwood points the finger at distracted drivers for the "disappointing" increase in fatalities in 2016: "People are running into structures, they are running into other cars, they are departing the roadway, crossing the center line — and all those are symptomatic of distracted driving particularly texting," he told WGCL. His office has begun a new PSA campaign about the issue.
Distracted driving legislation (2017-2018):
House Bill 7: Would bar use of a handheld communications device to engage in a phone call while driving. Fine: $150. (Waites)
HB 163: For adult drivers, would outlaw use of a handheld communications device to engage in a phone call. (Already prohibited for drivers under age 18.) Also cites school bus drivers. (Price)
HB 401: Would have excluded motorcycle operators from prohibitions of wearing a headset or headphone while driving. Approved by Motor Vehicles Committee on Feb. 23. Withdrawn by sponsor March 31. (Clark)
House Resolution 282: Created the House study group on distracted driving. Approved by the House on March 30. Committee members appointed in early June with first session in late August. (Carson)
Distracted driving notes (2016):
Georgia's Department of Driver Services processed 3,866 cell phone-related citations in 2016. That's up about 30 percent from 2014.
State Rep. Rahn Mayo, who made several attempts to toughen Georgia's distracted driving laws, was defeated in the Democratic primary of May 2016.
2015 distracted driving notes:
Harris Blackwood, director of the Governor's Office of Highway Safety, told the AP: "Texting is the No. 1 distraction we have, and it is a real problem." Blackwood was commenting on 2015's 16 percent increase in traffic deaths statewide. Texting "may be coming home now to haunt us a little bit," he said.
The state of Georgia is seeing an increase in 2015 traffic fatalities, and the DOT puts most of the blame on distracted driving. The increase, through the last week of the year, is 16 percent. The Georgia Department of Transportation said 1,345 people had died in 2015 as of Dec. 28. Traffic fatalities appear to be up across the nation so far in 2015.
Georgia lawmakers quickly approved 2015 electronic distracted driving legislation aimed at commercial drivers. The restrictions bring Georgia into line with federal DOT regulations regarding cell phone use by those drivers. HB 118 was signed into law May 12.
Georgia drivers have been hit with an increasing number of convictions for distracted driving, peaking at 2,712 in 2014. Midway through 2015, the number is 1,168, according to the Department of Driver Services. Since the ban on texting & driving and related activities began in 2010, there have been about 7,800 convictions.
State Rep. Rahn Mayo's new legislation for 2015-16 is House Bill 10, his third try at outlawing the use of handheld cell phone by drivers. The plan will "save lives," Mayo has said. "We think this will curtail distracted driving on our roads and highways." Previous and similar cell phone bills died quickly in the House, with supporters complaining that conservatives had "no appetite" for further distracted driving laws. Mayo's proposed fine is $150, without additional fees or points. The bill did not succeed.
2015-2016 distracted driving legislation:
House Bill 10: Would outlaw mobile phone calling without the use of hands-free devices. Fine: $150, no fees or points. (Mayo)
HB 118: Outlaws use of handheld communications devices by commercial drivers. Brings state into line with federal DOT regulations for commercial drivers. Also bars reaching for handheld devices while driving. Approved by the House in a 147-11 vote of March 2. Approved by the Senate in a 51-1 vote of March 31. Signed into law by the governor May 12. (Tanner)
2014 distracted driving notes:
State Rep. Rahn Mayo says he's trying again with a handheld cell phone measure because of "countless injuries and fatalities" linked to distracted drivers.
2013-14 legislation:
House Bill 34: Would outlaw use of handheld cell phones while driving a vehicle in Georgia. (Mayo)
2013 distracted driving notes:
As of late January 2013, almost 2,000 drivers have been convicted under Georgia's texting & driving law.
2012 distracted driving notes:
Villa Rica's City Council rejected a general distracted driving ordinance Sept. 3. In addition to banning handheld cell phone use while driving, prohibitions would have included eating, writing, grooming, etc. The mayor said he saw no reason to go farther than the state's 2010 law.
Georgia has issued only about 1,300 tickets under the distracted driving laws that went into effect two years ago, the Department of Driver Services reported in late October 2012.
Gov. Nathan Deal has not taken a position on a hands-free law, WSBTV reported.
Only one bill was filed for the 2011-12 General Assembly sessions seeking to ban use of handheld cell phones while driving. State Rep. Rahn Mayo's plan died in the House. Mayo, D-Decatur, refiled the distracted driving bill for the 2013-14 session.
The City of Atlanta has barred its employees from using cell phones while driving on the job. The City Council cited liability and the overall toll of distracted driving in its Aug. 20, 2012, decision.
2011-12 legislation (dead):
HB 67: Would have outlawed use of handheld mobile phones while driving. Died after second reading. (Mayo)
2011 distracted driving notes:
The Georgia Chapter of the National Safety Council isn't going to bat for HB 67, which would ban handheld cell phone use but allow calls using hands-free accessories. "Just going to a hands free (device) does not improve safety," Robert Wilson said. "The distraction is not the physical phone, it's the conversation."
2010 session legislation (successful):
SB 360: Would outlaw text messaging and related activities on cell phones while driving. Specifies the ban would not apply to cell phone calls. Fine $150. Also would prevent young drivers with instructional licenses from applying for a regular license if guilty of two texting violations in a year. Approved by the Senate on March 18. Approved by the House (131-19 vote) on April 27 and sent to the governor. Signed by the governor on June 4. Took effect July 1. Latest action: After a one-month delay in writing tickets, enforcement began Aug. 1. (Murphy)
HB 23: Would prohibit drivers with restricted licenses who are under 18 from using wireless devices such as cell phones and texting units. Fines up to $150 plus possible license suspension. If driver is found at fault in an accident, fine would double and license would be suspended. Approved by the Georgia House on March 12, 2009, but stalled in the Senate after a second reading in March 2009. "Recommitted" in Senate as of Jan. 11, 2010. Approved by the Senate (47-0 vote) on April 27. Signed into law by the governor on June 4. Went into effect July 1. Latest action: After a one-month postponement, enforcement began Aug. 1, 2010. (Ramsey)
More 2010 session legislation:
HB 938: Would restrict all drivers from text messaging. Drivers under 18 also prohibited from using cell phones while driving. Fines $50 to $100 plus two points. If driver is found at fault in an accident while texting, fine would double and license would be suspended. Under-18 drivers would lose license for 90 days on first offense, then six months. Directs law officers to note use of wireless communications on accident form. Approved by the House on March 26 in a 134-31 vote. (Peake)
Georgia House Bill 945: Would outlaw use of cell phones and related texting devices by all drivers while operating a motor vehicle on state roads and highways. Fines up to $300. (Amerson)
HB 944: Would prohibit drivers from texting and emailing. Fines up to $300. (Amerson)
HB 940: Limits students' use of electronic devices, including cell phones, while on a school bus. Drivers are already barred from using cell phones. This bill's main target is bullying. (Hugley)
SB 306: Exempts hands-free devices such as Bluetooth headsets from the state law prohibiting use of headphones while driving. Passed by the full Senate on Jan. 28, 2010. (Heath)
SB 327: Sseeks a ban on text messaging and using handheld cell phones while driving. Primary enforcement. Fines $175 then up to $500. One driver's license point, then two. (Thompson, Thomas)
2010 legislation notes:
Enforcement of the Georgia distracted driving laws that went into effect July 1 was delayed until Aug. 1 due to an "administrative decision" by the Georgia Department of Public Safety. Violators are now subject to $150 fines.
Suspense hung over the text messaging and cell phone laws approved by Georgia's Legislature as the governor fretted over enforcement issues. Safety advocates and students lobbied successfully in the final days of the legislative session for him to sign the bills. Gov. Perdue said June 2 of the SB 360 texting ban: "I've got some concerns over the enforceability of that. … None of this business is black and white."
Rep. Allen Peake, who sponsored similar legislation, said that Perdue had threated a veto but saw the light: "I think you have to look at it from this standpoint. The benefits significantly outweigh the negatives and the concerns about law enforcement."
State media reported that Perdue cut a deal with lawmakers that his concerns about enforcement would be addressed via new legislation next year. "Therein lies a potential problem," the Athens Banner-Herald editorialized June 8. "It's certainly possible that, in addressing Perdue's concerns, lawmakers could cause additional confusion. … (They) might be well advised to leave well enough alone when it comes to the new law on texting while driving." (Perdue will not be in office in 2011.)
The successful measure SB 360 also is known as the "Caleb Sorohan Act for Saving Lives by Preventing Texting While Driving," in memory of a Dahlonega teen killed in a texting-related crash. The bill notes that "virtually every driver in Georgia now possesses" a cell phone.
Rep. Amos Amerson, R-Dahlongea, says he was inspired to file the anti-text messaging Georgia House Bill 944 by friends who lost their grandson in a texting-related accident over the holidays.
Sponsor Sen. Jack Murphy, R-Cumming, said: "My bill started out just to ban teenage texting, but as we went on, we got more feedback from constituents saying, 'Hey, why doesn't this apply to adults?'"
A driver who was cited for driving while using a hands-free headset inspired SB 306, which modernizes the Georgia law against the wearing of headphones while operating a motor vehicle. Sponsor Sen. Bill Heath, R-Bremen, saw his bill become the first legislation passed by the Senate in the 2010 session. "Drivers who want to be safe on the road and use hands-free devices should not be penalized for using good judgment," he said. The law predated widespread use of wireless telecommunications devices.
2009 legislation (inactive)
HB 19: Would create distracted driving penalties for motorists who were using cell phones at the time of an accident, with or without hands-free devices. One-point penalty and up to $500 fine upon conviction. Appears dead.
HB 21: Would ban drivers with learning permits (instructional or provisional) from using cell phone, with or without hands-free devices. One-point penalty upon conviction. No action — see HB 23.
Georgia cell phone/texting legislation notes:
"It doesn't matter if you're a teenager or an adult. You're still dangerous to other people," says Rep. Amos Amerson, R-Dahlonega, whose HB 945 would ban texting by all drivers regardless of age.
Senate Majority Leader Chip Rogers, R-Woodstock, says he'll "be happy to look at" evidence showing text messaging while driving is dangerous. He plans to focus on property tax issues in 2010.
HB 23, which was approved in the House on a 138-34 vote, calls for fines of $50 to $100 and two points on the offender's driving record. An accident caused by a teen using a cell phone would result in a loss of license for three months or until the driver turns 18.
HB 23 was sponsored by Reps. Matt Ramsey of Peachtree City, Edward Lindsey of Atlanta and Tom Rice of Norcross (all Republicans). "If the law is enacted and proves successful, it will bolster the case for further efforts to reduce distractions among all drivers," Ramsey wrote on his legislative blog. Of a ban on handheld cell phones for all drivers, he wrote, "I would not be optimistic it would pass this year."
Cell law inspiration: Ramsey notes he was run off the road by a high school student talking on a cell phone while driving.
Rep. Mary Margaret Oliver, D-Decatur, has been a driver of cell phone driver legislation in Georgia. She filed the bills HB 19 and 21 for the 2009 legislative session, but they were not approved. Her HB 174, banning use of cell phones by teen drivers, also failed to become law in 2007.
Georiga's law preventing school bus drivers from using cell phone while on the road was enacted in August 2007.