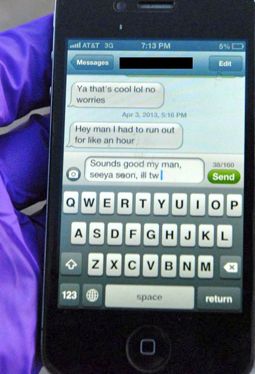 The text message in the image at left would seem routine, but the story behind it is heart-wrenching.
Police in Greeley, Colo., say that text-messaging thread led to the death of a University of a Northern Colorado student on April 3.
Alexander Heit, 22, of Boulder apparently was still typing when he veered into oncoming traffic, jerked the steering wheel to avoid a crash and flipped his vehicle. He died shortly after.
Heit's family released the image as a caution to others who would text & drive.
"I can't bear the thought of anyone else having to go through something like this," said Sharon Heit, Alexander's mother.
"Please, vow to never, NEVER text and drive," she continued. "In a split second you could ruin your future, injure or kill others, and tear a hole in the heart of everyone who loves you."
Texting while driving has been illegal in Colorado since late 2009.
The Greeley Police Department released Heit's plea and the image. "The Heits are sharing their tragedy and loss, in hope that through Alex's story, others may realize and recognize just how dangerous texting and driving is," the local police chief said.