Last updated: December 18, 2017
A British woman who prosecutors said killed a motorcyclist while distracted by a hands-free phone call has been sentenced to three years in jail. Samantha Ayres of Horncastle was sentenced as a distracted driver even though hands-free calls are legal. "The fact is you were so distracted, most probably by the long phone call, that you were not paying attention properly to the road and to other road users," Judge John Pini QC said at the early December sentencing. "The fact that using a (hands free) phone is lawful does not alter the fact it is an actual distraction." Ayres, a teachers aide, killed David Kirk, the father of a 1-year-old girl.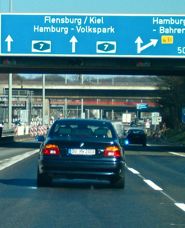 British drivers claim to be among the world's most disciplined motorists when it comes to talking on mobile phones. A survey of drivers from 13 countries across Europe, North America and Asia found Brits the least likely to self-report making calls, sending text messages or checking social media. One in five U.K. drivers said they had made a phone call while driving without using a hands-free kit. This compares with a global average of 48 percent, according to survey takers from Aviva insurance. The U.K.'s 20 percent compares with 63 percent found in the U.S.
The U.K. increased its distracted driving fines as of March 1 to at least £200 and 6 points vs. the driver's license — even if it's the first offense. The tougher U.K. distracted driving penalties, which had been expected, will apply in England, Scotland and Wales. The 6 points will hit young drivers especially hard, since their licenses will be at risk with a single distracted driving offense. Adult drivers are facing a mandatory court appearance with two infractions (12 points). The moves were spearheaded by Transport Secretary Chris Grayling, who was appointed by Prime Minister Theresa May.
In London, tickets for handheld mobile phone violations fell by about a third in 2016, police said. They wrote about 1,900 citations for the year, down from about 2,800 in 2015. A London Police spokeswoman said it was too early to tell if this is "just a blip on the radar, or if this is in fact a good thing."
Traffic deaths in Ireland were put at 165 people as the end of 2016 neared. That's up 32 from 2015. Ireland South MEP Deirdre Clune — a member of the EU Transport committee — said the priority should be to "address the use of mobile phones by drivers." She seeks a doubling of penalty points vs. offending distracted drivers' licenses. A plan to hike electronic distracted driving penalties was dropped from Ireland's 2016 Road Traffic Bill.
In Britain, almost 10,400 drivers were cited for multiple mobile phone offenses between the years 2012 and 2015. The Driver and Vehicle Licencing Agency indicated 9,722 were caught two times, with 638 offending three times. Four-time losers numbered 32 and one driver was caught five times.
In Britain, drivers will see punishments for handheld cell phone use double next year, government officials say. Penalties will be at least £200 and 6 points vs. the driver's license. The moves are being driven by new transportation chief Chris Grayling. Distracted drivers' "actions could kill and cause untold misery to others," Grayling said in a statement Sept. 17. The changes will apply to England, Scotland and Wales. For younger drivers, 6 points means a license suspension. Two strikes will cost adult drivers their license. At least 21 deaths were linked to mobile phone use by British drivers in 2014.
Two English truck drivers have been sentenced to a combined 11 years in prison after fatal crashes linked to mobile phone use. In Cambridgeshire, Danny Warby received a six-year sentence for killing a detective constable who was a mother of two. Warby had a previous conviction for electronic distracted driving and drink driving. He was sentenced in mid-September. The victim's family said they hoped the sentence "will remind others of the simple act of using a mobile phone whilst driving can have such devastating consequences." In Cornwall, a bus driver was sentenced to five years in prison for killing two passengers due to his prolonged use of a mobile phone. Martin Chun was in a "telephone-induced stupor" when his bus ran off the road in Cornwall and hit a hedgerow, prosecutors said. The elderly passengers were on a day trip when they died. The sentence, handed down in Truro Crown Court, came in late August.
In Britain, almost half of adult drivers between 25 and 35 years old regularly text message while behind the wheel, a new study has found. Just under half admit to going online or using non-driving-related apps. The survey by the road-safety charity Brake found 55 percent of the 25- to 34-year-olds admitted to texting & driving in the past year. That compares with 12 percent of drivers ages 45-55. "Younger drivers, especially those aged between 25 and 34, simply aren't getting the message about the dangers of using a mobile phone while driving," said Alice Bailey, communications adviser for Brake. The study released in late July 2016, surveyed 1,000 drivers.
In Ireland, a plan to toughen electronic distracted driving penalties has been dropped from the 2016 Road Traffic Bill because of time limits. A spokesman said for Minister for Transport Paschal Donohoe said he was "committed to revisiting this matter in legislation." Gardaí say the 2014 texting law is virtually unenforceable and have not written tickets.
In the United Kingdom, the government plans to increase distracted driving penalties in the new year. The proposal sees the fine hitting £150 for most vehicles (up from £100), with penalty points increasing to 4 from 3. For large vehicles, the points would double from 3 to 6. Most first-time offenders will be offered traffic school, according to a statement from the Department for Transport. A series of consultations on the specific proposals in the U.K. road safety plan are to begin early in 2016.
In Britain, prosecutions for illegal mobile phone use fell almost by half between 2009 and 2014, a new report says. Between 2011 and 2013, the falloff was 57 percent, the RAC motoring association said in mid-October. "In 2014, 17,414 prosecutions were made in magistrates' courts in England and Wales, which is 15,157 fewer than in 2009," the RAC said. The Department for Transport indicates the percentage of car drivers using phones at the wheel is relatively unchanged over the years, however. RAC external affairs chief Pete Williams said: "There is still an enormous gulf between what the law states — that handheld mobile phones should not be used behind the wheel — and what motorists see happening on our roads."
In Ireland, almost half of drivers surveyed say they see other motorists holding their mobile phones on a daily basis. A quarter of people surveyed by AA said they see people texting daily. More than a third said they see people texting at red lights. Other frequently observed behaviors include using GPS systems and personal grooming such as applying makeup. The Irish automotive services provider polled 7,500 drivers.
In St Albans, England, a 26-year-old driver was sentenced to 21 months in prison for the death of a bicyclist whom he hit while using social media. John Mitchell was using WhatApp to message a woman he didn't know when he hit and killed Mark Greenwood, 57, who was riding home from work. Mitchell pleaded guilty to causing death by dangerous driving. He also was barred from driving for three years. The judge called the use of mobile phones by drivers "an epidemic" in Britain.
In Britain, the Department for Transport says most uses of mobile phones by drivers are for texting or "using social media." Observational studies in England and Scotland showed about the same percentage of drivers (1.7 percent) were using mobiles, about the same as in 2009. More than twice as many drivers were holding the phone in their hands vs. up to their ears, suggesting that texting or Internet use was occurring. The British distracted driving study shows "that the problem isn't just drivers making phone calls, it is their use of phones to text or use the Internet," Transport minister Robert Goodwill said.
In Ireland, the Road Safety Authority has tagged distracted driving as a priority for enforcement in 2015. RSA chief executive Moyagh Murdocka cites "a recent RSA observational study (that) indicates the number of people talking or texting on the phone while driving is getting worse. A shocking 1 in 12 drivers are using their phone while driving." At least 196 people lost their lives on Irish roads in 2014, compared with 190 in 2013.
A man from the Isle of Wight has been sentenced to six years for causing the death of a woman while texting & driving. Craig Eccleston-Todd, 27, was checking a text message when he crossed the white line and hit Rachel Titley in October 2013. Police said alcohol may have been a factor in the crash as well. He also was barred from driving for eight years.
Liz O'Donnell has been named Ireland's new Road Safety Authority chairperson. She pledges to keep up pressure on motorists who use their mobile phones — behavior that's "totally disastrous and really reckless." O'Donnell said 2014's toughening of Irish distracted driving laws gives law officers the powers they need to combat the "modern scourge." She told the Independent "it's only the risk of getting penalty points that will influence drivers." Irish motorists face some of the planet's toughest distracted driving penalties, with fines for first offenses topping out at 1,000 Euros (about $1,400).
The British are among the world's worst offenders when it comes to distracted driving, a global study suggests. Talking on mobile phones and eating behind the wheel were the most frequently cited behaviors in the U.K., according to researchers for the LeasePlan company, who surveyed 3,000 drivers in 20 countries. The study also found Brits were most likely to encounter road rage.
British transport minister Patrick McLoughlin says he's considering a doubling of demerit points vs. the license of electronic distracted drivers. The move would mean offenders would lose their licenses if caught for mobile violations twice within three years. "The amount of casualties there have been "absolutely appalling," McLoughlin said in mid-July 2014. Scotland Yard Chief Bernard Hogan Howe has called for the move. Fines increased in Britain in May 2013, but the 3 penalty points remained the same. "There could be some difficulties about (increasing the points) but I think we have got to get the message across to people about safety," McLoughlin said in a speech.
U.K. reports that drivers would have their mobile phones seized and searched after every roadway collision turn out to be false. Suzette Davenport, who heads the Association of Chief Police Officers' road policing, issued a statement denying reports in the Daily Mail and elsewhere that she'd issued the policy. Read more about the British mobile seizure reports.
A driver who was texting and calling on two mobile phones just before hitting and killing a man on the A47 has been sentenced to six years' imprisonment. "Mobile phone use while driving is a plague on our society," the judge said as he sentenced Marina Usaceva, 31, of Peterborough. She had several prior convictions for mobile phone use while driving.
A British truck driver who killed a young woman while distracted by porn sites has been been sentenced to five years in prison. Ian Glover hit the broken-down car of Laura Jane Thomas and her fiance on the A5 highway. The family of the young woman reportedly was outraged by the relatively short sentenced handed down to Glover, 44. "It makes me feel sick that Glover killed my girl while looking at porn," the mother told the Daily Mail. Tests of the lorry driver's mobile phones showed he viewed porn images multiple times while driving that day. The wreck occurred in July 2013, when the couple was on the way to the seaside.
Britain's road safety minister says he's considering a push to increases fines for distracted driving. The current penalty is £100, with a possible £1,000 on court conviction. But enforcement appears to be down, with a 14 percent fall in the number of drivers with points assigned to their license for the offense in the period May 2012 to August 2013, the Daily Mail reported in June 2014. "I will see if we need to change the penalties," minister Robert Goodwill said.
In Ireland, whatever doubt there was about the illegality of text messaging while driving was eradicated when Transport Minister Leo Varadkar issued a regulation banning the practice. It already was illegal to hold a mobile phone while driving, so Varadkar's move addresses any technicalities. "Removes legal grey area on SMS," he Tweeted on April 11. The law went into effect May 1, accompanied by fines that can hit 1,000 Euros for a first offense. For a second offense, the maximum is €2,000, and for three or more offenses within a year there's a possible €2,000 fine and a three-month jail term.
In the United Kingdom, more than half of drivers surveyed said they'd missed turns because they were driving distracted. Even worse, about 1 in 10 drivers reported they often are unable to recall details of their entire vehicle journey — putting them on a sort of auto-pilot. Younger drivers (35 percent) and Londoners (22 percent) appear more likely to forget parts of their journeys. "It's all too easy to get behind the wheel and zone out completely," said Simon Best, head of the Institute of Advanced Motorists. "Being distracted enough that you miss a turning is a sign that driving is a task that has fallen too low in your brain's priorities." IAM sponsored the poll of about 1,500 drivers, whose results were posted in late February 2014.
In Sweden, the government has placed restrictions on drivers' use of cell phones — although it appears unclear exactly what they are. The country, one of the few in Europe that allow use of mobiles without hands-free devices, says motorists can be cited for use of the devices if the result is "detrimental" to their driving. "What that means is up to the police," a Swedish Transit Authority official told SVT. The rule went into effect Dec. 1, 2013.
Almost all EU nations prohibit use of handheld electronic devices while driving. Sweden, Albania, Serbia, Moldova and Malta are among the few European nations without bans on handheld cell phone use by drivers.
Ireland is scrambling to bring its distracted driving law up to date. The country will specifically ban text messaging while driving, closing a loophole in its handheld device law that allows texting while a cell phone is cradled, the transportation minister said in October 2013. Texting will be prohibited regardless of whether the device is being held, but voice-activated texting will be OK. The fine will be the same as for handheld cell phone use: 60 euros and three penalty points. The new law is expected to take effect in 2014, according to the Irish Independent.
A British bus driver has been sentenced to more than five years in prison for killing a married couple when his vehicle toppled over, apparently while he was reading a text message. The wreck, near Huddersfield in July 2012, was blamed on the distracted driving of Ethen Roberts, a veteran bus driver. "If ever a case demonstrates the obvious dangers of (texting while driving), this is it," the judge said during sentencing in late August 2013. The couple were on their way to Cuba for an anniversary trip, the Yorkshire Post reported.
In Ireland, almost eight in 10 parents fear their children will be involved in a distracted driving wreck, a survey suggests. More than two-thirds of parents told pollsters that other passengers would be the biggest distraction to their teenage driver, while 63 percent cited cell phones and 47 percent named loud music. The survey was released in August 2013 by the UK's Aviva Insurance.
British drivers who use handheld cell phones soon will face a £90 fine. The Transport secretary, Patrick McLoughlin, said the number of points against a driver's license would not double, as had been proposed. Current fines are £60 plus 3 points. More than a million motorists have been convicted of using a hand-held mobile phone behind the wheel since the law went into effect in 2003, the Daily Mail reported. "We want to send a clear message to dangerous drivers: If you continue to show complete disregard for the safety of other road users, we will catch you, and we will punish you," McLoughlin said at a press conference May 8. The fines also apply to other forms of careless driving. McLoughlin admitted to using his cell phone while driving in the past, but found it "unbelievable" that motorists would text message while behind the wheel.
London police wrote more than 1,150 tickets for use of handheld cell phones in the first 11 months of 2012. A two-day distracted driving crackdown in late November yielded 45 cell phone citations.
In Sweden, the National Road and Transport Institute told the government that there was no reason to regulate drivers' use of handheld communications devices such as smartphones. The board said in April 2012 that drivers likely would ignore any ban and that distracted driving laws don't lower crash rates.
Almost half of German drivers say they use cell phones while driving. That compares with 6 percent of U.K. drivers, according to a European motor safety poll. Ford Motor Company commissioned the survey 4,300 drivers from Spain, Italy, France, Germany and Britain. In Italy, 14 percent of the respondents admitted they had text messaged while driving.
"This survey clearly demonstrates the urgent need for us all to improve our concentration levels behind the wheel," said Stuart Southgate of Ford Europe's Automotive Safety Office. Six in 10 motorists told the researchers that they weren't sure they would pass their driver's license test if taken again.
In Austria, bicyclists are now prohibited from using handheld communications devices. The fine for violations in this eastern European country is 50 Euros. Hands-free operation is OK. The Ministry of Transport's new bicycling rules went into effect in late March 2013.
In Denmark, the Accident Investigation Board (AIB) is seeking seeks a total ban on cell phone use while driving. "We see that drivers sit with their new smartphones while driving and use them like a laptop computer and thus look away from the traffic," AIB chairman Sven Krarup Nielsen said July 19, 2011. Danish law currently prohibits the use of handheld cell phones while driving, but permits use of mobiles with hands-free listening devices. The vehicle safety board is lobbying Parliament for the change.
In Finland, drivers who can't stop talking on their cell phones now face suspensions of their licenses. The new Act on Driving Licenses, which took effect June 1, 2011, gives local police the authority to suspend a driver's license if the cell phone violation is committed three times in a single year or four times over a period of two years. Suspensions range from one to six months under the new Finnish distracted driving penalties.
(View the International distracted driving news page.)
In Ireland, 8,500 drivers were prosecuted for electronic distracted driving violations in the year's first quarter, a 10 percent hike over the same period in 2010. Almost 100,000 Irish drivers have received penalty points for texting or using handheld cell phones since 2006, and a additional 20,000 were just cited and fined. Dublin had the most scofflaws, Ireland's national police reported.
Brits brush off cell phone law: British drivers are pretty much ignoring the 7-year-old law against handheld cell phone use while behind the wheel, a survey found. As many as 81 percent of drivers use cell phones without the required hands-free kit, according to Good Mobile Phones' survey of 1,859 motorists aged 17 and over. 44 percent admitted to texting while driving, while 24 percent said they accessed social networking sites such as Facebook.
A British teenager has been sentenced to incarceration for 2 1/2 yearrs for killing a grandmother while reading a text message. She faced as much as 14 years in prison for "causing death by dangerous driving." Keisha Wall killed 63-year-old Christine Lyon in early 2010, a Reading jury found. Police said she received a text message seconds before the crash. Wall denied the charges and the victim's family said she never apologized. Read the full story about the texting U.K. teen sentenced to prison.
Total cell phone ban?: The European Transport Safety Council has proposed that all cell phone use be banned for EU drivers. The safety alliance urged "clear and strict" laws banning mobile phone use while on the road.
All EU nations except Sweden have banned handheld cell phone use while driving but allow hands-free operation. Ten of the 27 EU member states specifically prohibit texting while driving.
The European Transport Safety Council (ETSC) also recommended in a December 2010 report — Minimising In-Vehicle Distractions — that employers ban all cell phone use by their employees.
The ETSC is a Brussels-based umbrella group of 43 organizations dedicated to the reduction of the number and severity of transport crashes in Europe.
Scotland is cracking down on drivers who use smart phones. Roadway law enforcement Chief Superintendent Charlie Common said in November: "The use of any distraction device, including smart phones, is illegal and carries the same penalties associated with making a call whilst driving. … We are committed to stopping those motorists who continue to ignore the safety warnings and risk their life and the lives of others."
In Sweden, nearly 10,000 people lost their licenses for distracted driving in 2010, an increase of 12 percent. Most of those penalized were distracted by cell phones and GPS systems.
Looks like Sweden has nabbed its first text-messaging driver. A Falkenberg man crashed into a pole and ran over a ditch before coming to rest on the sidewalk. The cops closed, being in the area on an unrelated case. He apparently will be the first person in Sweden to be charged as a result of texting while driving. (Sweden is one of the few areas in Europe where cell phone use is allowed while operating a motor vehicle.)
English road safety group Brake is pushing for an expansion of the country's ban on drivers' use of handheld cell phones, with hands-free mobiles outlawed as well. "It's time that our politicians took note and put an end to the ridiculous situation where using a hand-held mobile is banned, but using hands-free isn't," said Ellen Booth, campaigns officer.
The U.K. Home Office reports that in 2009, about 116,000 tickets were handed out for mobile phone use while driving. The number is off 30% from two years ago, the Telegraph reported May 5, 2010. Meanwhile, cell phone use by motorists was up 27%. A spokesman for Brake, the road safety group, said: "This is clearly a law which is being flouted and isn't being enforced to a degree that actually makes people think that they are going to get caught."
In 2009 there were 454 deaths and serious injuries linked to distracted driving in the United Kingdom, according to the Royal Society for the Prevention of Accidents. About 2,500 less-important accidents occurred as a result of distracted behaviors as well.
Police in Scotland wrote 180 tickets for driving and using wireless devices on Feb. 25, 2010, as a one-day national crackdown on distracted driving. Among those ticketed: A bus driver reading text messages while crossing through a city center.
Great Britain's Labour party deputy leader was fined £350 after pleading guilty to backing her car into a parked vehicle while talking on a handheld cell phone. She also had 3 points charged against her license with the Jan. 9, 2010, sentence. The Crown Prosecution Service said Harriet Harman initially was charged with driving without "due care and attention" and using a handheld mobile telephone. The cell phone charge was dropped, which drew criticism from the road safety group Brake. She faced fines of over 5,000 pounds and nine points on her license for the South London crash.
Serbia: The Law on Safety in Traffic went into effect Dec. 10, 2009. The Serbian ban on cell phone use while driving brings fines of €60. Punishments of up to €250 and some jail time (five to 10 days) may be imposed if an accident is in the equation, according to the web site Balkan Insight. As many as 20 percent of accidents in the country involve cell phone use, police say.