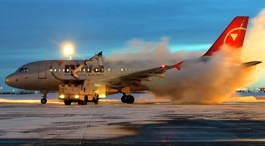 "Distracted flying" is now under investigation by the Transportation Department, following news of two Northwest Airline pilots who overshot the Minneapolis airport by 150 miles, apparently while using their using laptop computers.
Transportation Secretary Ray LaHood has widened his department's initiatives to "distractions as they apply beyond cars — to rail, buses, and now, planes," a spokesman told the Associated Press on Oct. 28.
Sen. Amy Klobuchar, D-Minn., called the incident "the ultimate case of distracted driving — only this time it was distracted flying."
The two pilots, whose licenses have been revoked, were out of touch for almost an hour and a half.
At a Senate hearing on a new distracted driving bill Wednesday, Hood noted that "the problem is not just confined to vehicles on our roads — it affects all modes of transportation."