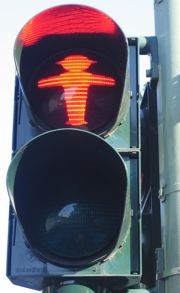 Last updated: November 10, 2017
Distracted walking updates: Two Chicago aldermen have introduced legislation that would bar pedestrians from using cell phones at a cross street, with fines ranging from $90 to $500. "No person shall cross a street or highway while using a mobile electronic device in a manner that averts their visual attention to that device or that device's activity," says the proposed ordinance, introduced Nov. 8. At least 27 pedestrians have been killed in traffic accidents as of mid-November 2017.
Ontario lawmaker Yvan Baker has introduced a private member's bill that would outlaw looking at electronic devices while crossing a street. Fines would range from $50 to $125. The proposed distracted walking bill would have its greatest effect in Toronto, which studied the problem several years ago and found that 13 percent of pedestrians were electronically distracted. Cities would be able to opt out of the law, if enacted.
San Mateo County (California) supervisors passed a resolution urging state lawmakers to adopt legislation outlawing cell phone use in crosswalks. "The state rightly banned texting and driving and now it's time to protect pedestrians," resolution sponsor David Canepa said after the Sept. 12 vote. A legislator reportedly is ready to author the distracted walking legislation. The Office of Traffic Safety last year dubbed September as Pedestrian Safety Month in response to the increasing number of pedestrian deaths in California.
Honolulu has prohibited pedestrians from viewing handheld mobile devices while crossing a street. The law went into effect Oct. 26, 2017. The vote on Bill 6 was 7-2. Fines range from $15 to $99 depending on number of previous infractions. Violators will have to appear in court. Emergency responders are exempted from the proposed law. It apparently is the first law of its kind in the U.S., although several have been proposed in other cities, including New York. The ban takes effect in late October.
In Connecticut, a local lawmaker in Stamford is proposing a distracted walking ordinance modeled after the one in Honolulu. Fines would be $30. "My whole objective is to prevent any more injuries of pedestrians getting injured or killed," said John Zalinsky of the city's Board of Representatives.
(View the distracted bicycling news page.)
Two-thirds of Canadians back implementation of distracted walking laws in their municipalities, a nationwide survey has found. The laws would affect activities such as texting in the middle of a crosswalk. About 28 percent of those polled were opposed to the government intervention, researchers at Insights West said. Last summer, Toronto called on the province of Ontario to enact curbs on plugged-in pedestrians in traffic areas.
A New Jersey legislator is attracting nationwide publicity with her 2016 plan to outlaw texting while walking in roadways. Assemblywoman Pamela Lampitt's plan makes an exception for hands-free use of devices by pedestrians. Fine up to $50, with a possible 15 days in jail — the same as jaywalking. The plan is A3503. States that have seen unsuccessful attempts to control distracted walking include New York, Arkansas, Nevada and Illinois.
A 2016 measure in Hawaii would bar pedestrians from crossing a street, road, or highway while using a wireless electronic device. The bill, OK'd in committee, sees fines of up to $250. The plan is House Bill 2723.
Israel's Knesset reportedly will consider a ban on text messaging while walking. The country already outlaws texting and using cell phones while driving.
The texting & walking issue bubbled up again in May 2012 as the Huffington Post reported incorrectly that Fort Lee, N.J., had banned the practice and was handing out $85 tickets. The popular blog retracted the story after the police chief said he was misquoted or misunderstood. Fort Lee's tickets were for jaywalking.
New York state Sen. Carl Kruger tried unsuccessfully for at least four years to get a law prohibiting pedestrians from using handheld electronics devices while in the crosswalks of Manhattan. News reports of his efforts set off a mini-national debate over walking while distracted.
Helping the cause was a widely viewed 2011 video of a text-messaging woman falling into a mall fountain, as well as a report showing an uptick in pedestrian fatalities nationwide.
"You can't be fully aware of your surroundings if you're fiddling with a Blackberry, dialing a phone number, playing Super Mario Brothers on a Game Boy or listening to music on an iPod," said Kruger, D-Brooklyn.
Update: Kruger resigned from office in late 2011. He was convicted of accepting bribes. No doubt he refrained from texting while doing the perp walk.
The New York state distracted walking legislation, first proposed by Kruger in 2007, would keep pedestrians who are in crosswalks from using handheld cell phones, MP3 players such as iPods, PDAs and similar attention-grabbing devices. It restricts the law to cities with a population of at least 1 million, meaning only Manhattan.
Kruger cited the December 2010 accident in which a 21-year-old man listening to music blaring through his headphones on a Manhattan street corner was crushed by a truck after he failed to hear the vehicle's backup signal. The senator also pointed to the viral YouTube video in which a mall security camera showed a woman engrossed in text messaging as she falls into a fountain.
Senate Bill 1945 calls for a $100 fine for pedestrians who violate the distracted walking law.
"Tuning in and tuning out can be a fatal combination on the streets of New York," Sen. Kruger said.
Last summer, Mayor Michael Bloomberg vowed to install pedestrian countdown signals at another 1,500 intersections across the city. The action came upon release of the Pedestrian Safety Study and Action Plan, which found pedestrians are 10 times more likely to die than a motor vehicle occupant.
Carelessness by pedestrians (and bicyclists) do account for thousands of accidents yearly in Manhattan, but the DMV does not break out those linked to personal electronics.
In Arkansas, meanwhile, a state senator dropped his plan to limit headphone use by bicyclists and pedestrians to one ear only, citing 10-1 negative feedback from constituents. Sen. Jimmy Jeffress, D-Crossett, said Jan. 25, 2010, that he knew going in that the draft legislation wouldn't succeed, but he wanted to raise the issue. He was inspired by a Little Rock accident in which a headphone-wearing jogger ran in front of traffic.
New York's Kruger had harsh words for Jeffress' quick surrender: "I don't know the legislator, but shame on him because in the process that goes forward it's not a question of whether or not you pass a bill. You also file a bill because it may be a cornerstone for others to use." (More distracted walking news after video.)
Pedestrian traffic fatalities showed a slight increase in the first six months of 2010, breaking a four-year downward trend, the Governors Highway Safety Association reported Jan. 20, 2011.
"Anyone who travels in a busy city has seen countless pedestrians engrossed in conversation or listening to music while crossing a busy street," GHSA chief Vernon Betkey said. "Just as drivers need to focus on driving safely, pedestrians need to focus on walking safely — without distractions."
In New South Wales, Australia, police are calling for laws against pedestrians listening to iPods and using similar devices while crossing roads.
The Pedestrian Council of Australia recently ran ads that showed people with lambs heads using personal electronics while crossing the road at a red light. "Lambs to the slaughter. Wait for the green," the headline says. A spokesman for the group said use of portable electronics with headphones "put you in la-la land."