A rewrite of California's electronic distracted driving laws has cleared the Legislature and been sent to Gov. Jerry Brown.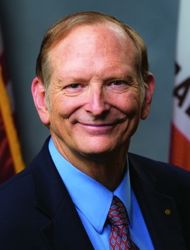 The bill from Assemblyman Bill Quirk, left, was designed to simplify and expand the state's distracted driving laws by recasting its ban on texting & driving.
Update: The governor signed Quirk's measure into law Sept. 26. /update.
AB 1785's wording, inspired by a court ruling, places the focus on use of the handheld electronic device itself, rather than the activity (such as text messaging). It is designed to get mobile devices out of drivers' hands.
"Smartphones have an abundance of available features that demand a driver's attention, leading to very dangerous behavior," said Assemblyman Quirk, a former rocket scientist. "However, such activities are not clearly prohibited by law."
The proposed law would bar driving while operating a wireless telephone or electronic wireless communications device unless the device is specifically designed for and used in a voice-operated and hands-free manner.
The measure cleared the Senate in a 23-13 vote of Aug. 17. Final approval came from the Assembly in 52-20 vote of Aug. 23.
Texting & driving and calling with a handheld cell phone has long been illegal in California, but the law has not kept up with changing technologies, such as the proliferation of web applications on mobile devices. "The language of the bans has been found to be insufficient to capture the capabilities of today's devices," a legislative analysis found.
In 2014, a Court of Appeals ruled that the existing ban on handheld cell phone use only prohibited a driver from holding a wireless telephone while carrying on a conversation, not while using it for any other purpose.
The legislative analysis noted: "Law enforcement agencies find it difficult, if not practicably impossible, to enforce the prohibition" due to the "scope of the mobile device's functions."
The Legislature's plan would make holding smartphones and similar devices illegal, except for making a single swipe or tap while the device is mounted on the windshield or dashboard/center panel of the vehicle. That use is consistent with GPS use (but not data entry).
Quirk said: "It is time that we update our archaic laws on the issue and do our part to make sure drivers are focused on the road. The accidents, injuries and deaths associated with this form of distracted driving are completely preventable."
The fine would remain (a base) $20 for the first offense and $50 for serial offenses. Gov. Brown has vetoed several bills designed to increase penalties for distracted driving. He has until the end of September to sign or veto the Quirk plan.