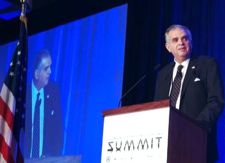 Citing a "tremendous grassroots groundswell against distracted driving," DOT chief Ray La Hood opened the Illinois Distracted Driving Summit on a bullish note.
"I can't think of another safety issue in American history that's gained so much traction in such a short period of time," LaHood said at the April 21 distracted driving conference, sponsored by the safety advocate group FocusDriven and the National Safety Council.
LaHood cited:
A boost from the entertainment industry, with Justin Bieber, Emma Roberts and Jordin Sparks spending their time and money on distracted driving prevention. Oprah Winfrey, as well, has been a celebrity face of the war on handheld cell phone use over the past 15 months.
Corporate bans on employees driving while using cell phones on the job. LaHood cited DuPont as an example of businesses looking out for their employees and others' safety on the road. DuPont was a corporate sponsor of the Illinois distracted driving conference, along with the Allstate Foundation.
Student-led efforts across the country and the many "Just Hang Up" campaigns.
LaHood, perhaps, had some distractions of his own that morning, with news reports continuing to fuel outrage over air traffic controllers who sleep on the job. One distracted controller was busted for watching a DVD movie while monitoring the skies.
The distracted driving conference was in the village of Addison, west of Chicago. Other speakers from the political spectrum included Illinois Secretary of State Jesse White (keynote); Illinois Senate President John Cullerton, D-6th District; and Illinois Rep. John D'Amico, D-15th District.
FocusDriven co-founder Jennifer Smith said, "I challenge families and friends of distracted driving victims nationwide to hold their own state summits and demand action in their communities." Smith talked about her mother's death, three years ago, caused by a cell-phoning driver.
FocusDriven used the occasion to introduce its new web site, which brings a slicker and more informational approach to the group's online presence.
Janet Froetscher, head of the National Safety Council, told the gathering: "Through the summit, we're helping FocusDriven build resources others can use to (enact) change in their states. The perspectives and experiences of U.S. Secretary LaHood, Secretary White, state legislators, victim families and other experts will help augment the resources NSC and FocusDriven have already developed."
The NSC says 1 in 4 vehicle crashes can be linked to cell phone use, handheld or otherwise.
The local politicians and FocusDriven's Smith have some work to do in ther own backyard. Illinois has no ban on handheld cell phone by adults, except for school and construction zones. A recent survey suggests that as many as 40 percent of motorists on the Illinois Tollway don't know it is illegal to text while driving on state roads and highways.
Panels ran throughout the day, on the topics "When Tragedy Strikes," "Unlocking Dangerous Behavior" and "Steering Springfield." Another panel discussed how to get students and schools involved at the local level, and law enforcement in Illinois was covered in "On the Patrol."
Also, the NSC's David Teater talked about corporate cell phone policies and a group of Illinois physicians and researchers covered trauma associated with distracted driving. (View distracted driving panels.)