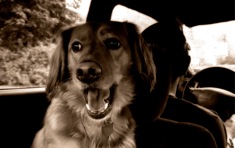 The safety hazards of unrestrained pets in motor vehicles were highlighted this week as a AAA study suggested that only 17 percent of dog owners restrain their animals in vehicles.
Researchers warned of possible roadway "devastation" as a result.
One in five of the dog owners surveyed said that while driving they allowed pets to sit in their laps.
The AAA survey on pets said almost 60 percent of drivers who transport their dogs engaged in other distracted driving behaviors at the same time.
In a bizarre coincidence, an L.A. plastic surgeon died in Malibu not long after Tweeting and texting about about his dog, which was unrestrained in the doctor's vehicle at the time of the crash. Frank Ryan's Jeep plunged over a rocky embankment on the Pacific Coast Highway, killing him and pitching the dog into the ocean below. (The animal survived.)
The crash came days before AAA released its pet-owner survey.
The Los Angeles Times reported that crash investigators were trying to determine what role texting played in the accident, if any. The texting connection was widely reported.
The survey by the AAA Foundation for Traffic Safety, backed by the pet product company Kurgo, found that more than half of the drivers petted their animals while on the road. (Kurgo sells restraint products.) A small percentage admitted to feeding their dogs or playing with them while driving.
"An unrestrained 10-pound dog in a crash at 50 mph will exert roughly 500 pounds of pressure, while an unrestrained 80-pound dog in a crash at only 30 mph will exert 2,400 pounds of pressure, said Jennifer Huebner-Davidson, AAA National's Traffic Safety Programs manager. "Imagine the devastation that can cause to your pet and anyone in the vehicle in its path."
AAA also listed its top vehicle choices for animal safety.
The survey covered 1,000 dog owners who had driven with their animals on board in the past year.
Ryan was known for his work on celebrities and for his charity efforts in removing tattoos from former L.A. gang members.