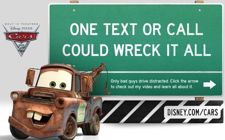 Hey you out there, talking & texting while behind the wheel. You are now officially a Disney villain — just like that motoring maniac Cruella de Vil.
"In our world, only bad guys drive distracted," the narrator says in the fast-moving "Cars 2" PSA created by the Disney and Pixar in partnership with the Department of Transportation. (video below)
How to become a Disney hero, like Lightning McQueen? "No calling, no texting. Nothing that can take away your focus."
DOT distracted driving czar Ray LaHood quipped: "I think you'll agree that 'Cars 2's' Lightning McQueen and Mater make pretty good spokes-vehicles." They're not bad at pushing the latest Disney-Pixar film, either: "Cars 2" debuts June 24. The original took in $461 million dollars at the boxoffice.
The DOT's National Highway Traffic Safety Administration worked with Disney on past PSA campaigns such as the original "Cars," "A Christmas Carol," "Enchanted," Wall-E" and a home video rerelease of "Cinderella."
Disney is making the video PSA available in about a dozen countries. (text continues)
One Internet commenter wasn't all that impressed: "Awesome! This should keep my 3-year-old nephew from driving distracted."
LaHood pleaded guilty to "instilling safe driving behavior among young people from an early age."