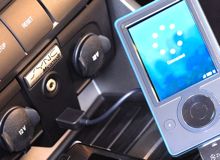 Digital dashboards:A Louisiana legislator seeks to rewrite the state's law regarding drivers and video screens. HB 387 would allow use of split-screen in-dash monitors, found in a few vehicles such as those in the Mercedes S-Class (SplitView). These dashboard screens allow front passengers to watch movies or television while the driver sees only navigational elements.
"Connected vehicle" systems and safe-driving technologies co-existed and co-mingled at the 2011 Consumer Electronics Show in Las Vegas.
Toyota and Hyundai unveiled new wireless communications and data systems for their vehicles, while GM's popular OnStar service announced it was expanding into other carmakers' vehicles.
Ford rolled out its first electric car, with "wireless connected vehicle services" designed by partner Airbiquity.
DOT: The new Internet-related gadgets being installed by automakers led U.S. Transportation Secretary Ray LaHood to open up a new front in his department's war on distracted driving.
During September 2010's second Distracted Driving Summit, LaHood said, "In recent days and weeks we've seen news stories about carmakers adding technology in vehicles that lets drivers update Facebook, surf the Web or do any number of other things instead of driving safely.
"Features that pull drivers' hands, eyes and attention away from the road are distractions," the DOT chief said.
LaHood met with the major automakers to set guidelines for entertainment and communications systems such as Ford's Synch and GM's OnStar. General Motors Co. CEO Daniel Akerson was at the top of the DOT chief's to-meet-with list.
Facebook hits the road: GM isn't backing off its plans to link up drivers with Facebook and Twitter. OnStar president Chris Presuss told the Detroit News in mid-October 2010 that the new OnStar functionality passed GM's safety tests. "Not only is it safe — all things relative in the vehicle — it's actually a benign activity," Preuss said of the hands-free functionality. Ford says it isn't planning a similar Facebook feature, but does plan to have its Sync system read Tweets to drivers. Sync already voices text messages to drivers and allows for user's voice-initiated preprogrammed responses.
Thanks to Subaru: LaHood praised Subaru of America for its "Baby Driver" ad in which a father teaches his young son not to text or make cell phone calls while behind the wheel. Subaru's Tom Doll said, "Staying focused on the road is a key element in crash avoidance, which is why our designers deliver a simple, clear dash layout in our vehicles and why we remind people in our ads to concentrate only on their driving."