Connecticut's General Assembly has sent to the governor legislation making electronic distracted driving a moving violation. Insurance companies would be alerted to any offenses, allowing them to raise the premiums of violators.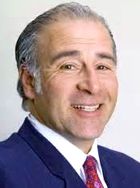 State lawmakers also sent to the governor on June 5 a plan to hike fines for electronic driving.
The idea is to see that offenders "get hit in the pocketbook," said the head of the Transportation Committee.
"To some individuals, it may sound drastic, but in my opinion, it's not drastic enough," said the chairman, Rep. Tony Guerrera (pictured). He called the problem a national "epidemic."
The legislation moves on to Gov. Dannel Malloy, a Democrat.
Connecticut's distracted driving laws were most recently toughened in 2010. Malloy was not in office at the time.
The new fines would range from $150 to $500.
Adult drivers in the state (18 and older) must use hands-free devices while talking on cell phones or using a "mobile electronic device." Drivers under 18 are barred from using cell phones or other mobile electronic device while driving — with or without hands-free attachments such as Bluetooth headsets.
The new fines would be $150 for a first offense, $300 for a second violation and $500 for the third or subsequent convictions.
The House vote in favor of the electronic distracted driving crackdown was nearly unanimous. In the Senate, the plan found limited resistance but cleared by a 26-9 vote.
The legislation was part of a wide-ranging transportation bill that also raises the driver's license fees for applicants.
The Senate, meanwhile, has sent to the House legislation that provides for up to $1,000 in additional fines for hitting a "vulnerable" person such as a pedestrian or bicycle rider. That bill's case was strengthened by the death last year of a Norwalk jogger who was hit by a teen checking her high school web site.