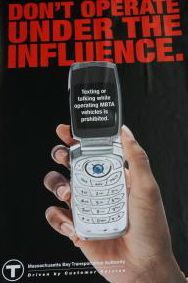 Here's a roundup of deaths, injuries and legal activity resulting from drivers who allegedly were chatting on cell phones or text messaging as they crashed.
The lead item, of course, is the rail crash in Boston, in which 50 people were injured. The operator was text messaging his girlfriend at the time. The incident brought back memories of the deadly Los Angeles rail crash in which the operator was texting friends.
These reports from police and the courts were gathered in the past two weeks.
BOSTON — The Boston transit authority immediately banned operators of train, trolleys and buses from carrying cell phones and personal electronic devices after 49 people were injured when a trolley operator crashed into the rear of another trolley while sending a text message to his girlfriend. It is the most restrictive ban on cell phones by transit workers in the nation. The MBTA already had a campaign against texting, poster pictured. (NYT)
BOSTON — Police are investigating whether a prominent Boston physician was using her BlackBerry when her car swerved into oncoming traffic and collided with another car. Dr. Phyllis Jen died as a result of the crash. Neither speed nor alcohol appeared to be a factor in the accident. Jen was driving a small car that was in the head-on collision with a large SUV. As medical director of Brigham Internal Medicine Associates, Jen supervised nearly 150 doctors. (Information Week)
EDEN, N.Y. — The driver killed in a crash in Eden was texting at the time her vehicle collided with a truck on Route 75, Eden Police Chief Michael Felschow said. Brandie J. Conklin, 22, died after her car drifted across the road and collided with an oncoming milk truck on Route 75. Conklin had been exchanging text messages with a boyfriend who was traveling some distance behind her in another vehicle, according to Felschow. "We checked her text messages," Felschow said. "She was basically texting up to the time of the accident." (Buffalo News)
BAINBRIDGE, Ohio — A Kenston Elementary School teacher was found lying in a ditch after being struck by a car whose driver admits he was sending a text message, police say. The driver who struck Kupiec turned himself in, saying he was responding to a text message and did not realize he had hit anyone. (Fox 8 Cleveland)