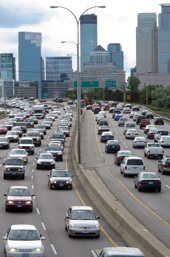 On July 1, two major laws went into effect in this cell phone-loving state. Drivers are required to use hands-free devices if they wish to make cell phone calls from their moving vehicles.
In addition, drivers under the age of 18 are prohibited from using wireless phones while driving — sorry, that means no hands-free devices. Teen drivers also are prohibited from using text-messaging devices and laptop computers.
The first infraction brings a $20 ticket; any others will cost $50. The Los Angeles Times says the true costs of those cell phone tickets are $76 and $190, figuring in court costs and penalties.
For now, any violations of California's cell phone and texting laws will not result in points — as in insurance company rate hikes — but stay tuned.
California law enforcement agencies had varying policies on how actively they'd be enforcing the new cell phone laws come the July 4 week. The Highway Patrol planned strict enforcement, while the Los Angeles Police Department adopted "an educational period," according to the Los Angeles Times.
"People ask us, 'Is there going to be a grace period?' We say, 'Yes, it's June 30,' " a CHP spokesman said.
Gov. Arnold Schwarzenegger signed the hands-free legislation in fall 2006. The bill was SB 1613, from state Sen. Joe Simitian, D-Palo Alto.
Simitian also authored SB 33, now a law that prohibits teen drivers' use of cell phones and text messaging devices such as walkie-talkies, pagers, two-way messaging devices and PDAs while driving.
Of the young driver law, the senator said: "I introduced this bill for one simple reason it will save lives. No one would argue that just because we can't eliminate all the distractions affecting driver safety, we shouldn't eliminate the ones we can. This is especially true when it comes to young drivers."
Simitian filed SB 28 on June 19, 2008, seeking to apply the text-messaging (and email) prohibitions to all drivers.
The nonpartisan Public Policy Institute of California recently estimated that 300 fewer people will die each year in traffic accidents as a result of the hand-held cell-phone ban for California drivers.
Here are some questions and answers about mobile phones and driving, from the California Department of Motor Vehicles:
Drivers 18 and older:
Q: What if I need to use my phone during an emergency and I do not have a hands-free device?

A: The law allows a driver using a wireless telephone to make emergency calls, including, but not limited to, calls to a law enforcement agency, health care provider, fire department, or other emergency services agency.
Q: What are the fine(s) if I am convicted? 

A: The base fine for a first offense is $20, and $50 for each subsequent conviction. The courts will impose additional administrative fees.
Q: Will I receive a point on my driving record if I am convicted for a violation of the cellular phone law?

A: No. The violation is a reportable offense; however, DMV will not assign a violation point.
Q: Will a conviction appear on my driving record?

A: Yes, but a violation point will not be added.
Drivers under 18:
Q: If I am under 18, can a peace officer stop me if he/she suspects I am using a cellular phone or other mobile service device?

A: A law enforcement officer may pull you over if he/she observes or determines you are using a cellular phone.
Q: Why is the law more strict for provisional drivers?

A: Statistics show that teen drivers are more likely than older drivers to be involved in accidents because they lack driving experience and tend to take greater risks. Distractions, such as talking with passengers, eating or drinking, and talking on cellular phones or texting increase the chance you will be involved in a serious accident.
Q: Can my parents give me permission to allow me to use my cellular phone when driving?

A: No. The only exception is an emergency situation that requires you to call a law enforcement agency, health care provider, fire department or other emergency entity.
Q: If my car has a built in hands-free phone feature, may I use it while driving?
A: No. The law prohibits anyone under 18 years old from using any type of wireless device while driving, except in certain emergency situations.