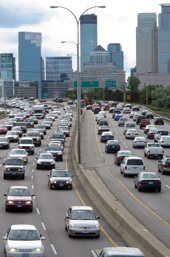 Cell phone use while driving has become the No. 1 safety problem on California roads and highways, a new survey of state motorists says.
Close behind came texting while driving. Combined, cell phoning and text messaging drew almost 40 percent of the responses.
Both problems individually outweighed last year's main concern, "speeding and aggressive driving," according to the second-annual survey by the California Office of Traffic Safety.
Texting soared in mentions as the biggest danger, going from last year's 2 percent to 18 percent.
When asked to name the most serious distraction for drivers, respondents said cell phone use (56 percent) and texting while driving (27 percent). No other distracted activity (eating, grooming, etc.) was cited in more than 2 percent of the responses. Texting again increased as a concern, going from about 13 percent (2010) to 27 percent. Cell phone use (handheld or hands-free) fell by 6 percent, with most of those mentions presumably rerouted to texting.
The 2011 survey included 1,801 drivers over age 18. They were questioned at gas stations throughout California. (Read the 2011 California traffic safety report).
"This information provides us with unique insight into the concerns of Californians," OTS Director Christopher Murphy said. "It is very telling that we've seen such a shift in opinions on cell phone use in just one year."
The drivers indicated they're getting the message about distracted driving: When asked how often they talked on a handheld cell phone in the past month, 10.5 percent said "regularly" — down from 14 percent in 2010. The majority indicated "never."
When asked the same question about text messaging while driving, 6 percent indicated they did it regularly, down from 9 percent in 2010. 72 percent said never. More drivers 18-24 cited texting as the top danger, yet they were more likely to text message while behind the wheel.
A third of Southern California drivers cited texting as the biggest problem while only a quarter agreed in Northern California.
More responses from the traffic safety survey:
Four in 10 of the drivers said they used their cell phone less because of California's handheld law.
Seven in 10 said hands-free cell phone use was safer than handheld use.
Six in 10 said they've been hit or almost hit by a driver yakking on a cell phone, up slightly from 2010.
The California Office of Traffic Safety survey also asked the motorists about drunken driving, sobriety checkpoints and seat belt use. The director said the survey was beginning to show trends in its second year and would provide "valuable data for our planning, particularly in distracted driving programs and the emerging drugged driving problem."
Cell phone use by drivers ranked No. 2 in the 2010 survey about the biggest safety problems on California's highways.
Related story: U.S. drivers recognize talking & texting as dangerous activities, but many continue to drive distracted anyway — even in high-risk traffic situations.