The state Senate and House have approved Sen. Joe Simitian's SB 28, a reprise of his 2010 plan to more than double fines for distracted driving violations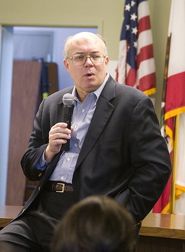 . The 2011 bill was sent to Gov. Jerry Brown on Aug. 15.
Update of Sept. 7: The governor vetoed SB 28, saying its fines were too punitive for most people.
Under the Simitian plan, fines for using handheld cell phones or text messaging while driving would have increased to $50 (first offense) and $100.
In addition, a point is charged against the driver's license on second and subsequent offenses. A first offense would cost violators about $310 after court costs. Repeat offenses will hit $528, plus the point.
"While the numbers show that compliance is good and that California's hands-free law is working, we can do better and save even more lives," said Simitian, following the bill's passage.
The bill now applies to bicyclists. After lobbying from bicyclists groups, the penalties in the Simitian plan were set at $20 for a first offense and $50 thereafter, with no added fees — and no point on their driver's license.
Read the SB 28 press release