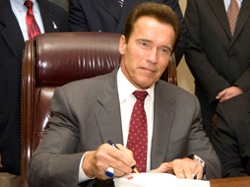 The percentage of people texting and driving has doubled in Southern California, despite the statewide ban on the practice, the regional Auto Club says.
The group's "observational" surveys, done only in Orange County, suggest that 2.7 percent of drivers are texting and/or using smart phones at any time. That's roughly double the percentage recorded before California's texting and driving ban went into effect in January 2009.
Handheld cell phone use — illegal under an earlier state law — held steady at 3.7 percent, the Automobile Club of Southern California said.
The Auto Club has conducted numerous "observational" roadside surveys since June 2008, before the ban on handheld cell phone use. This is the first survey that suggests distracted driving is getting worse.
A pair of surveys conducted just after the texting ban went into effect (May and July 2009) showed that texting and related activities had dropped about 70 percent. (Photo: Gov. Arnold Schwarzenegger signs the texting ban into law.)
The Auto Club study cites the difficulties police have in spotting text messagers, but does not explain how its observers were able to get an accurate count. Observers looked at about 4,000 vehicles in Orange County at various times of day and in different driving conditions.
Text messaging drivers tended to be young and female, the survey said, with 4.3 percent texting at any time. Use of smart phones and audio devices such as MP3 players skewed to young men, at 3.1 percent.
"The rise in texting indicates that the growth of texting overall has outpaced current enforcement efforts and overcome the current law, which should be strengthened to enhance safety," Auto Club Government Affairs Manager Steve Finnegan said in the press release about the distracted driving survey.
State Sen. Joe Simitian's bid to toughen California's penalties for electronic distracted driving failed in the Legislature in mid-August. He was seeking "a more significant deterrent" with the increased fines and possible points.
Fines for text messaging start at $20 and go to $50 for repeat offenses. With fees, the cost of violating the state text messaging law easily tops $200. No points go against the violator's driver's license, but would have under the Simitian plan.
Results from Orange County would not necessarily translate to other major population centers in California, starting with the dense urban city of Los Angeles to the north.