Bowing to safety concerns and consumer sentiment, Apple has unveiled a Do Not Disturb While Driving feature for its upcoming iPhone operating system.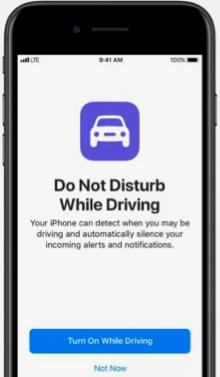 "iPhone can now sense when you're driving and prevent you from being distracted by calls, text messages and notifications until later," Apple said.
"People trying to reach you can automatically be notified that you're driving."
The computer giant announced the iOS 11 feature at its Worldwide Developer's Conference on June 5. It also applies to iPads.
"It's all about keeping your eyes on the road," Apple engineer Craig Federighi said in previewing the feature. "When you are driving you don't need to be responding to these kind of messages."
Wireless providers and software builders have been under pressure for years to come up with a technological fix to the electronic distracted driving issue. Several lawsuits seeking class action status were filed against Apple — saying the phone maker had the technology to prevent calls to drivers but did not employ it — but nothing concrete has happened until now.
It will be up to users to activate and employ the do not disturb function, however. Even with that, the safety feature can be overridden with ease.
The new Do Not Disturb While Driving senses when the iPhone is in a moving vehicle. The screen would be blank. A passenger could interact with the application in order to unlock the cell phone. Nothing prevents a driver from posing as a passenger.
Callers or text senders will get an automated message indicating the recipient is driving. Those trying to contact the driver could bypass the block by indicating the message is urgent (typing the word "urgent"). "You have the piece of mind that you can get contacted (in case of emergency)," Federighi said.
Users would be able to view Apple Maps, but not input destination info.
Apple already fielded a do not disturb feature, but its primary purpose is to block calls and notifications during sleeping hours.
iOS 11 for phones and iPads is expected in the fall, perhaps as early as September.