Last updated: January 2, 2018
Cell phone/text messaging update: The governor signed into law a 2016 bill that encourages law officers to stop and cite drivers who are text messaging. Alaska's state distracted driving offenses previously ranged from class A misdemeanors (simple texting) to class A felonies (causing a death) with offenders subject to jury trials. State Sen. Kevin Meyer's Senate Bill 123 lessened simple texting to a traffic violation. "Because the misdemeanor offense required prosecution and the involvement of the court system, very few people were ever penalized," a staffer for Meyer explained.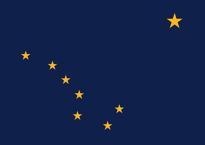 Anchorage previously established its own $500 fine for texting & driving, in a move also designed to encourage more prosecutions. The offense moved from criminal court — as it was under the existing state distracted driving law — to the local traffic court. There had only been four texting convictions in the city since 2011. The plan was approved Nov. 10, 2015, in a 10-1 Anchorage Assembly vote.
The state of Alaska has no limits on use of cell phones. In 2012, it took legislative action to close loopholes in its texting and driving law.
Current prohibitions:
Drivers are prohibited from text messaging and "communicating" on computers.
Drivers are barred from watching videos while behind the wheel.
Read the Alaska distracted driving law.
Distracted driving legislation (2015-2016):
Senate Bill 123: Makes electronic device offense while driving a traffic violation instead of a class A misdemeanor, if no injury occurs. Advanced by State Affairs Committee on Feb. 17. Approved by Judiciary on Feb. 26. Approved by the full Senate on March 16. Approved by the House in a 34-3 vote of April 17. Signed into law by the governor June 19. Effective date July 1. (Meyer)
Distracted driving notes (2016)
The Senate Judiciary Committee raised privacy and enforcement concerns Feb. 22 about a plan to make simple texting a traffic offense. "With every tool that you give law enforcement, there's always the potential for abuse," said Sen. Lesil McGuire, who supports the bill.
2014 distracted driving notes
The Senate in 2014 approved a plan that would allow municipalities to limit cell phone use near schools, but the measure failed the clear the House. The bill came from state Sen. Kevin Meyer, who also proposed barring texting in vehicles stopped at red lights and stop signs. The schools bill was OK'd by the full Senate in a 13-2 vote Feb. 14. It stalled in the House Judiciary Committee, however.
An Anchorage teenager was sentenced to a year in prison after pleading not guilty to manslaughter charges in the distracted driving death of a 27-year-old mother. In early 2013, Murphy Gross allegedly stole his father's SUV, smoked pot, received numerous cell phone calls and text messages before running a light and killing Cathy Cope. The actual sentence, handed down Nov. 13, 2014, was three years with two years suspended. Gross faced felony charges for texting because a death was involved.
State Sen. Kevin Meyer, a Republican who represents Anchorage, filed a bill to prohibit texting at red lights or stop signs "because the driver is distracted and can interfere with other traffic around them." That in-traffic texting by stopped drivers can result in "a very dangerous situation."
"Texting in any kind of traffic is distracted driving," Meyer says. Current Alaska law prohibits text messaging only if the vehicle is "in motion and the person is driving."
Meyer told Hands Free Info that his red-light bill had received "more negative comments (from legislators) than positive" as of late January.
Of his plan to allow municipalities to limit cell phone use near schools, Meyer said he took that approach because "some localities do not wish to have such an ordinance," but state laws requiring uniform traffic rules prohibit those that do want a law. The Senate OK'd that plan.
2013-2014 distracted driving legislation:
Senate Bill 122: Would specify that text messaging is not allowed by drivers unless the vehicle is not on a roadway — must be "lawfully parked, standing or stopped." Current law permits texting if vehicle is not in motion. Stalled in State Affairs Committee. (Meyer)
SB 123: Would allow municipalities to adopt ordinances prohibiting use of cell phone while driving in school zones or on school property. Current law requires cities to demonstrate a special need for a local traffic law. Advanced by the Community and Regional Affairs Committee on Feb. 6. Approved by the Senate in a 13-2 vote of Feb. 14. To the House. Approved by the House Community and Regional Affairs Committee on Feb. 28. Stalled in Judiciary. (Meyer)
2013 distracted driving notes
An Army pilot stationed in Anchorage was awarded $375,000 after a policeman who allegedly was using his patrol car's computer plowed into his truck. The jury award for the 2010 accident came in June 2013. The officer admitted to previously running a red light while using the onboard computer.
2011-2012 legislation:
HB 255: Would prohibit all drivers from reading or typing a text message. Legislation comes in response to court rulings against existing law, whose wording does not specify text messaging as a prohibited activity for drivers. Amended to allow emergency personnel to view authorized wireless screen devices while driving, but in connection with a health, safety or criminal matter. Unanimously approved by the Transportation Committee on Jan. 27. Amended (added "takes effect immediately") and approved by the Judiciary Committee in a 4-1 vote Feb. 13 and then by the House in a 34-5 vote April 10. Approved unanimously by the Senate Judiciary Committee on April 13 and then by the full Senate in a 19-1 vote April 15. Signed by the governor. (Gara, Thomas)
House Bill 128: Would prohibit all cell phone use by drivers under the age of 18. Secondary enforcement. Amended (added July 1 effective date) and narrowly approved by the House Transportation Committee on March 1, 2012. Approved by a divided Judiciary Committee (3-3) on March 15. To the full House. Dead. (Gardner)
HB 22: Would ban handheld cell phone use by drivers in Alaska. Hands-free operation OK. Primary enforcement, meaning law officers do not need another reason to halt drivers. Cleared the House Transportation Committee on March 8, 2011. Dead. (Muñoz)
HB 35: Seeks to outlaw drivers' use of cell phones regardless of whether a hands-free attachment was employed. Only exception is for emergencies. Primary enforcement. No activity in over a year. Dead. (Doogan)
HB 68: Would bar drivers from using handheld cell phones in Alaska. Sponsor says he won't push for this bill and instead backs HB 22, above. No activity in over a year. Dead. (Gruenberg)
2011-2012 legislation notes:
Bipartisan legislation that removes any doubt that texting and driving is illegal in Alaska was approved in the final days of the 2012 legislative session. State Reps. Les Gara and Bill Thomas' HB 255 cleared the House and Senate in mid-April and was signed into law by the governor.
The ambiguous wording of Alaska's 2008 prohibition on texting & driving came back to haunt legislators when a judge ruled that the state needed to be more precise with the distracted driving law. The magistrate noted correctly that its wording never actually refers to "text messaging." (Read the Alaska texting law story.)
House Bill 255's full title is "An Act prohibiting the driver of a motor vehicle from reading or typing a text message or other nonvoice message or communication on a cellular telephone, computer, or personal data assistant while driving a motor vehicle."
At least four bills related to driving while using handheld cell phones in Alaska were up for consideration in the 2011-2012 legislative session, but none found success. A teen cell phone ban barely got through committee.
Rep. Mike Hawker cast a key vote in favor of the teen cell phone ban in the Judiciary Committee, even though he opposes it on libertarian grounds. "I represent my constituents, and I respect the counsel they've given me (in favor of the bill)," Hawker said. The bill died later in the session, however.
Rep. Berta Gardner, D-Achorage, said her teen cell phone ban HB 128 might pass because of the number of distracted driving accidents involving young drivers: "I think we can build a consensus about cellphones with minors. … This isn't a tough one to support." In committee, Gardner fended off suggestions that its secondary enforcement status be upgraded by saying police would pull over too many adults legally using cell phones because officers have difficulty determining the age of drivers.
Anchorage's chief of police says he's "the poster child" for distracted driving after he hit another vehicle from behind while fooling with his cell phone. The fender bender occurred at a light as it changed from red to green. No ticket resulted, but the city manager reportedly reprimanded top cop Mark Mew.
HB 35 sponsor Rep. Mike Doogan said: "This type of bill (cell phone) is going to be a tough bill to get passed in any form. People are just reluctant to pass legislation that actually affects real people on the ground. He was right. No distracted driving legislation advanced.
Doogan, D-Anchorage, told the Juneau Empire that the handheld cell phone legislation HB 22 from Rep. Cathy Muñoz, R-Juneau, had a better chance of passage than his measure because she is in the majority party. Rep. Max Gruenberg, D-Anchorage, agrees and says he won't pursue his own HN 68 in favor of the Muñoz plan.
A Department Of Public Safety rep says only a few citations have been written under the Alaska law that bans text messaging.
2010 legislation notes:
Alaska's 2010 legislative session concluded April 18 without taking action on the proposed cell phone law.
The head of the House Judiciary Committee sought to water down Rep. Mike Doogan's HB 257, the cell phone legislation. Rep. Jay Ramras, R-Fairbanks, told the Anchorage Daily News that in order to clear his panel, the bill authored by Doogan, D-Anchorage, would have to change its goal from primary enforcement to secondary enforcement. "I don't think law enforcement needs more reasons to pull people over," Ramras said. (Primary enforcement means an officer can stop a motorist for that violation alone.)
Rep. Berta Gardner, D-Anchorage, says of her HB 15: "For all intents and purposes, the bill is dead." The measure has been stuck in the House Finance Committee for almost a year.
2010 legislation (dead):
Alaska House Bill 257: Would outlaw all uses of cellular phones while driving. Does not permit cell phone use if a hands-free device is attached. Primary enforcement. Fines up to $300 plus points. Stalled out in Judiciary Committee. (Doogan)
HB 15 (from 2009): Would prohibit the use of cell phones by drivers under the age of 18. Secondary enforcement. Fines up to $300. Filed in 2009. As of February 2010, the bill was technically alive but not scheduled for a hearing. Did not emerge from the Finance Committee, where it apparently died. (Gardner)
2009 legislation:
See HB 15, above.
2009 legislation notes:
Alaska's fiercely individualistic nature could make cell-phone driving laws a long shot. Even State Rep. Max Gruenberg, co-author of texting/video legislation, says he doesn't think Alaska is ready for a hands-free law.
The proposed cell phone ban on teenagers would be a secondary offense, meaning law officers would need another reason to pull over drivers under 18 using cell phones. The sponsors are Reps. Berta Gardner and Chris Tuck, both D-Anchorage.
Alaska's texting law took effect Sept. 1, 2008. Its prohibitions include drivers' use of televisions, monitors and portable computers, as well as installation of video screens within the sight of the driver. Six months later, State Troopers reported that only three motorists had been cited for the offense of text messaging while driving in Alaska. The law agency was investing in an ad campaign to warn of the dangers of texting while behind the wheel.
The texting/portable video law was inspired by a 2002 crash in which an Anchorage couple died. A man was accused of watching the movie "Road Trip" when he hit the couple, but he was acquitted of second-degree murder charges.
Anchorage activist Jennie Morris' next project could be cell phone use while driving, inspired by an accident in which she was hit by a 19-year-old on a cell phone.
"The question is whether any state or local lawmakers would want to champion that potentially unpopular cause," a post on the Anchorage Daily News site noted.
Based on reader comments, though, it looks like the Alaska cell-phone debate has begun.