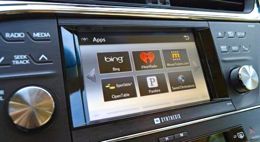 The U.S. Department of Transportation issued the final version of its "common sense" guidelines for vehicles' built-in communications, entertainment and navigation devices.
The guidelines, which are "non-binding" and voluntary, seek to rein in excessively distracting devices in passenger vehicles. They were released April 23 by the DOT's National Highway Traffic Safety Administration.
This first phase of the guidelines address electronic devices installed in vehicles as original equipment — typically dashboard electronics with visual-manual interfaces.
The guidelines call for limits on the time a driver must take his eyes off the road to perform any electronic device task. That limit is 2 seconds at a glance, with a cumulative time for completing the task of of 12 seconds total.
Researchers used operation of a dashboard radio as a baseline.
Drivers should never have to remove more than one hand from the wheel, the DOT says, and display screens should be placed as close to the driver as possible.
The NHTSA urges automakers to disable some electronic operations unless a vehicle is in park. They include text entry for text messaging and Internet browsing; video not connected to driving; some graphical images; and display of text messages, Web pages and social media content.
Several automakers market their vehicles as having "connected" dashboards that keep drivers in touch with the outside world via the Internet. They have promoted elements such as tie-ins with the Facebook social media service.
DOT chief Ray LaHood wrote on his DOT blog: "The bottom line is this: We don't have to choose between providing consumers with the technology they want and keeping folks safe. We can — and must — do both."
The Alliance of Automobile Manufacturers said it was concerned that "limiting built-in systems without simultaneously addressing portable devices could result in drivers choosing not to connect their phones (to built-in devices)."
The group of a dozen automakers pointed the finger at handheld mobile phones, which were not covered in the first phase of the guidelines. "NHTSA data indicate that 98% of distraction-related accidents are due to factors other than use of the built-in system."
The NHTSA guidelines will address mobile phones in the next set of guidelines.
The DOT has come under sporadic fire for failure to regulate automakers' development of these interactive electronic devices, R&D that dates back at least a decade.
The DOT did take its time with the driver distraction guidelines, courting automakers and watching their competitive development of dashboard electronics over the past several years. These guidelines are the first from the government.
The DOT said the vehicle-distraction guidelines were voluntary because more research is needed on overall driver distractions; in-vehicle technologies continue to evolve; and there is not enough research specifically addressing built-in vehicle electronics.
The NHTSA guidelines are directed at "light" vehicles such as passenger cars, minivans and SUVs. Interstate truckers and some other commercial drivers are subject to recent government regulations regarding electronic distractions.
LaHood wrote that he hopes "automakers will join us in embracing these real-world solutions to America's distracted driving epidemic."
"I believe automakers will ultimately adopt these guidelines," the outgoing Transportation Secretary said.
The distracted-driving guidelines first surfaced more than a year ago, as the DOT sought feedback from automakers, safety experts and distracted driving activists.
The changes made included dropping a character limit for text entry or for text display — replaced by no manual text entry and no displayed text from sources such as ads, books and Web sites.
The DOT also now gives automakers three years (instead of two) for meeting the guidelines.
Phase 2 of the driver guidelines will address portable and aftermarket electronic devices.
Phase 3 concerns electronic tasks controlled by auditory interfaces, such as voice-controlled text messaging.
Acknowledging the consumer demand for 24/7 wireless infotainment — "the tools and conveniences expected by today's American drivers" — the NHTSA had vowed "real-world guidance to automakers."