Seven states received negative ratings from an annual roadway safety report due to their lax texting & laws.
The Advocates for Highway and Auto Safety study fingered Arizona, Florida, Missouri, Montana, Nebraska, Ohio and South Dakota for their lack of effective texting laws.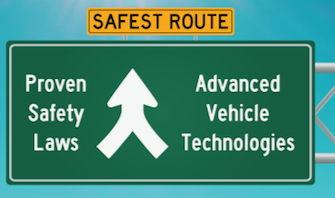 Arizona, Missouri and Montana do not have universal texting & driving bans. Florida, Nebraska, Ohio and South Dakota have texting laws, but enforcement is hindered by the secondary enforcement status.
Ohio avoided the group's "red" for "danger" signifier by having a cell phone restriction for novice drivers. ("Thirty-one states have an optimal GDL cell phone restriction," the group said.)
All seven states were serial offenders, with the red rating based on number of safety laws.
Receiving upgrades for distracted driving laws in the "2018 Roadmap of State Highway Safety Laws" were Texas and Iowa, which enacted text messaging laws with primary enforcement for all drivers in 2017.
The Advocates for Highway and Auto Safety study does not factor in laws addressing all drivers talking on cell phones, however. It also does not consider laws regarding Internet-related functions of smartphones, such as accessing social media sites. These are the key areas most state lawmakers are addressing in the distracted driving arena.
The National Safety Council, for instance, has called for outright bans on the use of cell phones while driving.
Many of these states with existing texting laws are in the process of updating to reflect the many distracting activities made possible by smartphones. Many distracted driving laws were enacted when texting was the primary computer-related use of cell phones.
Advocates for Highway and Auto Safety did not respond to a previous request for comment on its electronic distracted driving criteria, but noted in the 2018 report that it would be "redefining" its distracted driving reporting: "The change will reflect the growth of platforms and concern about their use for communications while driving."
Other laws taken into consideration in the study's grading of states include those covering seat belt and motorcycle helmet use, child passenger safety, teen drivers and alcohol impairment.
Group president Catherine Chase noted the continuing death toll on U.S. roadways as "solutions continue to languish or be ignored in state capitals, Congress and at the U.S. Department of Transportation." The report pointed to the promise of driverless cars.
> Read the 2018 road safety report.
> Read the 2017 road safety report.