Citing the "most fundamental purpose of protecting lives," state Rep. Tom Craddick has refiled his texting & driving legislation in Texas.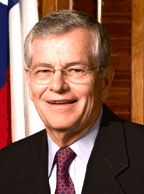 Craddick makes his fourth run at a distracted driving law in the state, whose lawmakers have proved unusually resistant despite widespread ordinances at the local level.
"All Texans are feeling the pain of damage, injury or loss of life and are calling for action by the Texas Legislature to enact legislation that will prevent these irresponsible crashes, unnecessary tragedies, preventable injuries, and needless deaths," Craddick wrote upon filing his House Bill 62 for 2017.
Craddick's plan to outlaw texting & driving won approval in the House in 2015 — the previous legislative session — but it was killed by a group of GOP senators. That resulted in Texas not having a statewide texting & driving ban for at least two more years. Texas is one of four states without a texting ban affecting all drivers.
Distracted drivers caused more than 100,000 crashes statewide in 2015. That resulted in 422 fatalities, the Texas Department of Transportation reported.
Returning lawmakers likely will again face various proposals targeting texting & driving and handheld cell phone use.
State Sen. Kirk Watson says, "Texas is making a big mistake" by not outlawing electronic distracted driving. Still, he told Everything Lubbock, "I would not bet that the law passes (in 2017). "In fact, if required to make a bet of real money I would bet the law doesn't pass."
Craddick declares, however, that this is "the session that the Texas Legislature finally understands the victims' and the families' pain."
"Other states with laws have seen a reduction in distracted driving crashes, while Texas has seen an increase," Craddick says.
Craddick and state Rep. Steve Farley of Arizona are currently the most persistent — and most frequently frustrated — of distracted-driving-law advocates remaining in the country. Most other states have moved on to sweeping bans on handheld device use by drivers, or to bolstering ineffective or outdated laws.
Read more about Texas distracted driving laws.