Safety officials are trying to stop a wave of distracted driving caused by the "Pokémon Go" game before it starts.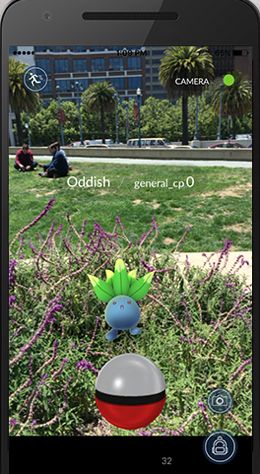 Warnings have been issued in numerous states about hazards presented by the "virtual" smartphone game, in which players hunt "wild Pokemon" characters in the real world.
"Catching virtual creatures to get to the next level is not worth risking your life or the lives of others," officials in New York warned, noting that the craze has taken the safety community by surprise.
"No Pokemoning from behind the wheel," the Washington State DOT urged in a Tweet days after the game app was released July 6.
In Sarasota, Fla., police urged players not to "catch & drive! It's not worth the outcome of distracted driving."
In Wisconsin, electronic highway signs advised: "Drive now. Catch Pokemon later."
"Just one quick text or glance to see the next Pokéstop could end up costing you or someone else their life," the AAA in Georgia cautioned.
Capt. Christopher Sherry, commander of the California Highway Patrol in San Francisco, also checked in: "Working to become a #PokemonGO Master? Don't drive distracted doing it. Lives are at stake."
The Tennessee Highway Safety Office also urged drivers not to engage in Pokemon catching "while behind the steering wheel. Find other ways to play safely. Eyes on the road, Pokemon Masters!"
New York's Department of Motor Vehicles was in a less playful mood. "What is meant to be a fun game can have tragic real-world consequences if you're playing it while driving or crossing the street," Executive Deputy Commissioner Terri Egan said.
"This new, all-consuming Pokémon GO craze has caught the entire country by surprise and as such we are concerned about the consequences playing this game can have on public safety," Egan said.
The Texas Department of Transportation has launched a "Don't #PokemonGO and Drive" campaign.
Players seek out the Pokemon in physical locations, but the characters only appear on the smartphone's screen, where they can be "captured." Players usually are directed to high-traffic areas, such as parks, lakes, memorials, churches and tourist attractions. The game calls these locations gyms and Pokéstops.
A few wrecks already have been reported or cited on social media. In Baltimore, a driver slammed into a parked police car. He blamed the wreck on the "dumb game." In Auburn, N.Y., a driver crashed his car into a tree while playing the game, media reports said. The vehicle was totaled and police said he was "extremely lucky" to survive.
Distracted walking appears to a major concern as well. In Australia, officials urged players to "look up, away from your phone and both ways before crossing the street." Officers in New Jersey said "we have watched people walking into sign posts" while playing the game.
A few robberies of distracted Pokemon seekers also have been reported.
Working to become a #PokemonGO Master? Don't drive distracted doing it. Lives are at stake. pic.twitter.com/XjUvr3Ucl1

— Christopher Sherry (@CHPChrisSherry) July 12, 2016