The NTSB has unveiled its "Most Wanted List" of changes in 2016 to save lives and reduce transportation accidents. Not surprisingly, "deadly distractions" get major play.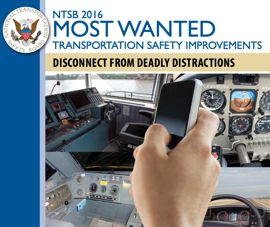 "It will take a cultural change for drivers to understand that their safety depends on disconnecting from deadly distractions," the National Transportation Safety Board says in its breakout on the issue.
The NTSB, which mostly investigates public transportation crashes, says it found portable electronic device distraction as a cause or contributing factor in 11 accidents that killed 50 people and injured 259.
In "heavily regulated transportation industries like aviation, marine and rail," the NTSB says, "engaging in tasks that don't support the driving or operating task can have deadly consequences."
"Distraction must be managed, even engineered, to ensure safe operations."
The NTSB concluded:
We need to continue to build our technical understanding of distraction arising from auxiliary tasks in regulated transportation, especially as regards new vehicle technologies that require real-time operator attention. Advances in these areas will support regulatory efforts and lead us toward a cultural norm that encourages and supports operators to remain disconnected from deadly distractions.
The safety board is not new to the issue. In late 2011, it called for a ban on all driver uses of personal communications electronics, including cell phones.
Other NTSB priority areas for 2016 include fatigue, occupant protection, substance abuse, medical fitness for duty and expanded availability of collision-avoidance technologies.
> View the NTSB "deadly distractions" fact sheet.