The final vote of 85-7 came in the House on April 29. The House previously OK'd a ban with secondary enforcement, but went along with the Senate's upgrade. That means police would be able to stop and cite offenders for texting alone.
The fine for all offenses would be $100. No points vs. the driver's license. The law would go into effect Nov. 1, 2015.
Oklahoma remained one of the few remaining states without a ban on text messaging by all drivers.
The legislation was House Bill 1965 from state Rep. Terry O'Donnell.
It was subtitled "the Trooper Nicholas Dees and Trooper Keith Burch Act of 2015." Dees was killed in late January in a roadway incident officials linked to a distracted driver; Burch was seriously injured. That honorific was added in the Senate. Members of their families were on hand for the vote and then for the bill signing.
The law prohibits municipalities from enacting ordinances that are more restrictive than the state law.
The texting & driving legislation encountered token personal-freedoms resistance, but passed anyway. "It's a little bit of an overreach of Big Brother," state Rep. Mike Ritze told the Criminal Justice Committee on Feb. 11.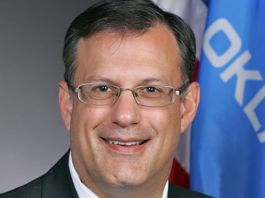 A last-minute rush of co-sponsors — all but 13 representatives signed up — meant the legislation enjoyed broad support and little opposition in its final days. O'Donnell, right, had told Hands Free Info early in the session that he was "optimistic that with my efforts to change some minds on the issue — along with the new legislators coming into this session — I can finally get legislation passed."

Applause broke out in the House as final passage occurred April 29.

Gov. Fallin pushed for a distracted driving law in her February state of the state speech. "Over a dozen Oklahomans die every year in accidents caused by drivers who are distracted by cell phones," Fallin said. "Hundreds more are injured. Studies show that driving while texting can actually be more dangerous than driving drunk."

Her spokesman Alex Weintz told the AP after the passage: "We are pleased that the Legislature heard the governor and took up legislation that we think is potentially lifesaving."

Read more about distracted driving laws in Oklahoma.

Oklahoma's state Legislature has approved a texting & driving ban that gives police powers of full enforcement. The governor signed the distracted driving act into law May 5.